The TOP 12 Off Grid Christmas Gift Ideas
Continuing with our Top 12 Off Grid Christmas Gift Ideas list here's #2
#2 First Aid Kit (120 Piece) + Bonus 32-Piece Mini First Aid Kit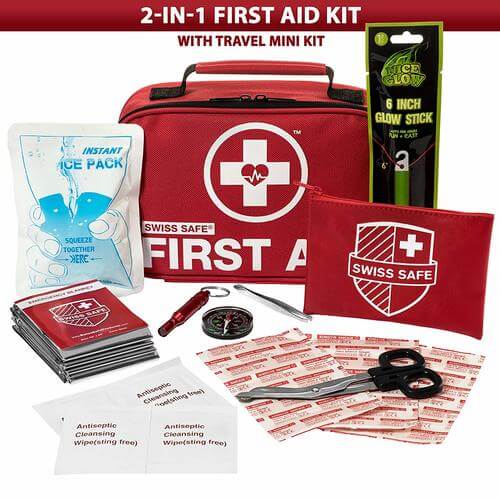 I think you'd be hard pressed to find a better basic first aid kit for under $25!
REVIEWS
The quality of the bag is excellent, lots of room to add more items should you want to expand the contents.
Plenty of simple bandaids, in regular, tiny, fingertip and knuckle sizes as well as butterfly closure strips & a blister pad. Better quality than I expected!
A variety of cleaning wipes, alcohol and sting relief wipes, and several gauze pads, and a triangular bandage round out the wound treatments. Again, basic but good quality.

The gloves are basic latex free large size, and other stuff includes an ice pack, q tips, tape, safety pins and elastic bandage.
Most impressive though is the very decent 52×82″ emergency blanket, trauma scissors and survival items – a metal whistle, compass and sewing kit. You don't often see these in such a cheap kit.

It also comes with a glow stick (a party-type one, not very bright, worth replacing as a survival item) and a pair of tweezers (although these are very cheap and basic).
Bonus though: also comes with a mini extra kit with bandaids, alcohol & sting pads, gauze and tape, a mouth to mouth resuscitation device and a few other bits! Small enough to fit in a jacket pocket! Even better.

In summary – definitely far better than what you could buy at almost any superstore or pharmacy for less than 25 dollars.

Fully encompassed First Aid Kit. The product is well packaged in a very durable nylon woven bag (much better quality than I had expected), easy to carry and toss into an EDC "Go-Bag".

The contents inside are everything you would need in an emergency situation. I purchased this to have on hand at my place of business but may consider taking it with me everywhere I go and buying another to keep at work. I have already recommended this to several friends who are like minded in being prepared.
Make Sure You're Entered To WIN Our #1 Stocking Stuffer!
On to our next off grid stocking stuffer…