The Original Survival Business Card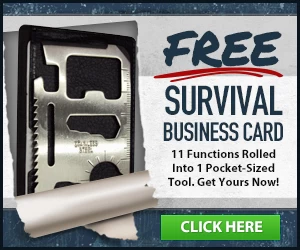 The Survival Business Card is a must have! 
FACT: When TSHTF and you need your gear the most, odds are it won't be close by. Most people will be miles away from home when disaster strikes.
But I found a tool that is small enough to fit in your wallet so you can always have something to help you even if it's just to get back to your gear.
Check this out: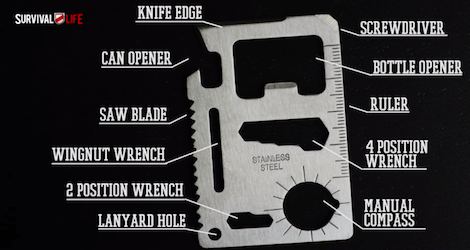 This clever tool is an invaluable little gadget that fits in your wallet serves 11 cool functions. It is a
Can Opener

Knife Edge

Slotted/Flathead Screwdriver

Ruler

Bottle Cap Opener

4 Position Wrench


Wingnut Wrench

Saw Blade

Direction Ancillary Indicator

2 Position Wrench

Keychain/Lanyard Hole


I like to think of this little tool as my 'Survival Business Card' and I ALWAYS have it on me.
And I want to give you the opportunity to keep one in your wallet too. For FREE.
It took me a long time to get these back in stock so make sure that you grab one now.
I don't know how long these will last.
This is the perfect emergency multi-tool that you can keep on you at all times.
It weighs next to nothing and slides right in your pocket.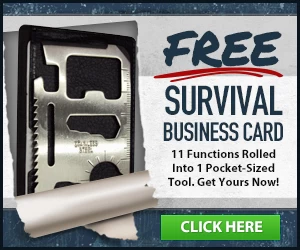 The last time I offered these for FREE, we gave away every single one of these (including the one that I personally kept in my wallet!) in a matter of days.
Click here to get yours now.
When I ran out of stock I got a ton of emails from people asking if they could get more, when I would have them back in stock, etc, etc…
Then, about a week after I shipped them all out, I started getting emails from people telling me their stories of how the tool actually came in handy!
I was very excited to hear all of this, and I sat up late that night trying to find more suppliers that could send me some more of the survival business cards.
It took a while but I finally got more of them!
So what's the catch?
I have a limited supply and you need to grab yours free, right now, before they're gone again.
>> Click here to get yours now <<
I've even given these out to my friends and family, and they loved it!
At first they laughed at me saying that it would never get used… then, sure enough, just a few days later I got calls and texts from them saying "I was wrong… I needed a screwdriver, and didn't have my toolkit. Then I remembered the tool you gave me!"
After this I wanted to make sure that everyone had the same opportunity.
>> Get yours free here <<
It never fails…
When you need something the most is when you're least likely to have it.
In the ever increasing "security" that we have to go through, there are times where no matter what, keeping your best gear at arms length just isn't possible.
I don't know about you, but I feel naked without my pocket knife on me.
This survival business card is the perfect solution!
This tool is small enough to fit in your wallet so you can always have something to help you even if it's just to get back to your gear (or crack open a cold one.)
I want each and every one of you to have one of these in your pocket, purse, or wallet, for that "just in case" moment.

P.S. If you like this tool and want ALL the others we're giving away you can get them ALL right here!
PLUS… you might also want to check out the Survival MD Guide. Our #1 most downloaded survival eBook.
CLICK HERE for our complete review of the Survival MD Guide.