The TOP 12 Off Grid Christmas Gift Ideas
Continuing with our Top 12 Off Grid Christmas Gift Ideas list here's #4
#4 LifeStraw Personal Water Filter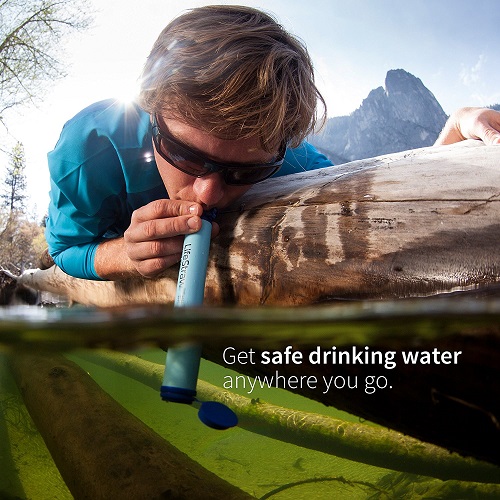 >>For full details and reviews on Amazon Click Here<<
I frequently hike and camp in the back country all over the United States. Carrying the amount of water that I need to survive during these trips is just not feasible due to the weight. In the past I always carried a General Ecology First Need XL water purifier and refilled nalgene bottles with it. Since getting a LifeStraw I most likely won't be doing that any longer since the LifeStraw is smaller and lighter than the First Need XL. I recently took a LifeStraw out for a test on a back country hike in the Rocky Mountains. Every stream, lake, or other water source that I came across I stopped for a drink. I was drinking fresh snow melt and also from lakes that are home to beavers and other wildlife. There was no added taste to the water and I didn't get sick during or after the trip.
Reviews…
This thing is no joke! I took it backpacking on Maine's Bigelow range. When I ran out of the water I brought, I was A-ok with this. Just bring a wide mouth bottle to fill with water you find. On top of one of the lower peaks, I drank from the most disgusting looking crevice filled with brown scum (see photo). I thought, this is going to be safe, but taste horrid. WRONG. TASTED LIKE THE FRESHEST SPRING WATER. Better than any tap. I'm from Maine, and I've tasted plenty of water right from mountain springs, so take my word.

One caution: it can be a little challenging to start. You have to prove it by soaking. If it still doesn't work, blow into it a bit.

Get one for your outdoor adventures, and one for your bug-out bag, which everyone should have in case of natural disaster (or apparently civil war, because the world seems to have gone mad).
The one draw back to the LifeStraw is that it does take a bit of suction to start and keep the water flowing. When you're at high altitudes in the mountains this leads to longer "drink breaks" since you can get winded pretty easy while trying to suck up water through the LifeStraw. However, its size and weight advantages when hiking mountainous terrain vastly out weigh this minor drawback.

Overall, the LifeStraw is awesome and I recommend it to every back-country hiker that I know.
We LOVE that for every Lifestraw sold the company provides clean drinking water for a year to a child in a developing country!
Make Sure You're Entered To WIN Our #1 Stocking Stuffer!
On to our next off grid stocking stuffer…