The TOP 12 Off Grid Christmas Gift Ideas
Continuing with our Top 12 Off Grid Christmas Gift Ideas list here's #11
#11 Anker 20100mAh Portable Charger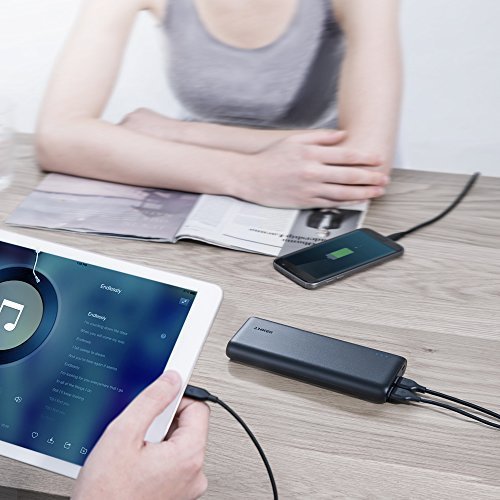 >>For full details and reviews on Amazon Click Here<<
After fully charging the Anker PowerCore 20100 Charger, I ended up running my own personal test to see just how many full charges I could get on my Samsung Galaxy S7.
Everyday, for 5 days in a row, I would allow my phone to drain as much as possible as you can see below….then the next morning I would charge my phone using only the Anker Powerbank Charger until it was fully charged.
Here are the results!
Charge #1 = 15% to 100% power in 1 hour 35 mins. (4 solid lights)
Charge #2 = 20% to 100% power in 1 hour 30 mins. (3 solid lights)
Charge #3 = 08% to 100% power in 1 hour 45 mins. (2 solid lights)
Charge #4 = 03% to 100% power in 1 hour 50 mins. (1 solid light)
Charge #5 = 20% to 100% power in 1 hour 25 mins. (1 Blinking light)
The next morning (on day 6), I tried recharging the phone again while the 1 remaining light on the Anker Power bank was still blinking …..
It basically went from 14% to 21% power before the Power bank ended up running completely dry.
So all in all I was able to get "5 Full Charges" from this one Power Bank with my Samsung Galaxy S7.
Hope this helps anyone who is undecided on pulling the trigger on this charger!
Reviews…
The Anker PowerCore 20100 is an amazing product. I purchased this due to my phones battery life rapidly decreasing, but found that I use it for many other electronics. This is a very simple to use device. Plug the included charger in to the PowerCore, and then into an usb adapter and let it charge. When fully charged remove the charging cable, and your can now plug in your devices via one of two charging ports.

There are blue lights on the top that allow you to see how much of a charge is remaining in the PowerCore. I have used this to charge: cell phones, iPads, cameras, and my GoPro. This device rapidly charged each of these items with ease and charged several phones with plenty of juice left for more charges. The PowerCore is well built and has withstood several unintentional drops.

I'm very pleased with the design, make, ease of use, and the fact that it does exactly what the makers say it will do!!!!
Make Sure You're Entered To WIN Our #1 Stocking Stuffer!
On to our next off grid stocking stuffer…