The Survival MD Guide: 
An In Depth Review + Special Bonus
How critical do you think food, water and shelter is?
The bottom line is that NONE of these even matter unless you have this ONE THING…
In this post I want to discuss the Survival MD guide by Dr. Radu Scurtu.
If you've been following us for a while you know this is one of our most requested guides for people going or living off grid.
However, I want to make sure you are 100% happy BEFORE you go a head and grab your copy by giving you a complete behind the scenes review of the Survival MD guide.
As an fellow "off grider" I feel it is critical that you are armed with relevant information BEFORE you step off the grid.
If you've already stepped off grid before doing your research the learning curve can be quite steep and unforgiving.
That's exactly why we created The Off Grid Cabin website and why we're offering reviews of material we feel are helpful. We'll only EVER offer people products and services that are actually effective and relevant to making life off grid better. No fluff… no hype… period.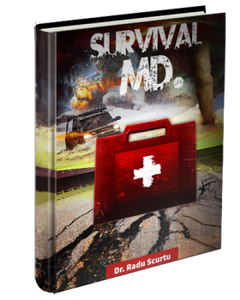 If you've already heard about this prepper info book, you've done your research and are simply looking for the lowest price possible… STOP STOP STOP… at the bottom I'm going to share with you a simple trick to get the Survival MD guide for STEEP DISCOUNT ;)
We'll keep updating this page to make sure it's the lowest price you'll find.
What is the Survival MD Guide Exactly? 
What exactly is The Survival MD GUIDE? It's an extremely detailed (downloadable) eBook (You can also order a physical paper copy as I do with any of these products when it's an available option) with 206 pages of information about medical preparedness on or off the grid. 
Medical preparedness is one area where so many otherwise great survival plans can fall short.
Most people believe it's too complicated or time-consuming and ill place their efforts on the more "exciting" aspects of prepping like firearms, bug out bags, and outdoor survival skills.
None of those skills are worth beans if you're sick, injured or dead!
So what's included in Survival MD Guide?
The Survival MD chapters include the following topics
Why Prevention and Practice Make Sense

Specific Disease Preparedness

Dental Preparedness

Preparedness for Women: Sanitation and Hygiene

List of Medications to Stockpile

Buying Medical Response Kits

Alternative Medicine

Preparing for First Aid

Emergency Sanitation

What To Do When There Is No Doctor Around

Medical Emergency Protocol

Understanding CPR

Common Illnesses in a Crisis

Non-traumatic Illnesses

Infectious Diseases

Climate Specific Diseases

How to Survive Without Prescription

Prepper's Medical Reading List
Each chapter and topic is covered in great detail including illustrations, with subheads and topics such as…
The Most Valuable Tool

Respiratory System Diseases

Digestive System Diseases

Recurrent Urinary Tract Infections

Natural Dental Remedies

The Response Pack

Herbal Medicine

Elements of a Comprehensive First Aid Kit

Simple and Effective First Aid Techniques that You Need to Learn

Treatment of a Bullet Wound

Making Homemade Hand Sanitizer

How to Recognize the Signs of Medical Distress

How to Perform a Body Check, Self-Diagnosis

Top Five Injuries during a Crisis

Stop Bleeding Now

Types of Trauma

When Your Internal Organs Cry For Help

Foodborne, Waterborne and Airborne Infections and Diseases

Top 5 Infections in a Disaster or Crisis
… just to name a few!
The Survival MD GUIDE is extremely detailed to say the least. Its well written and professionally put together. Dr Scurtu has put a lot of effort into providing relevant, updated and practical information into this single source of information.
Do we think it's good buy?
YES! We think it would be a great study asset BEFORE you have a medical emergency. On or off the grid!
The Survival MD Guide Bonus… 
There is also a great free bonus product that comes with Survival MD.

"How to Live Without Prescription Medications" is a topic not covered in most survival orientated medical health books. This additional publication can be a great asset for those currently on prescription meds like pain killers and anti-inflammatories, statins, blood pressure meds and meds for Type-2 Diabetes.
This one 35 page report is worth the complete price of the Survival MD program itself and we feel is a must have if you have any of the above-mentioned health issues or are taking prescription medications as a result of them.
As always PLEASE seek the advice of your doctor when possible, before you attempt to go off your meds.
This report was written to help those people who are on these typed of prescriptions to stay alive after a disaster where getting to their doctor might be impossible for long periods of time, or even indefinitely!
Here's The Simple Trick
The list price for the Survival MD is $37 but…  You "may" be able to get it for $22 thanks to a little trick that I learned from Andy over at The Survivalist Blog.
As he states this isn't cheating or stealing because the vendor has added this feature himself as a special offer…
The secret to these types of sales is to stop the video and try to close the window… It will pop up a "are you sure you want to close this window" screen, click to stay on the page and then instead of a video you'll get everything in text/web format. If you buy from here it will be $37….

But, if you try to close the window again, and see the "are you sure you want to close this window" screen, click to stay on the page and then you'll get the special price of $22…
So, that's our thoughts and review on The Survival MD GUIDE
We highly recommend this book and feel it's well worth the $22 given the wealth of highly useful and critical MUST HAVE knowledge imparted.
As well, the "How to Live Without Prescription Medications" bonus is icing on the cake!

P.S. If you liked this then you'll definitely want to check this out…
We're GIVING AWAY 6 of our top "must have" survival tools!
Simply CLICK HERE to see our Free Must Survival tools and pick one… pick two… or pick ALL OF THEM!
Just cover the shipping and they are yours.
Enjoy :)