The TOP 12 Off Grid Christmas Gift Ideas
Continuing with our Top 12 Off Grid Christmas Gift Ideas list here's #5
#5 SurvivalSPARK Magnesium Survival Fire Starter with Compass and Whistle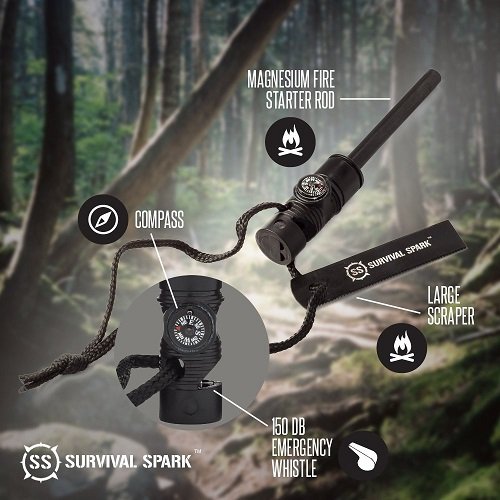 >>For full details and reviews on Amazon Click Here<<

Reviews…
The starter throws off a huge amount of sparks and it only took me 6 strikes to easily light some lint. Because lint is so easy to light, I did not shave any of the rod before striking. For any fire starting it always comes down to the tinder being used, so I keep a small snack-size bag of lint with it (it stays dry and weighs next to nothing). The only reason I didn't give FIVE STARS is because the whistle and compass are not excellent and the seller is advertising it as a "survival" compass and whistle.

I will keep this stored in the First-aid Kit in my car, which already includes a reliable compass and whistle.

Unlike other reviews my compass actually works, as well as the whistle. I've used other fire starters such as one of the Bear Grylls ones, and this one is just more user friendly (the handle and striker are big enough to use easily).

I also like the fact that its just plain black and not flashy unlike the Bear Grylls model, which is highly branded and bright orange, which I do not like. Overall this is a nice addition to my camping bag and I would recommend it.
Make Sure You're Entered To WIN Our #1 Stocking Stuffer!
On to our next off grid stocking stuffer…