TOP 12 Off Grid Christmas Gift Ideas
Let's start off our Off Grid Christmas Gift List with the #1 stocking-stuffer that we're giving you a chance to win with our 12 Days Of Christmas Off Grid Giveaway Contest!
#1 The

Nekteck 21W Portable Solar Charger 🎅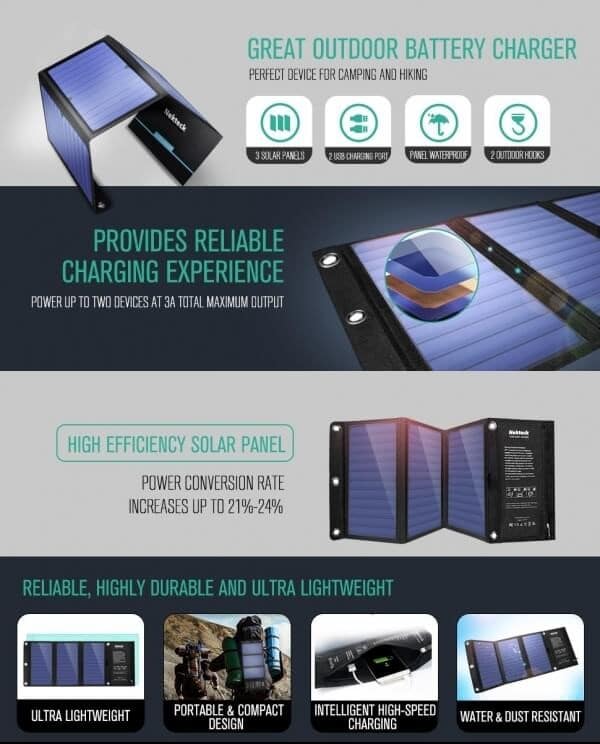 >>For full details and reviews on Amazon Click Here<<

Solar Changer Details
Nekteck 21W Solar Charger: Using the power of three High-efficiency solar panels, the Nekteck 21W Solar Charger is your new best friend when you're far from home. Travel with ease using the charger's bungee loops which attach to your backpack. Unfold the device and expose the 21 watts Sunpower solar panel, each section putting out approximately 800~1000mA under strong sunlight. Dual USB charging ports allow up to two devices to recharge at once at a maximum output current of 3 Amps total. No matter where you go, the Nekteck Triple Panel Solar Charger will be ready for you.
Fast Charging Technology: SmartIC Technology is the latest charging solution it has its own microchip that detects the device plugged into through USB PIN signals, which gives output at full power and fast charging speed. Not all charging ports are created equal. Standard ports only charge Apple OR Android devices at full speed. But with SmartIC technology, each port intelligently identifies your device and seeks to maximize its charging speed up to 2.0 amp per port or 3 amps overall. Dual USB Ports Dual USB ports with maximum 3.0A total output and capability of charging two devices simultaneously. Keep your devices fully charged on the go in no time.
High Quality: The canvas is created to withstand rugged durability for outdoor use. with Ultra lightweight (18 oz) and ultra compact (6.3x 11.1x 1.06in folded or 26.3x 11.1in opened) design, it easily fits in your backpack.
Broad Compatibility: Compatible with all iphones, tablets, GPS, Camera and other USB-supported devices.
Specifications: Power input: 21W High-efficiency Panel Power output: 5V Standard USB port x 2 Output current: up to 3A (two USB port used simultaneously) up to 2A (one USB port used)
REVIEWS
I took this on an 11 day backpacking trip to New Mexico. I attached it to the top cover of my backpack so that it could charge as I hiked. I used it to charge an external battery pack during the day that charged my phone at night. This charger has plenty of surface area. I met a lot of other hikers with smaller solar chargers that complained that their chargers could not provide enough power for their phones. Not only was I able to keep my phone fully charged, but I was able to keep several of the other phones in my group charged as well.
I've had the Nekteck 21W Solar Charger with 2 USB Ports for about 5 months. It is well-made and folds up very conveniently. But what I'm especially impressed with is its performance. It quickly charges my iPhone in bright sun — it's quite comparable to being plugged into a wall outlet.

Took this solar charger on a two week camping and kayaking trip and loved it! We were a group of about 20 campers and we had all bought different solar chargers so it was fun to compare whose worked best. I'll just say people were fighting over getting to use my charger!
Make Sure You're Entered In To WIN One For Yourself!
On to our next off grid stocking stuffer…