John Coffer: This Must Be The Place
Here's the incredible Off Grid tale of John Coffer
John Coffer Photographer: A man who's decided to leave behind the hustle and bustle of New York City and live life of his terms in his 25 year old hand built off the grid cabin.
There's no place like home. It's where we live, work and dream. It's our sanctuary and our refuge. We can love them or hate them. It can be just for the night or for the rest of our lives. But whoever we may be, we all have a place we call home.
John has been living off the grid, in a cabin that he's built by hand for some 25 years now and holding "Field to Plate Workshops" for photography.
In this beautiful video he explains the philosophy behind his simple way of life, and his thoughts on the nature of "home" and what lay at the core of living off the grid.
Produced and directed by Ben Wu and David Usui, of Lost & Found Films (lostfoundfilms.com) this short mini-documentary drifts through John Coffer's lifestyle, capturing often beautiful images of glimpses of him at work and at rest.
For 25 years John Coffer lives near Dundee NY and has lived on 50 acres with 14 cattle, 4 horses, a donkey, 4 chickens and 3 cats. John wanted the Monday morning lifestyle of NOT having to rush, rush, and rush. Not at all unlike my life since beginning my off the grid adventures here on-line.
More stories about John Coffer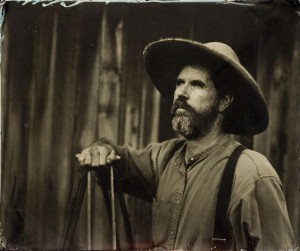 Born 150 Years Too Late By Joyce Wadler
Inspiration – John Coffer – "The tintype Recaptured" by John Neel
Watch More Videos
If you enjoyed John Coffer's story then you will definitely want to see these other videos of people living off the grid like John Coffer.
Your Turn…
We'd love to hear from you. Tell us about your off grid adventures. Or perhaps your just beginning the research to learn how to live off grid or how to build an off grid home.
Let us know if you could live for decades in a tiny off the grid cabin like John Coffer?
If you enjoyed this post please share and like.