Floating Off Grid Island [VIDEO]
Enjoy this amazing video of a devoted couple who spent 24 years building an off grid floating island paradise.
Ever been fishing… from your couch?
Here at Freedom Cove that's exactly what Wayne Adams does on wet windy days right from the comforts of his living room.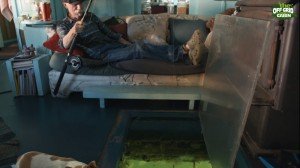 Off the coast of Vancouver Island floats a fully sustainable island fortress complete with an art gallery, garden and even a dance floor.
"What do you say to people who just say this isn't a normal way of life?"

"Thank you very much" – Wayne Adams
Wayne Adams and Catherine King have spent 24 years building a one of a kind floating off grid wonderland nestled deep in a quiet cove of tranquility. Built completely by hand with only hand tools (no power tools) the property is accessed only by water. No roads leading to this home. And Wayne and Catherine wouldn't want it any other way. Wayne has been an avid builder of tree houses since the age of seven. At an early age he said to his father…
Dad, I'm putting a tree fort in the ocean!
Be careful what you ask for because it might come true.
All together this floating masterpiece weighs in at over 1 million pounds!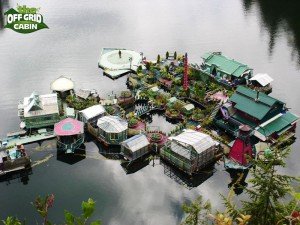 Their island consists of a main living house, a dance floor, the lighthouse building, and four green houses.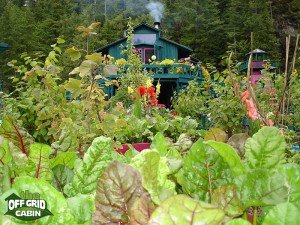 Wayne and Catherine have prospered aboard their floating home both as artists it was their plan all along to fund their project through the sale of their candles and wood carvings. We think their home is just as much an artistic piece as their wares.
I can't imagine living any other way. I feel completely fulfilled. – Catherine King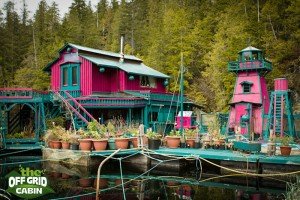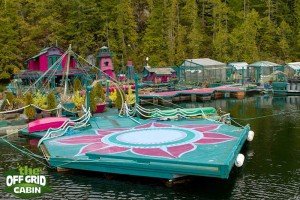 They are well known for their candles and carvings which they sell in nearby Tofino. On top of building a full sustainable lifestyle, they have inspired many others including us to seek out and enjoy a fulfilling an off grid lifestyle.
Enjoy this short video of the Freedom Cove floating island.
We absolutely love their beautiful home and appreciate their artistic talents.
What about you?
Comment below and let us know if you could live off grid on a floating island.
If you'd love to learn more about our off grid lifestyle then simply subscribe to our blog and we'll send you an assortment of off grid info including the step-by-step guide to building our 20ft by 24ft off grid solar power cabin.
Here's where we started our own off grid journey >> START HERE! <<
If you enjoyed this story then be sure and share it :)