We're often asked which tools we've personally used and recommend when building an off grid home.
We've crafted for you a

most detailed

tools list and broken it all down into six sections.
Hand tools
Power tools
Safety tools
Emergency tools
Landscaping tools
High End tools (including all our solar system components)
All of which we think are suitable to have at any homestead, cabin, cottage, summer home or chalet.
We also personally curated specific off grid resources, tools and equipment at our Off Grid Amazon Storefront for you.

We hope you find this list helpful and please comment below and let us know what other tools and/or equipment you'd personally recommend having off the grid and we'll be sure to add it to the list.
Please note: many of these links are affiliate links, so when you purchase any of these items through the links on this page, we will receive a small commission that is used to help keep The Off Grid Cabin running. We've found that Amazon has excellent product descriptions, detailed personal reviews, and some of the lowest prices available.
These are all products that we either personally own, use or support and if you purchase items through these links, you have our sincere thanks!
Hands up if you know who Richard Proenneke is.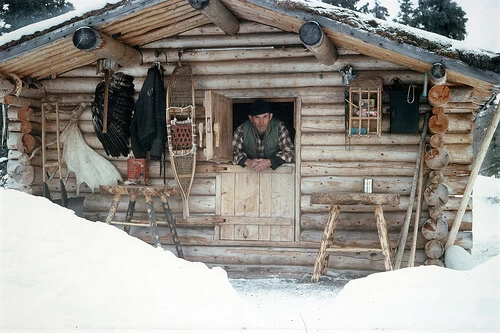 Richard is an off grid icon for some and a homesteading hero to others.
But one thing you can't deny is that he did some amazing things with a minimal collection of hand tools. Some of which he built himself!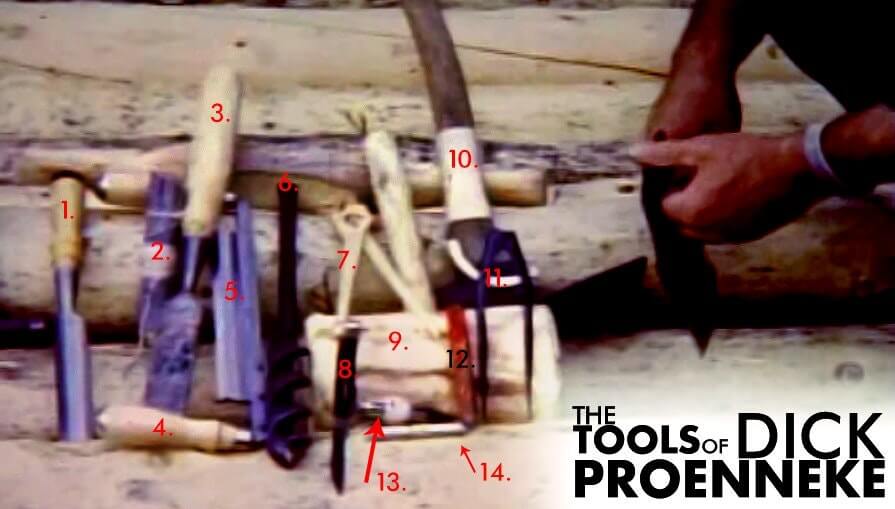 If you live on a homestead, have an off grid home, live in a remote area or just love DIY projects then this tools list is definitely for you.
Some of the items you've probably used yourself at one point or another and some you've maybe never heard of.
Enjoy our list of must have off grid tools!
Oh… and we've covered  all our solar system components in the last section at the bottom.
Make sure to scroll through to the bottom to see it!
Multi-Purpose Axe – An good axe had several purposes. We consider it a multipurpose tool and not just for chopping wood. We have also used our axe for driving stakes, to chisel through ice, dressing animals, and clearing our land when we first purchased it.

Multi-tool – Every homestead kitchen drawer needs a few tools at the ready and a good multi-tool is definitely one of them. This handy pocket tool can do the job of several tools. Pliers, wire-cutter, can & bottle opener, knife, saw blade, screwdriver tips…etc.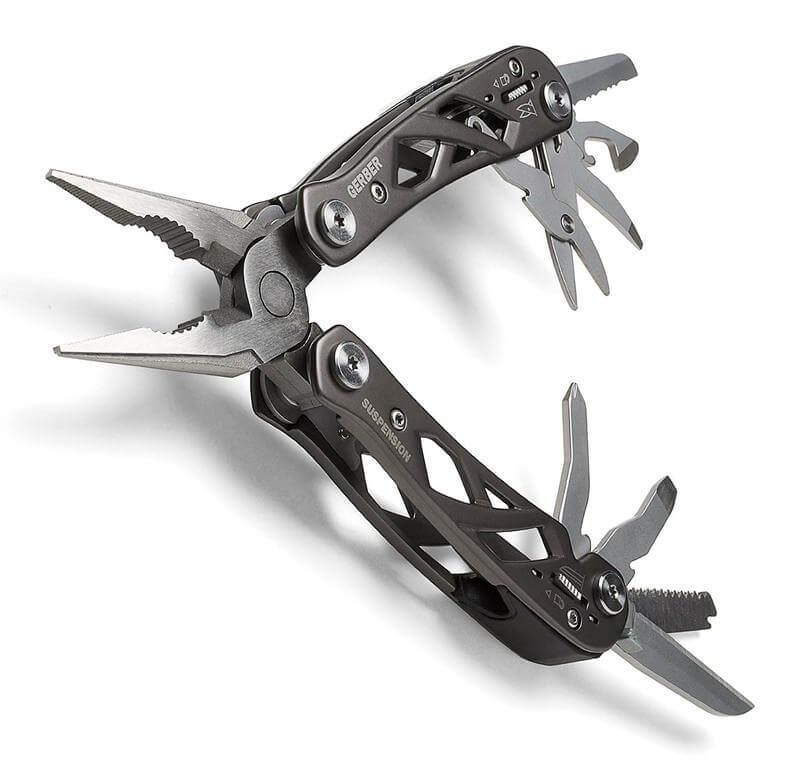 Adjustable wrench – While a good socket set is a must, it's also advisable to have a medium sized adjustable wrench (monkey wrench, adjustable crescent, adjustable spanner) for working on a multitude of nuts and bolts. This can save you when you don't have two sockets the same size.

General Purpose Claw Hammer – In the city you have a house key. Off the grid you get a hammer. This is the number one build it up and tear it down tool.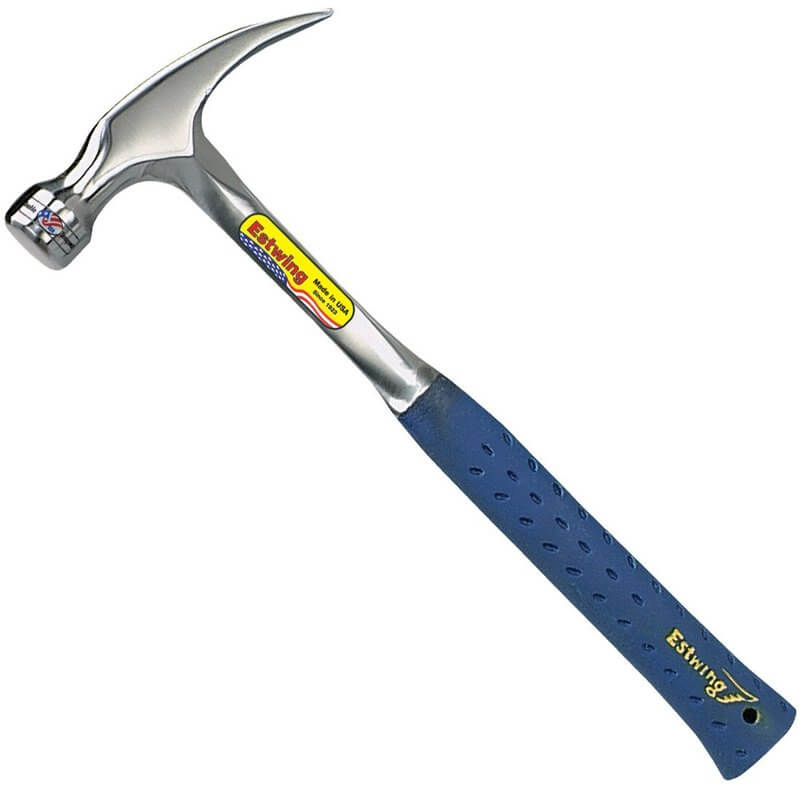 4 Foot Level – Whether you're building your home, a shed, leveling pictures or installing kitchen cabinets the level is your very best friend. We did a full post on building the perfect foundation. Our number one secret to having a perfect foundation is making certain its square and level.
Tape Measure – Instead of finger spans, steps and "eye balling it" make sure you have a good quality tape measure. A tape measure is a wonderful tool that has several hidden features most people don't know about. From nail notches, scribing, and even drawing circles. Make sure you know exactly what a good tape measure can do.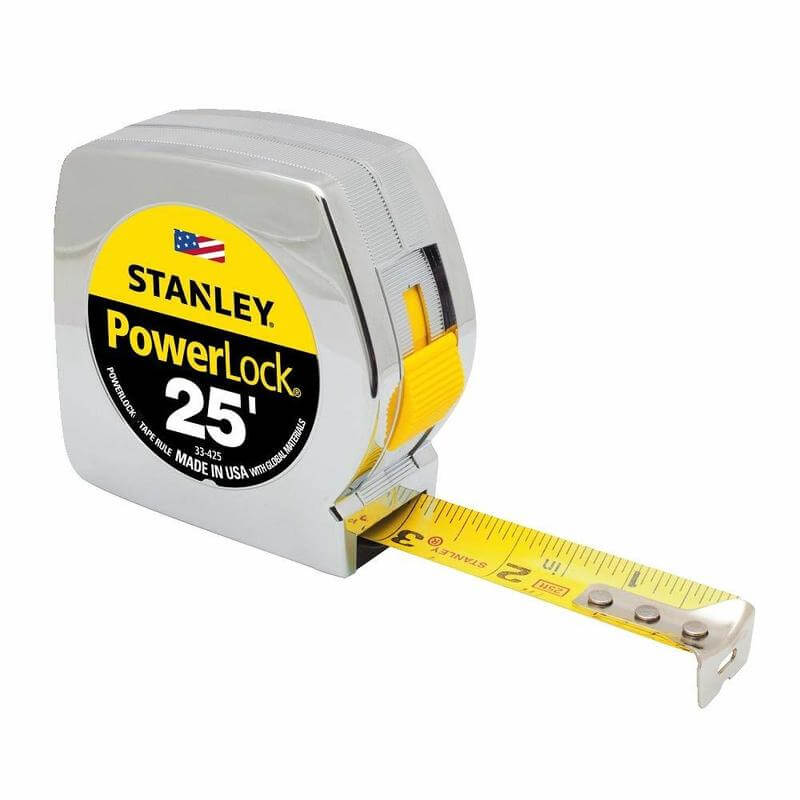 Set of Pliers – While the pliers of a multi-tool can handle a lot of odd jobs, every now and again you need specific pliers for a specific job. Have a few different types handy like diagonal pliers for cutting thinker wire. Needle nose pliers are great for bending, shaping and reaching into tight places. Use slip joint pliers for those time you need an extra set of fingers on a nut. Tongue and groove pliers (channel locks) are perfect for multiple nuts and bolts.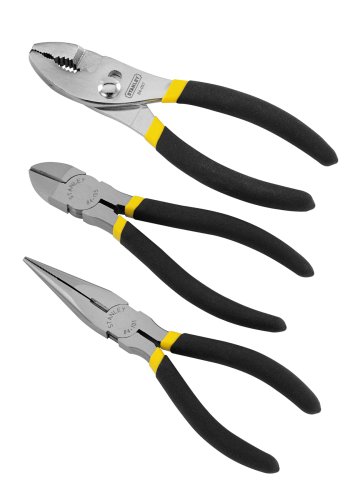 Hand saw – There are several different hand saws for a multitude of cutting requirements but a good all 'round generic rough-cut hand saw will tackle most lumber cutting jobs.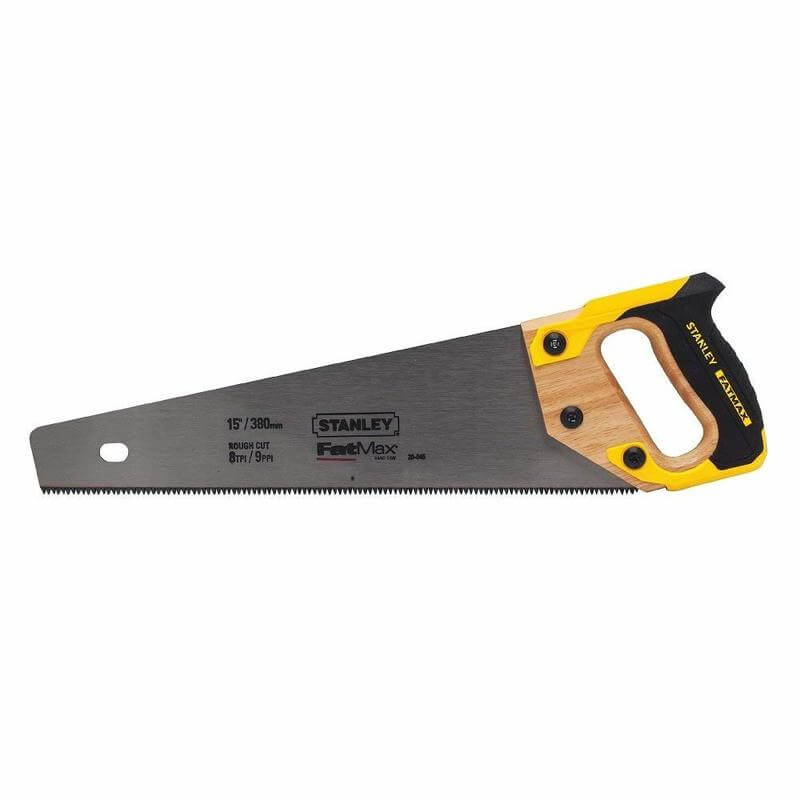 Bow Saw – In the woods it's fine to try and chop your way through small saplings, or even using a brush axe, but to make much shorter work of larger saplings you'll want a good bow saw and some extra blades. The blades swap out quickly and can last for years if protected and maintained. Ensure you have a blade guard on at all times.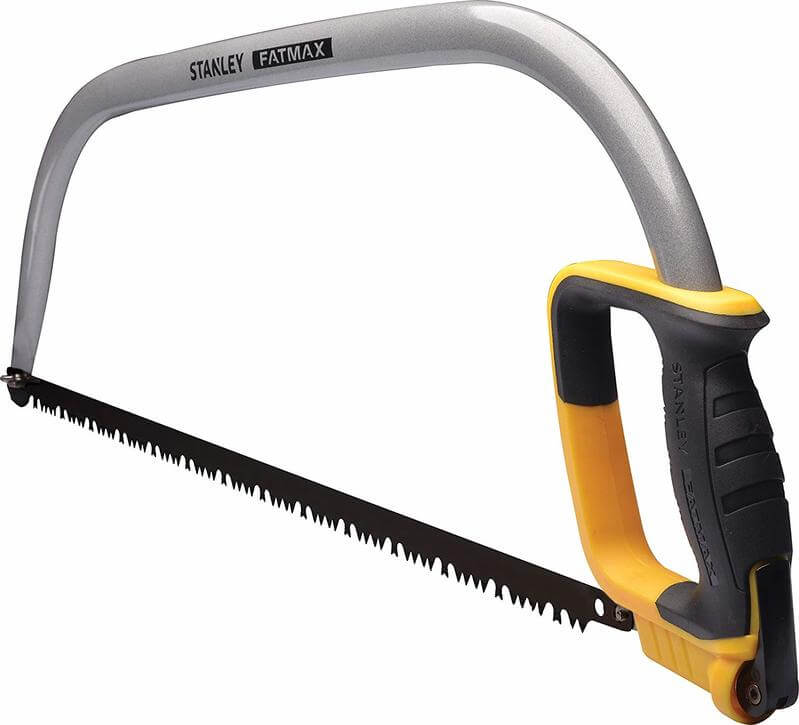 Hacksaw – For those times you need to cut through metal this is the go to saw of choice. It's also perfect for cutting plastic, ABS and PVC.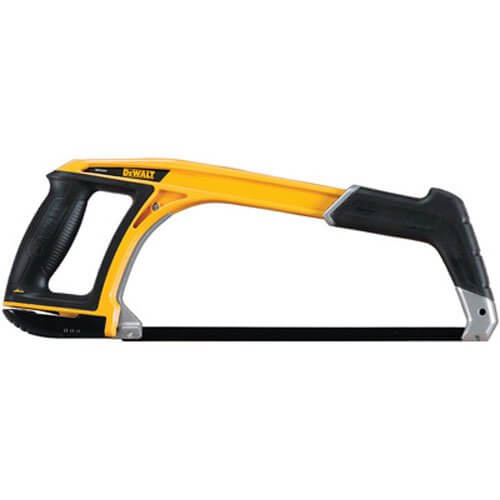 All purpose folding knife – When you live off the grid chances are you've got a knife on your belt at all time. A good quality all-purpose knife can be a lifesaver and has more uses than just cutting rope.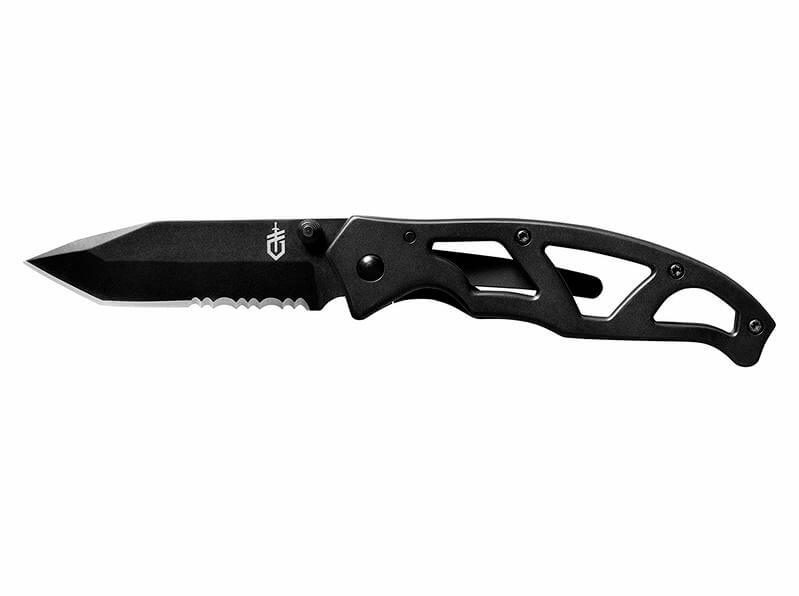 Duct/Gorilla Tape – It's the perfect homesteader friend. Waterproof, ultra-durable and has 1001 uses. A roll of duct tape in the top drawer has mended more broken items and served as a lifesaver in several occasions. Patching a hose, hiding valuables, mending a peeling boot sole, removing splinters, catch flies, remove a wart… this roll of sticky mesh is a must have!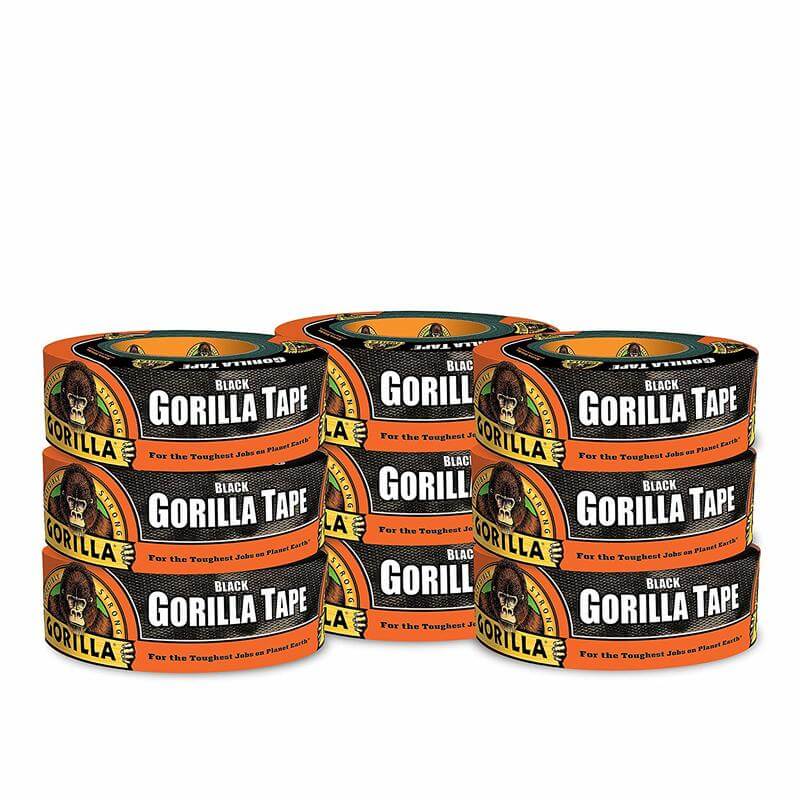 Sharpening stone – A high quality combination sharpening stone will keep your knives, axe and chisels in tip top shape for decades. Get one with 4000/6000 grit and 1000 grit sides, a storage case and a base to hold it steady.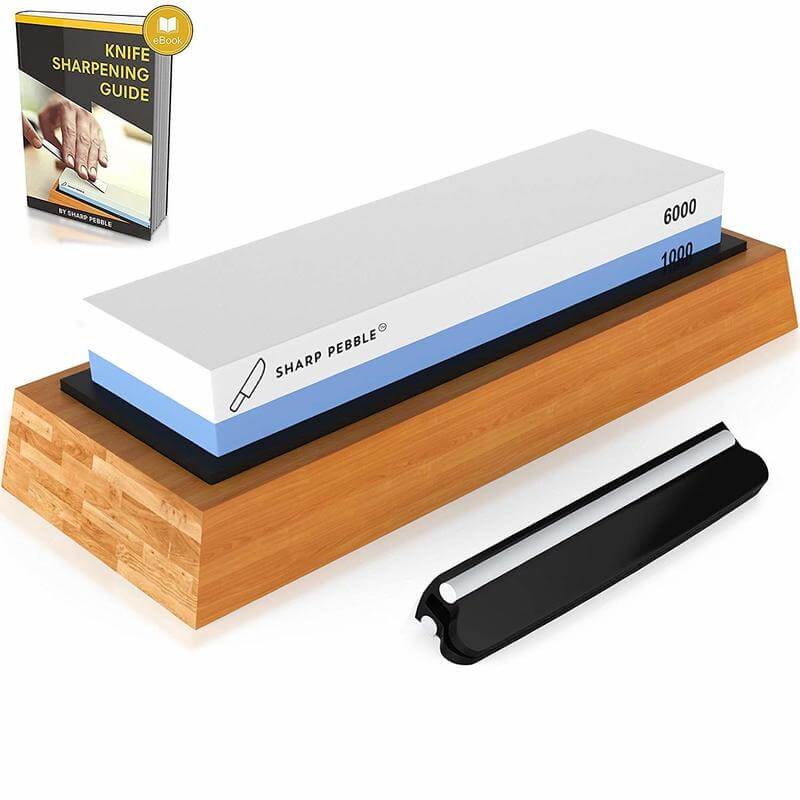 Screw Driver Set – Electrical work, installing hardware, mechanical maintenance… everything requires a screwdriver. in addition to this set of standard screwdrivers there are jewelers (tiny) sets as well. There's been a million times I've used a tiny Philips or Slot head to change a battery in something tiny. As well, you can use the quick change mini tips in your cordless drill and impact driver aw well.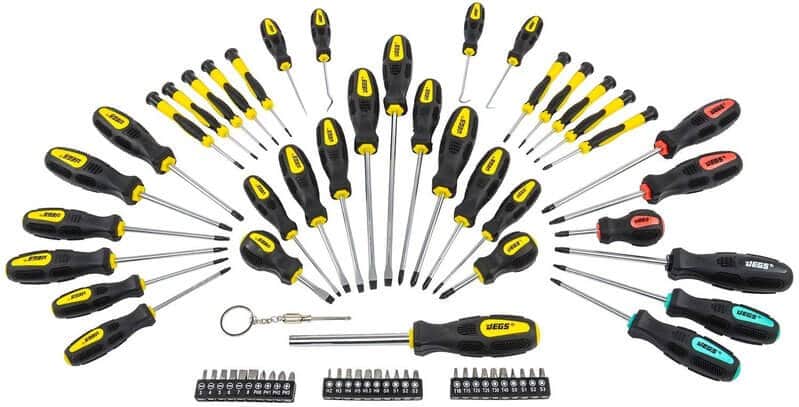 Adjustable Bench Plane – Used to shave off a thin layer of wood a plane can be used to modify a door that's swollen and sticking, trimming to size, leveling, and putting a silky smooth finish on wood project. Also great when tidying up shapes when making joints.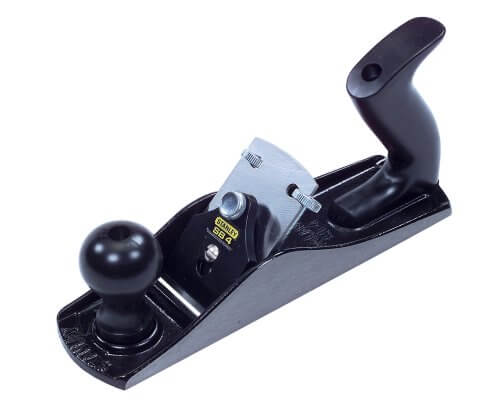 Chisel Set – A chisel set, often called a bench chisel, is a multi-purpose tool used to "chisel" out recesses for door hinges, scrape off old tape/glue and making mortise joints.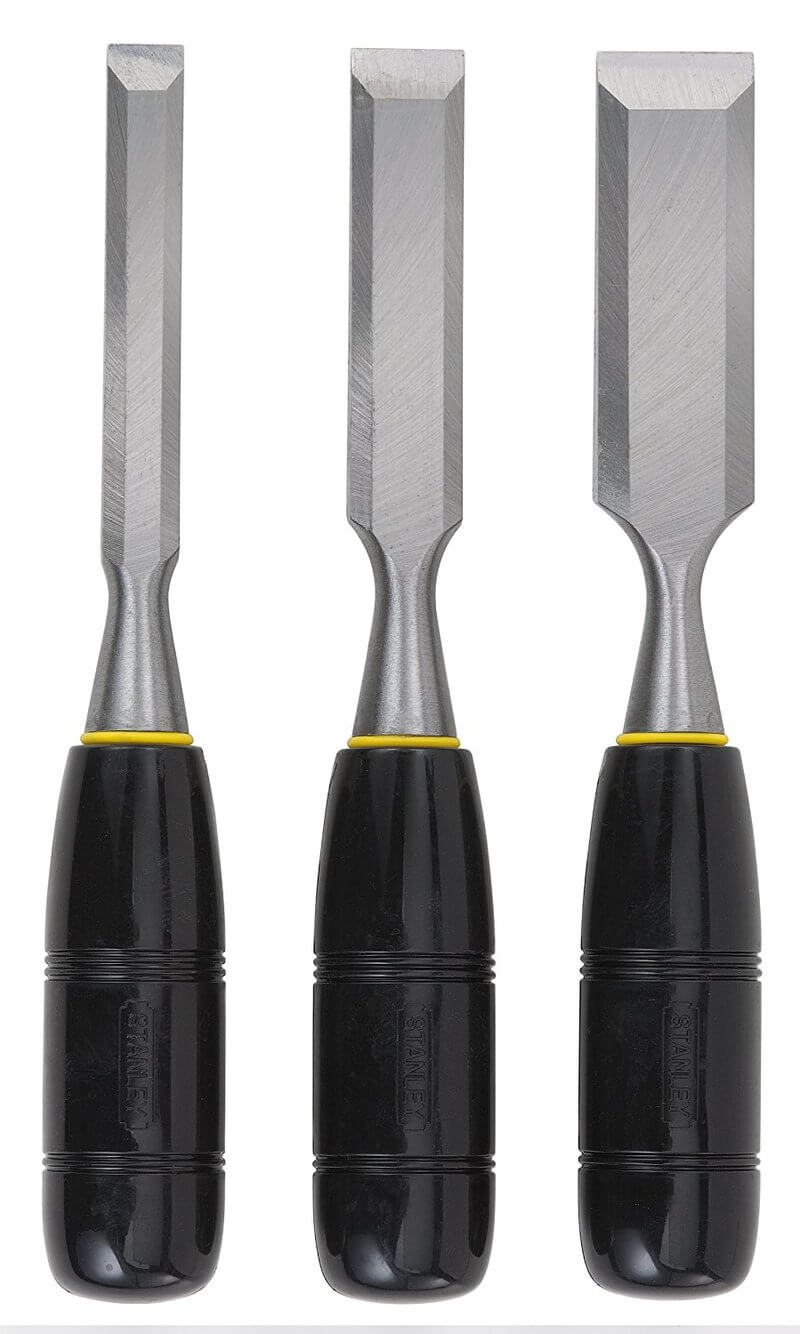 Superbar/Crowbar – There's two types you'll want to have. A smaller sharper pry bar called a superbar and a larger heavy duty wrecking bar.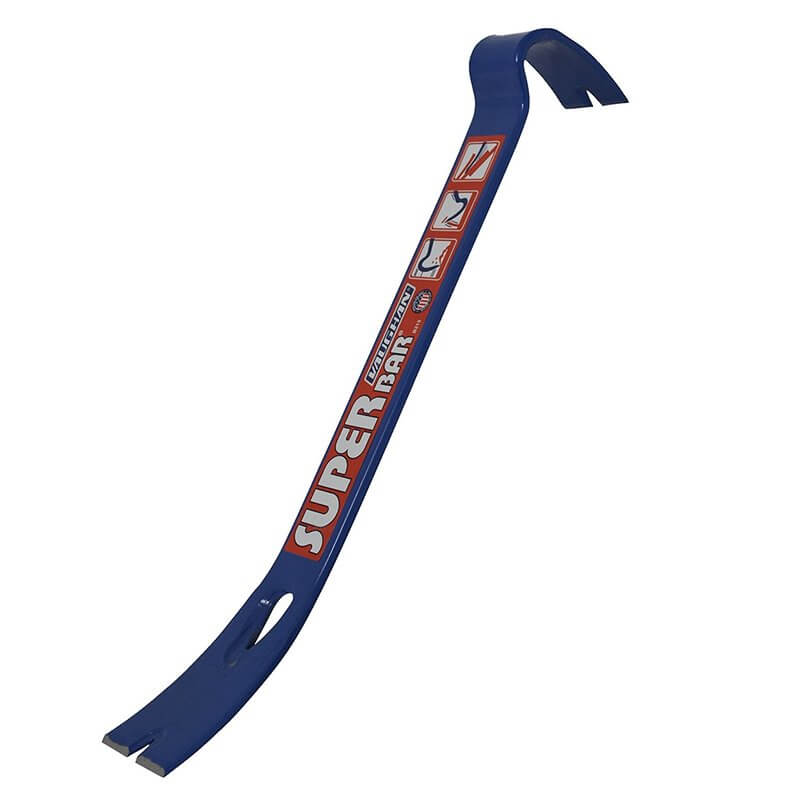 Socket Set – Right up there with the critical screwdriver set is a socket set. Make sure you have both metric and imperial sizes and it comes with at least two ratchet handles.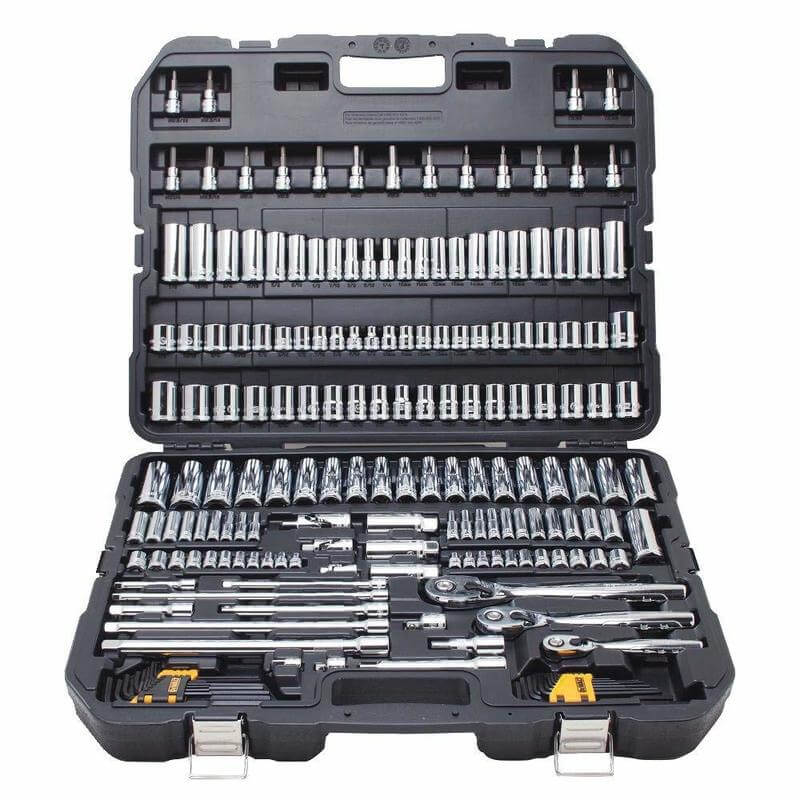 Hand File Set – A file set that can tackle metal as well as wood is what you want off grid. Some have removable handles that will fit on each file. A palm saver for sure!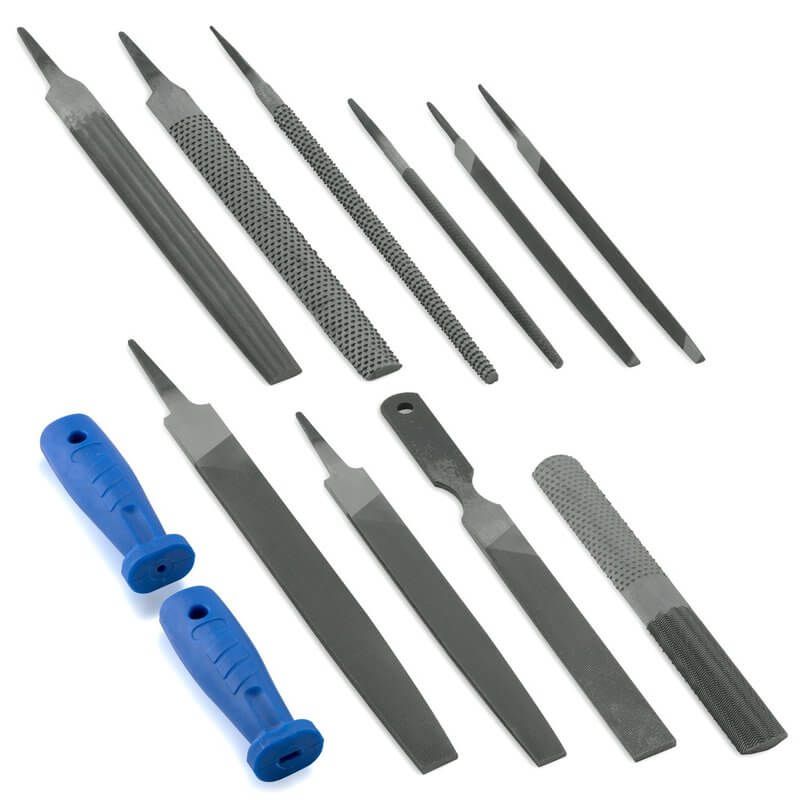 Push broom – there are brooms for every type of clean-up job out there. A high quality (see a trend here) multi-surface push broom with steel braces with stand up to most jobs. Look for a broom with a resin block as wood tends to dry out and crack.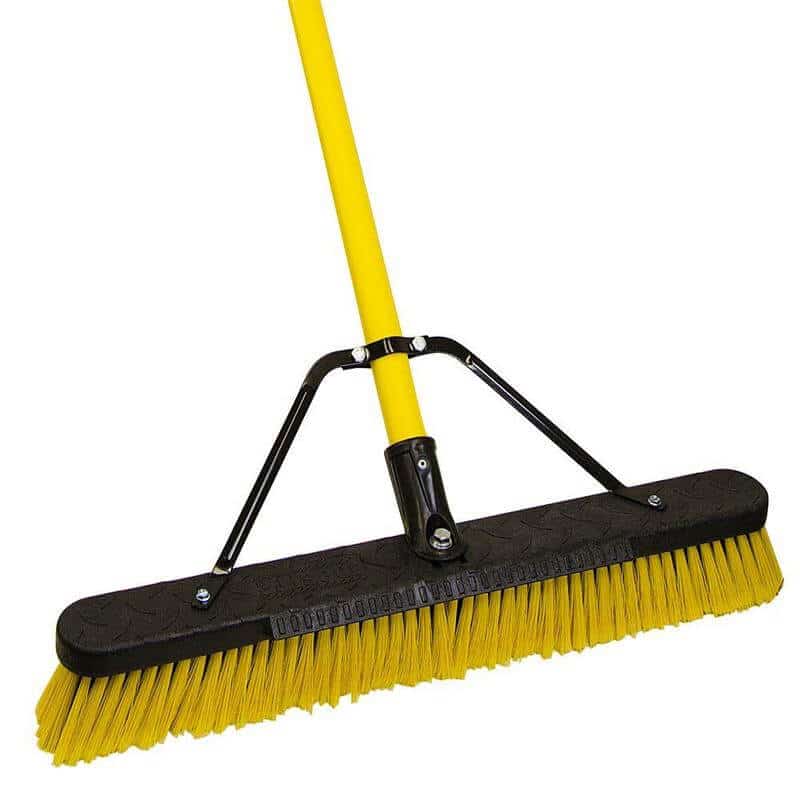 Adjustable Ladder – Ladders have come a long way and there are ladders that fold-up flat, change shape and are applicable for a multitude of elevated jobs on the homestead. Look for a ladder that can at a minimum reach your roof, made of aluminum, has a weight capacity that's appropriate for you, and is approved by a ladder safety organization like www.laddersafety.org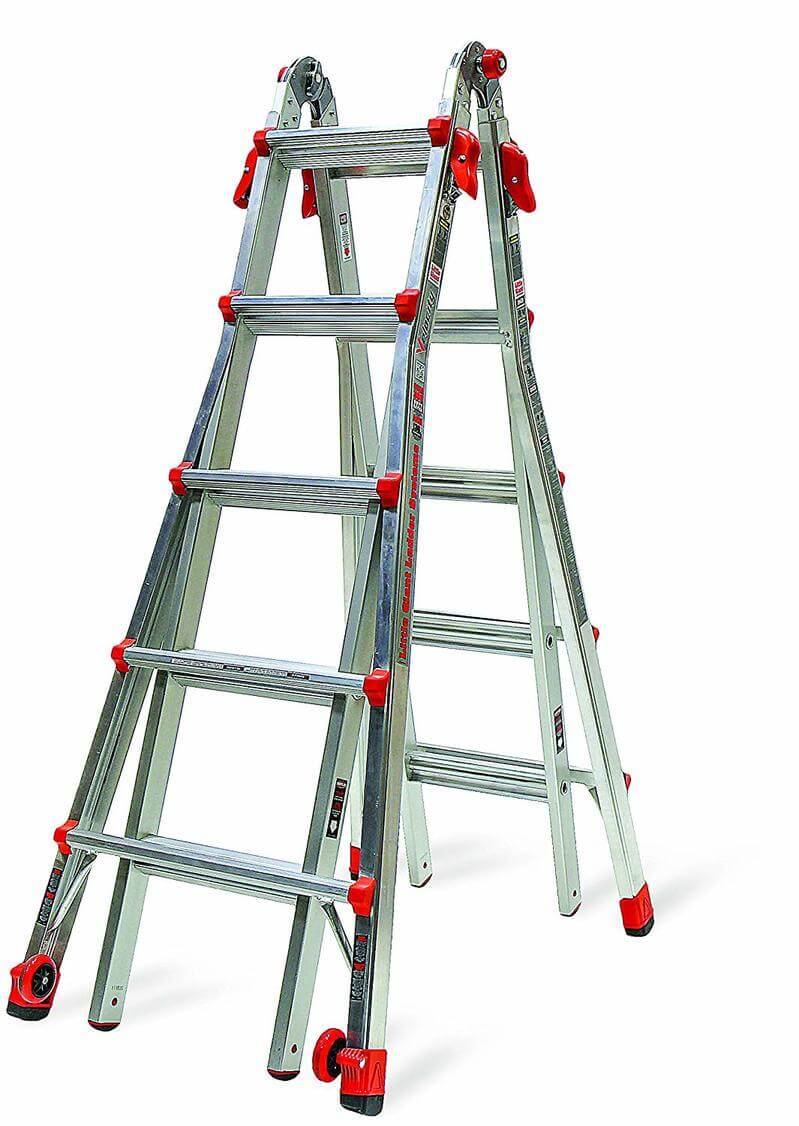 Wheelbarrow – One tip here is to get a wheelbarrow with at least two wheels. They should have called it wheels barrow instead. It makes moving wood, gravel, and cement easier when you're not trying to balance the load. Also, go for pneumatic tires and maintain it well. Store it in the shed or under a tarp. If you leave it out in the rain and it'll last 2 seasons at best and you'll be back shopping for another one.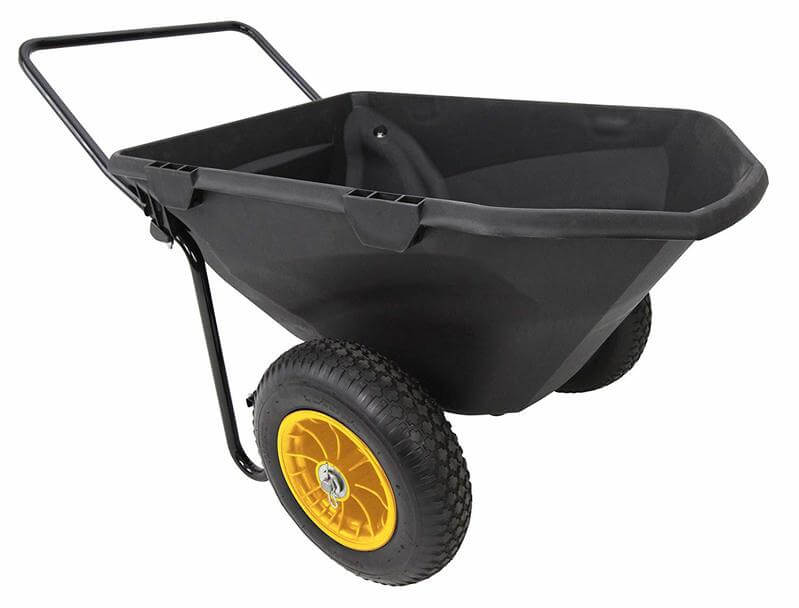 Carpenters Belt/Builders Rig – With that collection of tools you're going to want to have them on your person when and where you need em. This is the perfect, and classic, way to have them within an arm's reach at all times.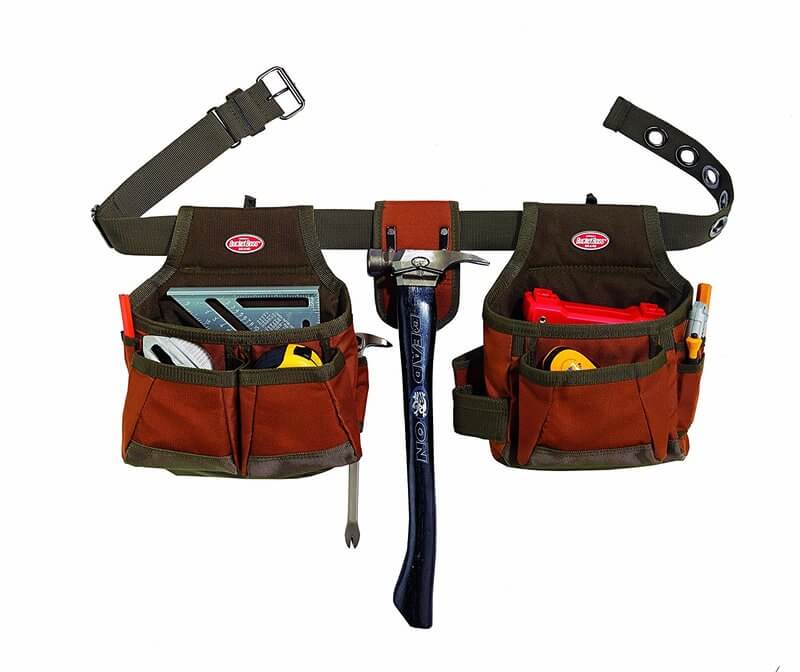 Tool box – For those times when you're not wearing a tool belt and no amount of pockets will do you'll need a sturdy and portable tool box to carry all your tools.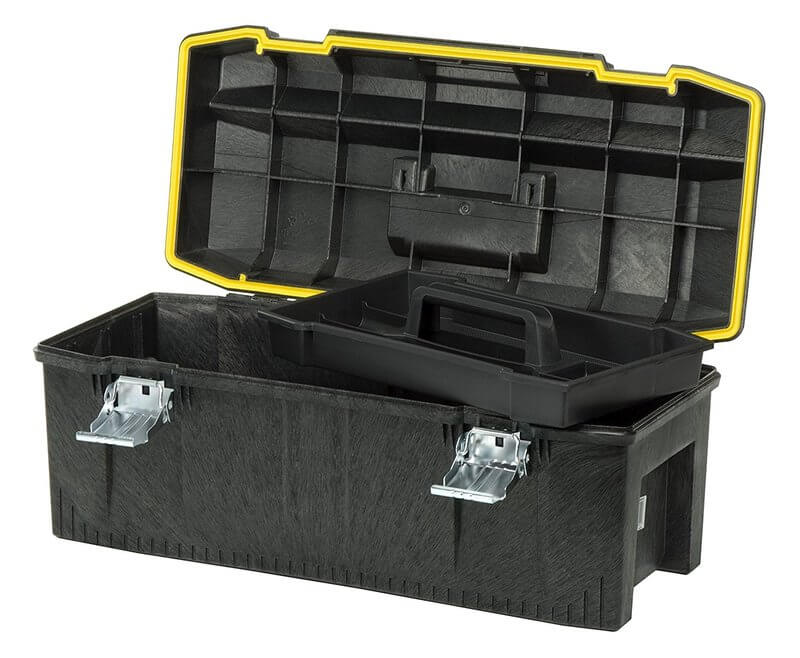 Outdoor Extension Cord – Unless every tool you use is a hand powered tool or battery operates chances are you'll need a long, high quality, heavy-duty extension cord. Get a minimum of two 50 foot cords instead of one 100 foot cord. Also ensure the female end has an LED that lets you know you've got power. Ensure the rating is at least 15amps and be labeled for outdoor use.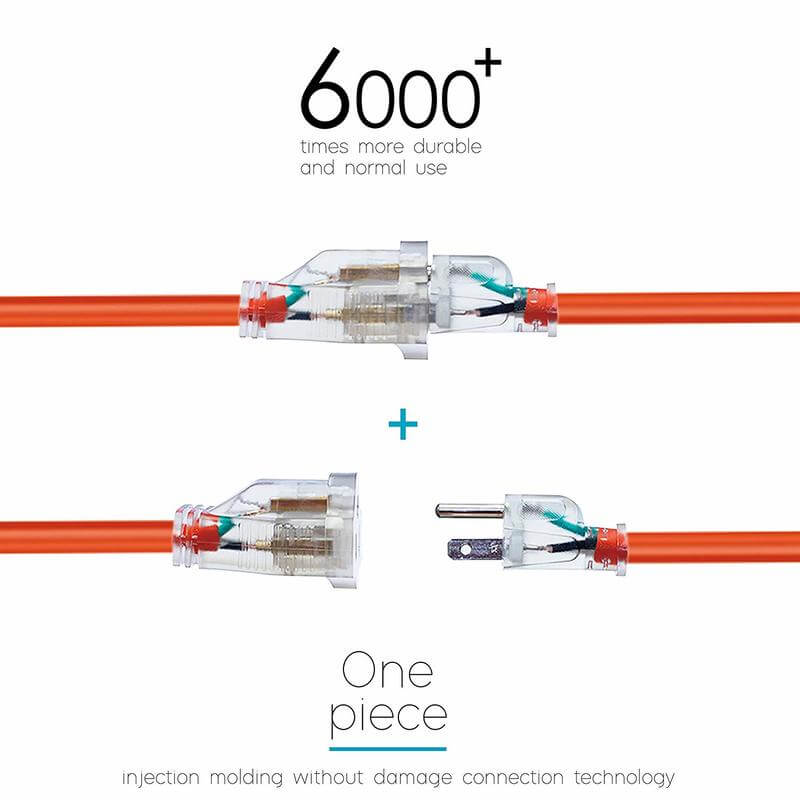 Drill & Impact Driver  – A battery powered drill is an absolute must. A lot of drills come as a set with an impact driver which we use a lot. Use it when removing rusty bolts, driving lag bolts, and basic vehicle maintenance.  An impact driver beats a socket set any day.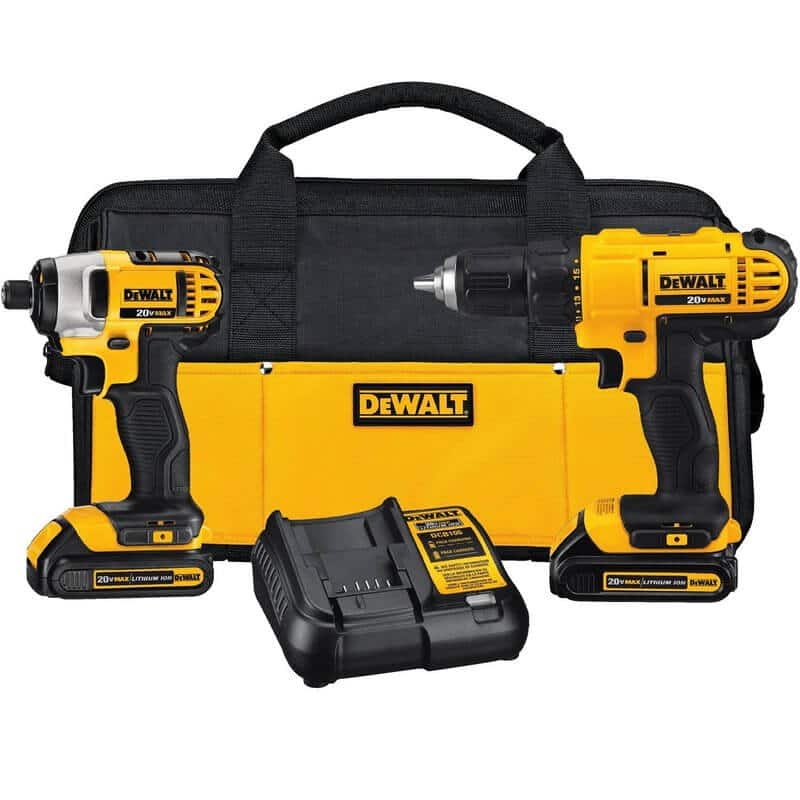 Circular Saw – Unless you're planning on hand sawing everything like Richard Proenneke you'll need a circular saw at some point. Also ensure you have a backup battery as a spare for when the first one runs out. A handy feature is tilting the table to make bevel cuts. A good circular saw will last a lifetime if it's maintained and stored in its case.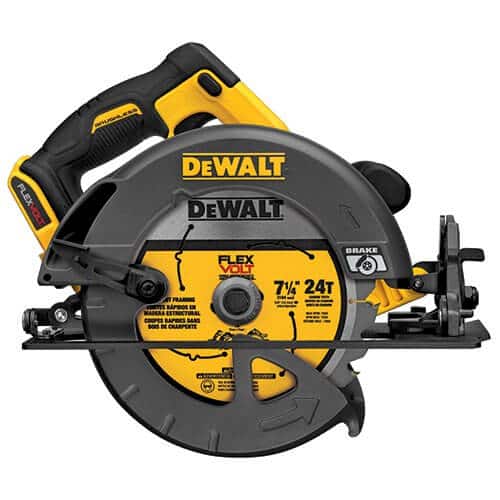 Reciprocating Saw – This is a nice to have tool that we've used to trim wall studs, pipes, ABS and reach into places no other saw could get into.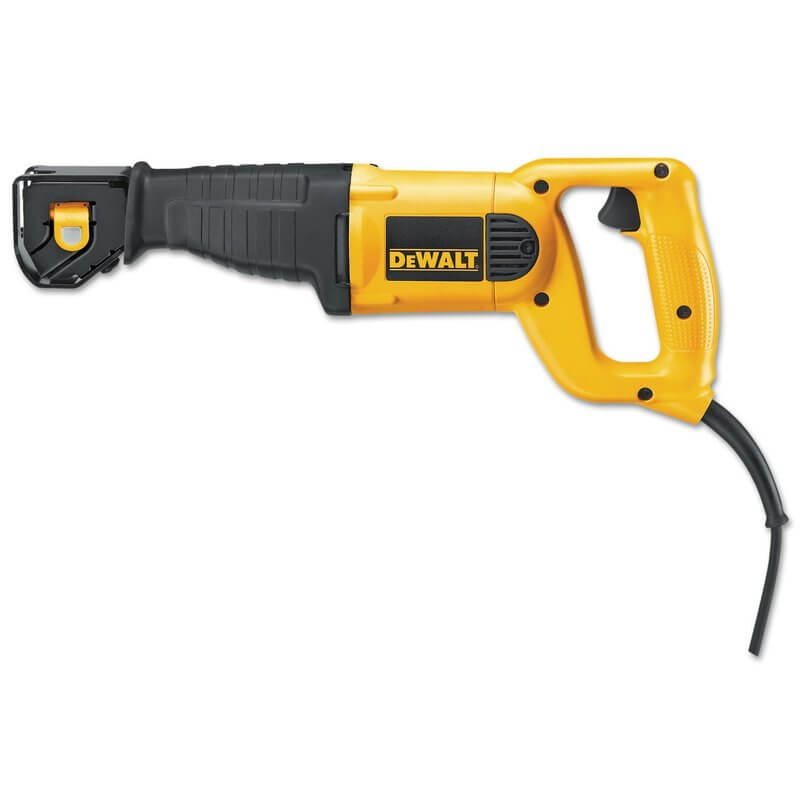 Hand/Angle Grinder – Great to speed up sharpening the axe or mower blade, cutting off a rusted bolt, taking the rust off or cutting a section of steel roof. This handy power tool saves time and energy.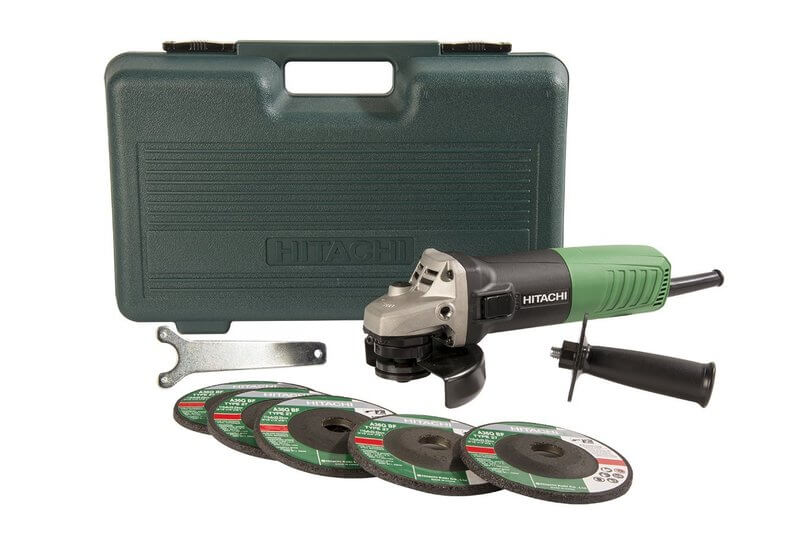 Nail Gun – If you know us you know this is our number one favorite battery powered hand tool on the homestead. This shaved weeks off our building time and we write about it a lot because we love it that much. We're still using  this handyman's gem on a multitude of projects. What's amazing is this cordless nail gun doesn't require CO2 cartridges like most nail guns. As well, the battery lasts an entire day. There are several methods to quickly and easily correct a jam if it happens.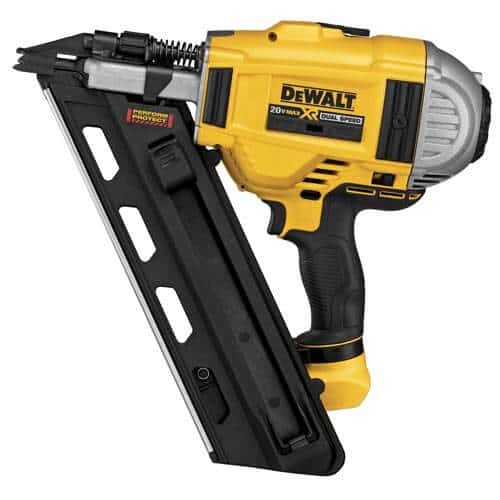 Double Bevel Sliding Compound Miter Saw – A nice to have tool when building a home is a compound miter saw. This is a huge time saver and nearly guarantees a perfect cut (provided to measured right) every time. With ultimate precision there is no framing job you can't tackle with this beast. We opted to also get the Miter Saw Stand as well and found it saved our backs!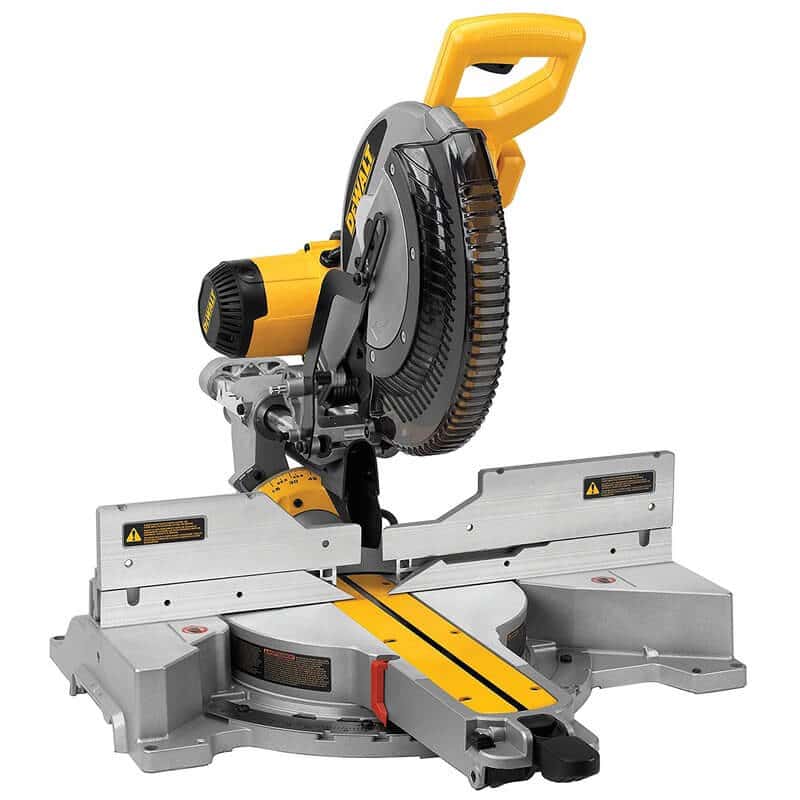 Flood light – Keep working when the sun goes down, light up your entire garage/shed, or get under the house and see as well as if you were on the roof. An LED flood light is waterproof, won't heat up, and uses far less power than the halogen lamps. This will withstand impacts and has multiple brightness settings.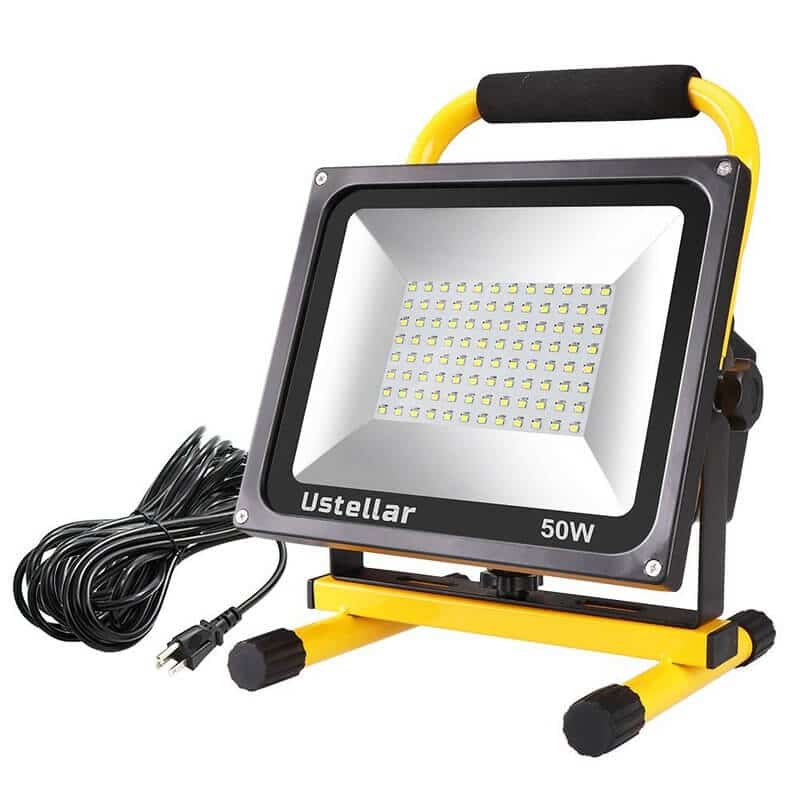 Section #3 - Personal Safety Tools
Work Gloves – On the homestead a lot of work is done by hand. To save those hands invest in a solid pair of comfortable work gloves. When you find a pair you like, are long lasting and comfortable for you… buy a few pair! You're hands aren't going to change size anytime soon. Dealing with a pair of old, crusty beat down gloves is miserable. No one wants to live with blistered hands!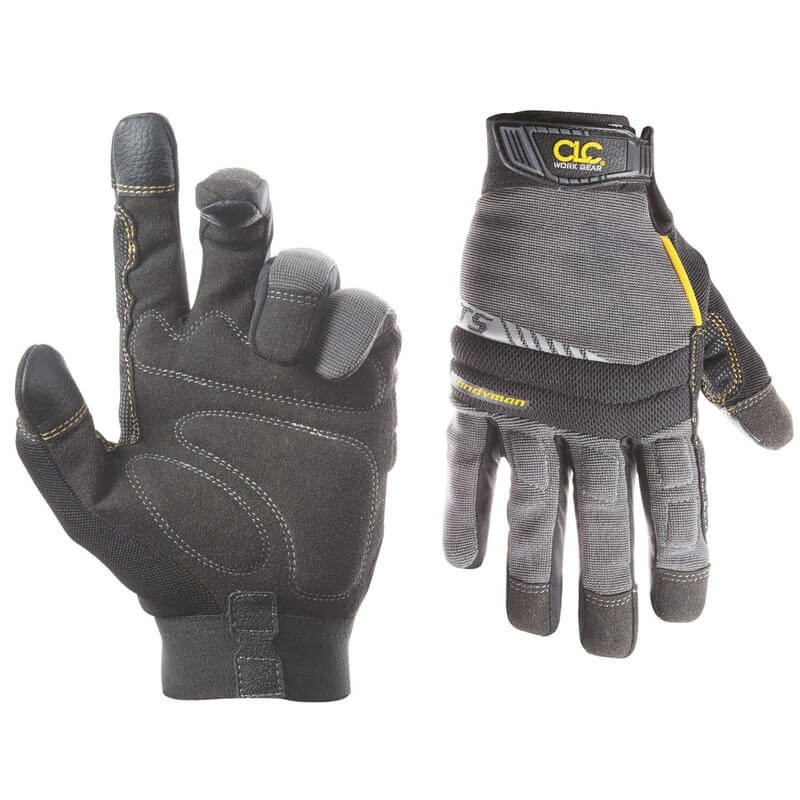 Safety glasses – I won't stress the importance of having a good pair of safety glasses. Buy a pair with a neck string and ones that won't easily scratch. Off grid is no place to get a sliver of wood, dirt, or piece of metal in your eye. Glasses are one of the cheapest but most critical safety tools you'll ever buy.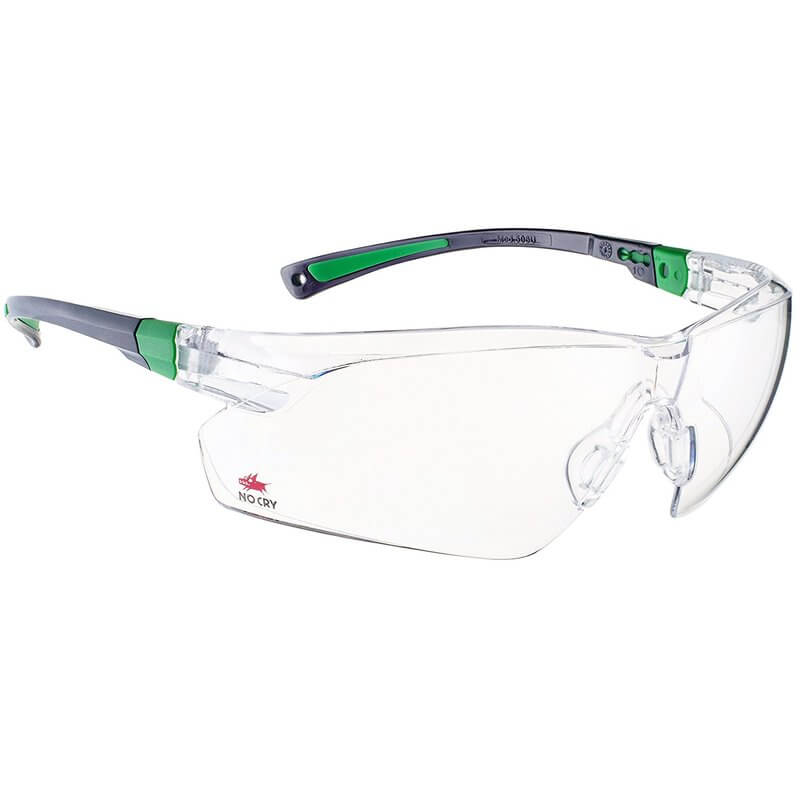 Work boots – Treat yourself to a good pair of work boots that are both insulated, are cold weather combatable, have a chemical resistance sole, are steel toed and have a slip resistant tread.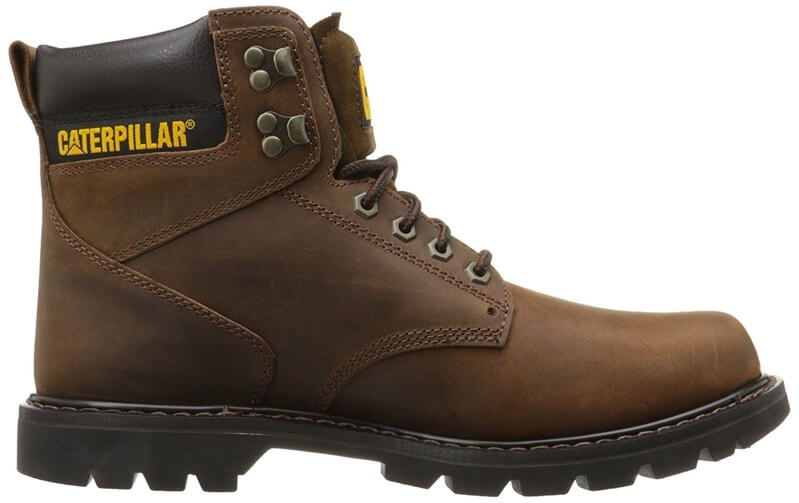 Head lamp – A good headlamp isn't just for your head. Get one with LEDs and a multi-strap head harness. The high and low setting saves battery life. The red LED helps preserve night vision when you're walking about in the dark.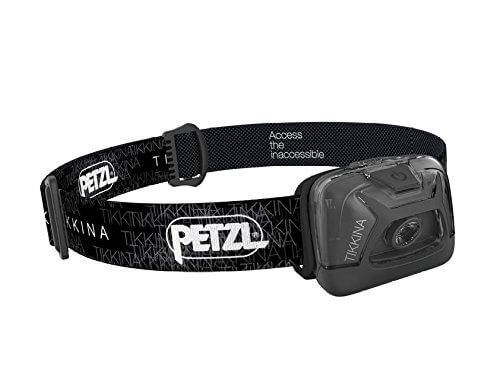 Two way radios – If you're a couple (or more) on a homestead it's nice to stay in communications with one another when working out on the property. We used these when clearing our land, blueberry picking, kayaking on the lake and out exploring in the woods. They are quite inexpensive, have an incredible rage and impressive battery life. Some even have an emergency weather alert.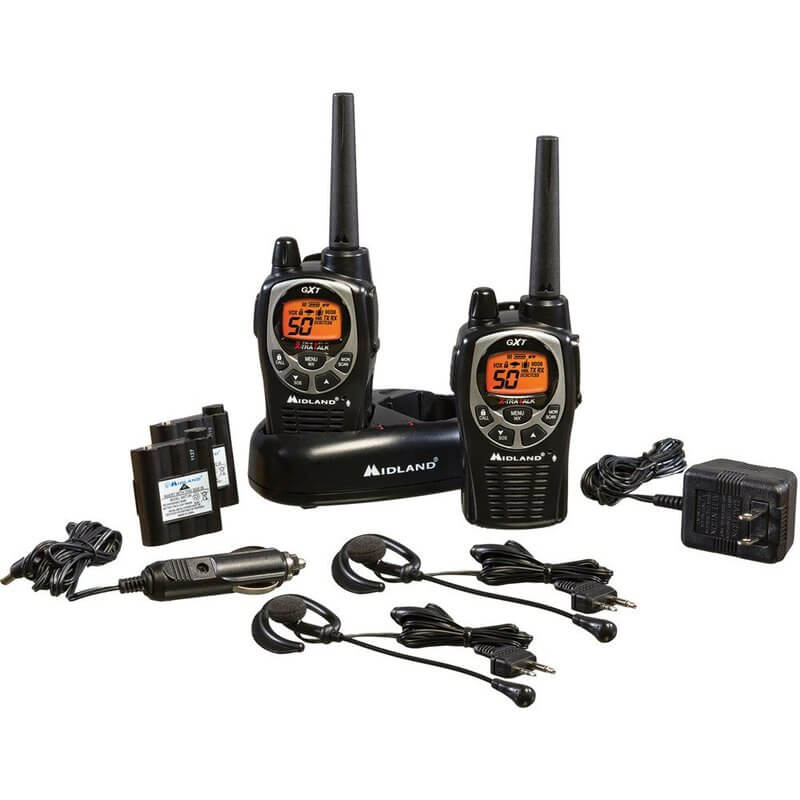 Solar power battery backup & flashlight – Never be without light or your cell phone again. Charged during the day and ready to go every night. Ultra bright and weather resistant these solar flashlights also charge cell phones, tablets, gopro, and other USB devices.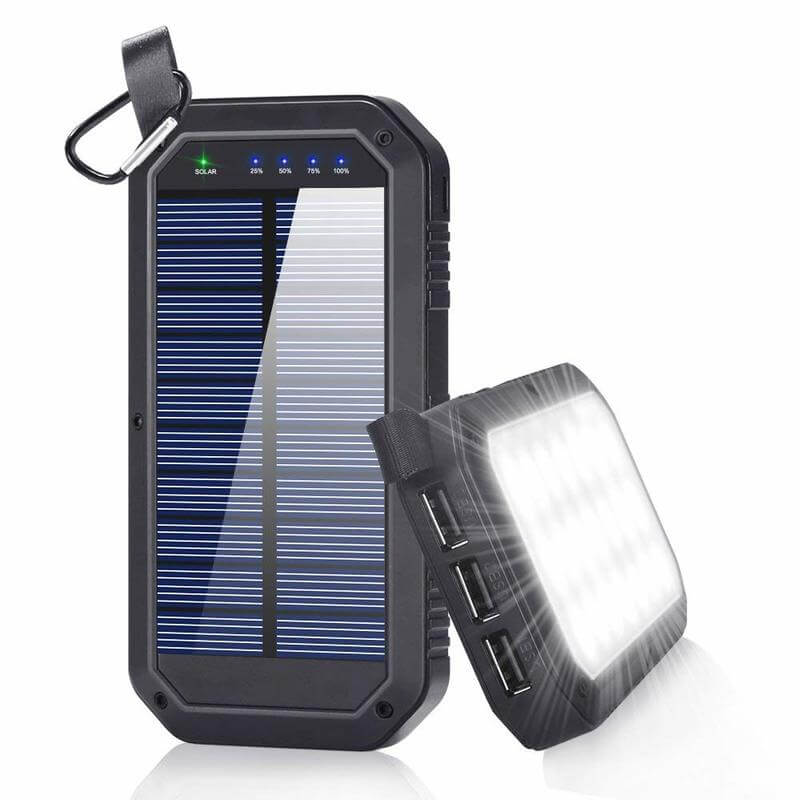 Ear protection – With chainsaws, lawnmowers, power tools, and the odd heavy machinery being used on the homestead be sure to invest in good ear protection. There are both in ear and over ear protection available.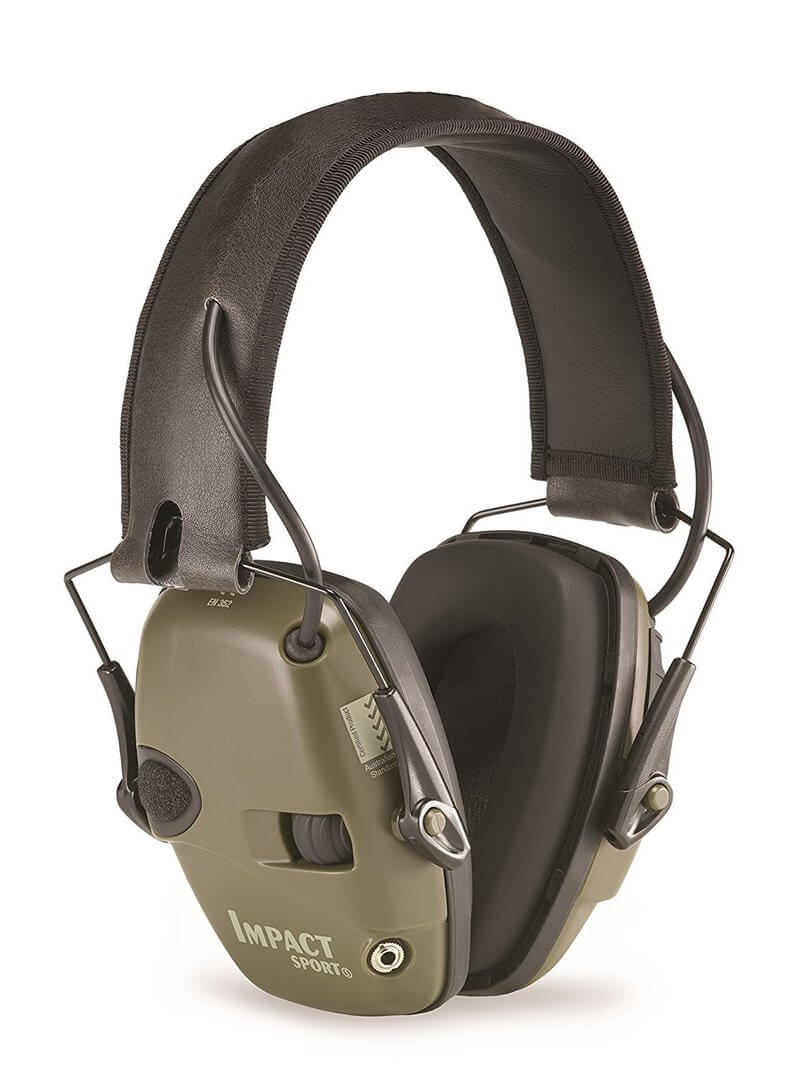 Section #4 - Emergency Tools
Scissor Jack – A flat tire at some point is as inevitable as a sunset. Besides changing from summer to winter tires on our vehicle we also use the scissor jack to help us level the cabin. As well, we've used it when setting a foundation beam, splitting logs, moving rocks, working on the ATV, and even lifting logs.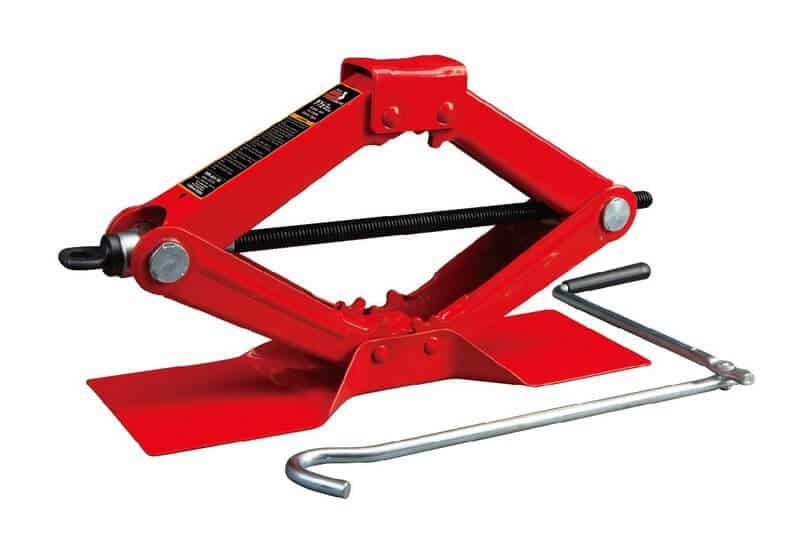 Snow Shovel – While it's nice to have an ATV and a plow to clear our road it's not going to clear the front deck and the walkway. Some snow shovels have ingenious design to make lifting heavier wet snow more easily with mechanical advantage.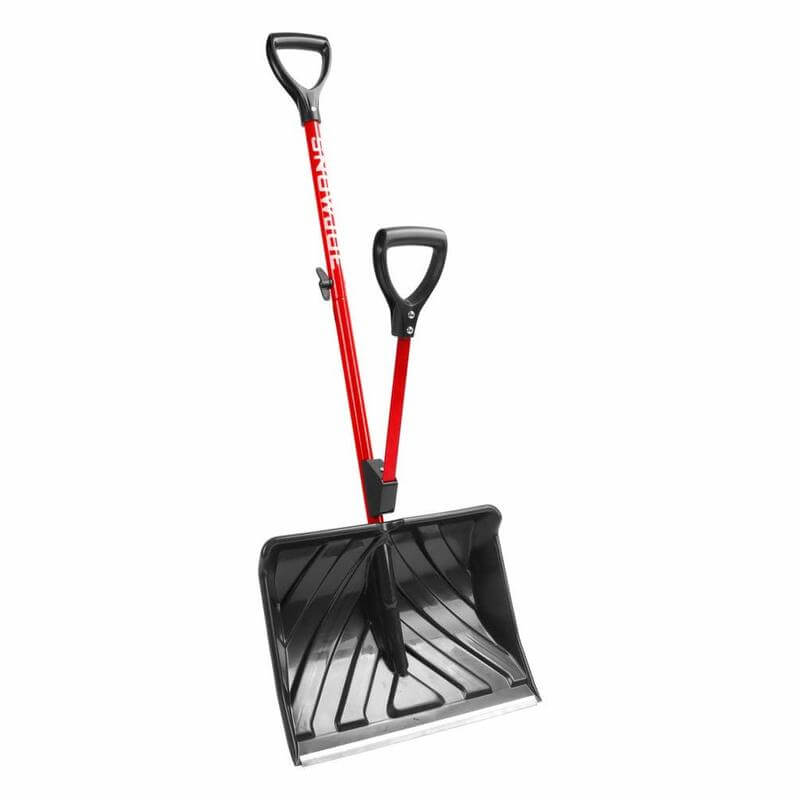 Fire Extinguisher – Having the proper type of fire extinguisher in the proper location is non-negotiable. Epically when living off grid. Not many off grid homes have a fire suppression system. A handheld bottle extinguisher is pretty much the ONLY defense in a fire scenario. Do your research and buy the PROPER type of extinguisher (class A, B, C, D, Electrical fires, and F). There is no one extinguisher type that work on all classes of fire.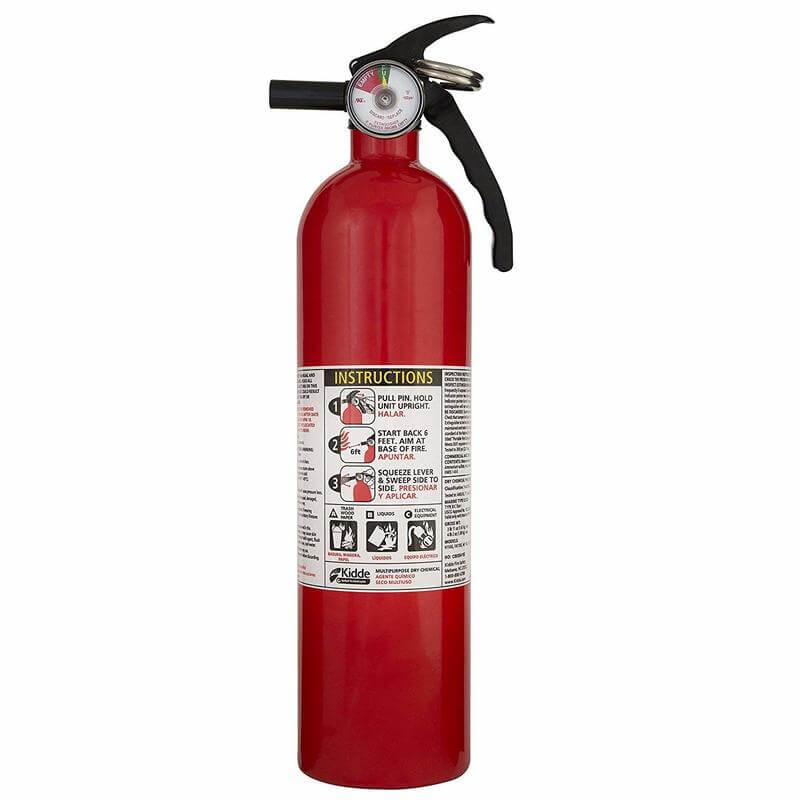 Back-up Generator – A back-up generator isn't a luxury. In a crisis situation it can become a necessity. We bought ours initially to power all the tools we used to build our off grid home. Now it serves as a back-up to our solar system. It can both power the entire cabin and recharge the solar system batteries at the same time. What's quite convenient is this particular model is remote start and stop.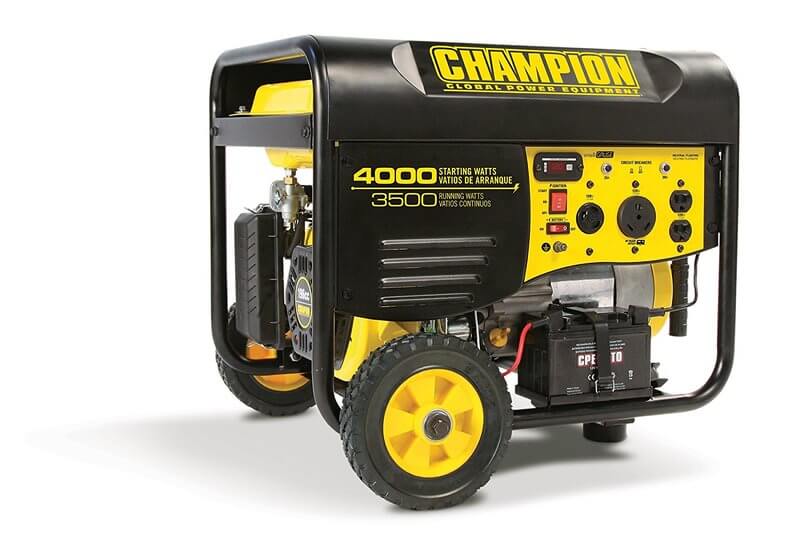 5-Way Solar Powered Emergency Radio – A solar powered radio does more than play music. It's also an LED flashlight, an AM/FM/NOAA radio and some can also charge your USB devices! Stay up to date of the latest weather and local emergencies. This radio won't die like most when the battery runs out of when the sun goes down!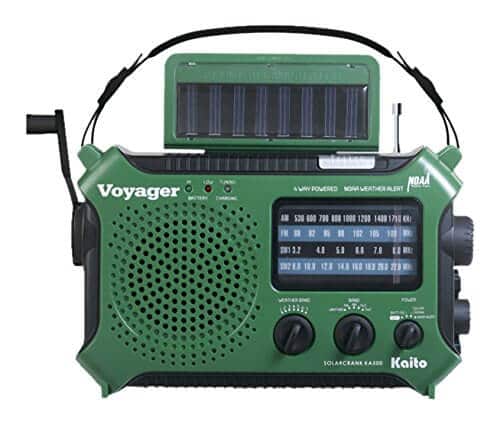 Emergency Candles – Not just for light but also heat. These candles last a long time (9-12 hours). They can also be placed inside a special lantern candle holder. This way walking around or going outside won't blow the candle out.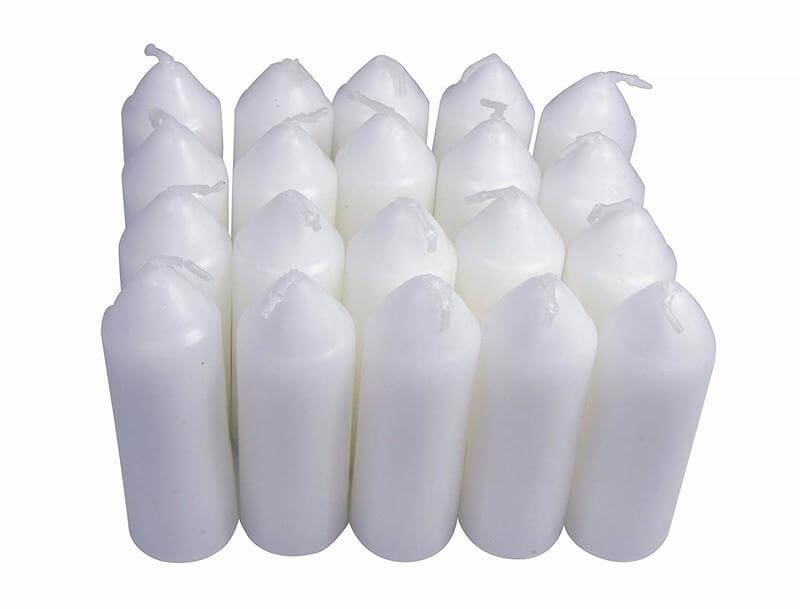 Emergency Candle Lantern – This durable candle lantern casing is perfect for the UCO candles above. Provides warm light, heat, and won't go out with the wind thanks to the glass chimney.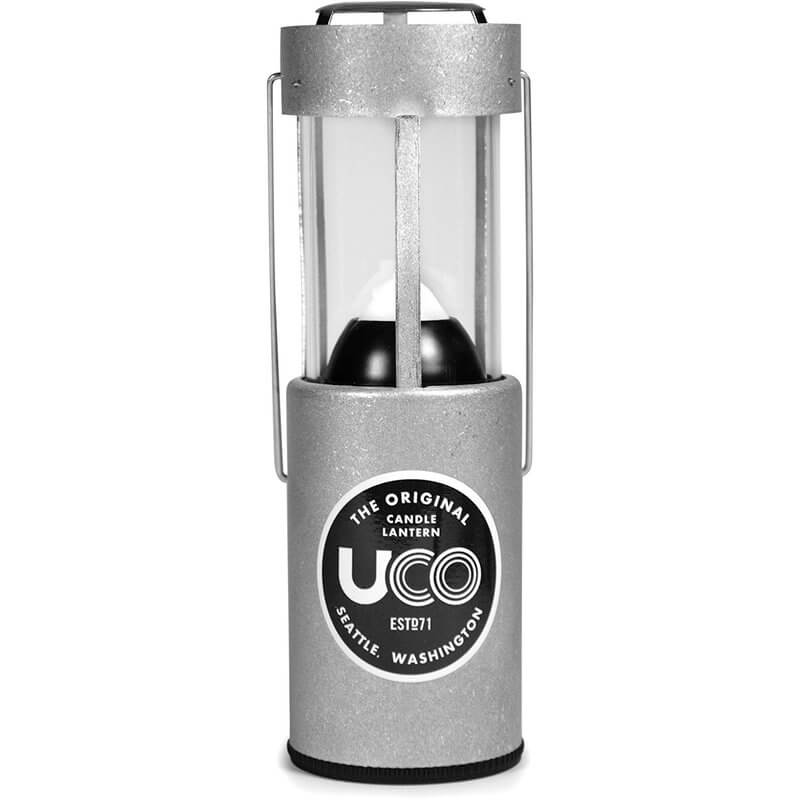 Section #5 - Gardening & Landscaping Tools
Pointed Digging Shovel – Designed for just about every digging job on the homestead. Every landscaping job needs a shovel and this is the workhorse of all shovels. Perfect for shoveling gravel, digging holes, trenching, and all-around earth moving.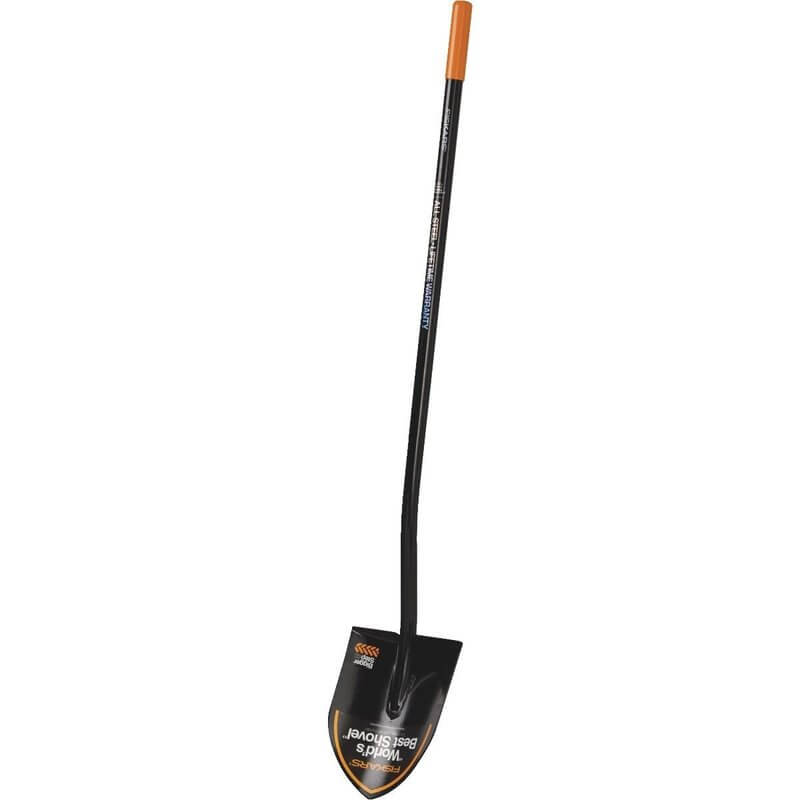 Bow or Garden Rake – Another often used hand tool is the garden rake. Used to level ground, gravel, break up soil and perfect for planting rows. This long handled heavy duty rake will tackle any job with ease.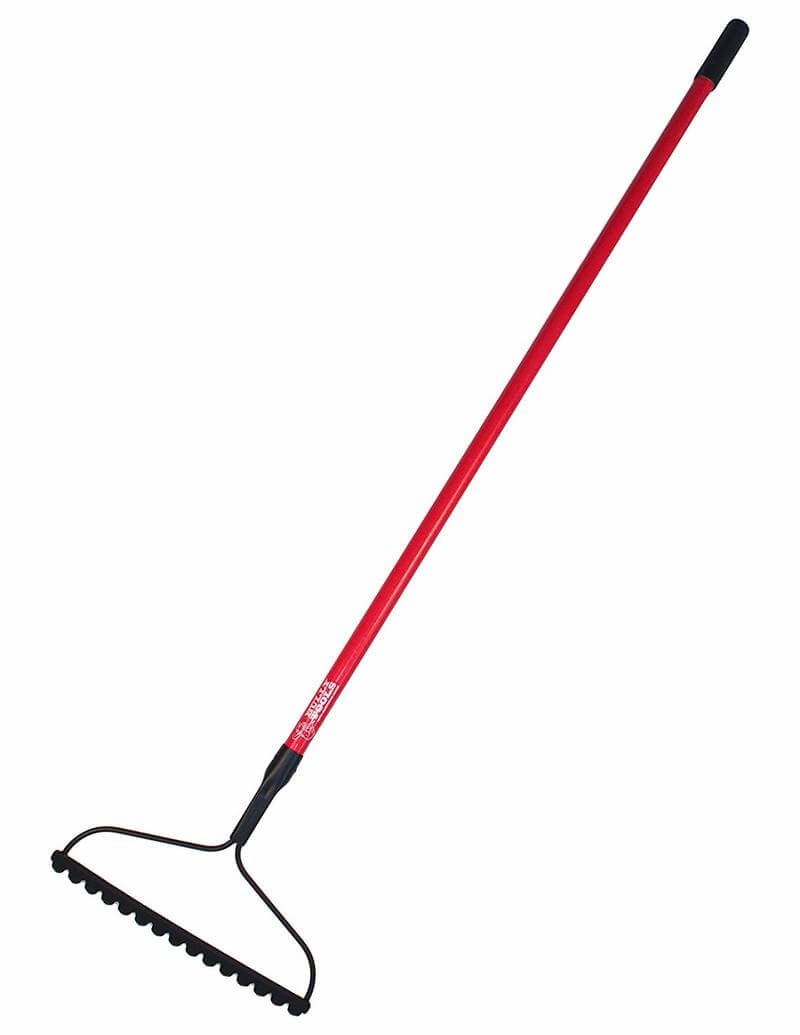 Pick/Mattock – The perfect tool for us to dig trenches, uproot stumps and break up hard clay/soil. Buy one with a replaceable handle if you can.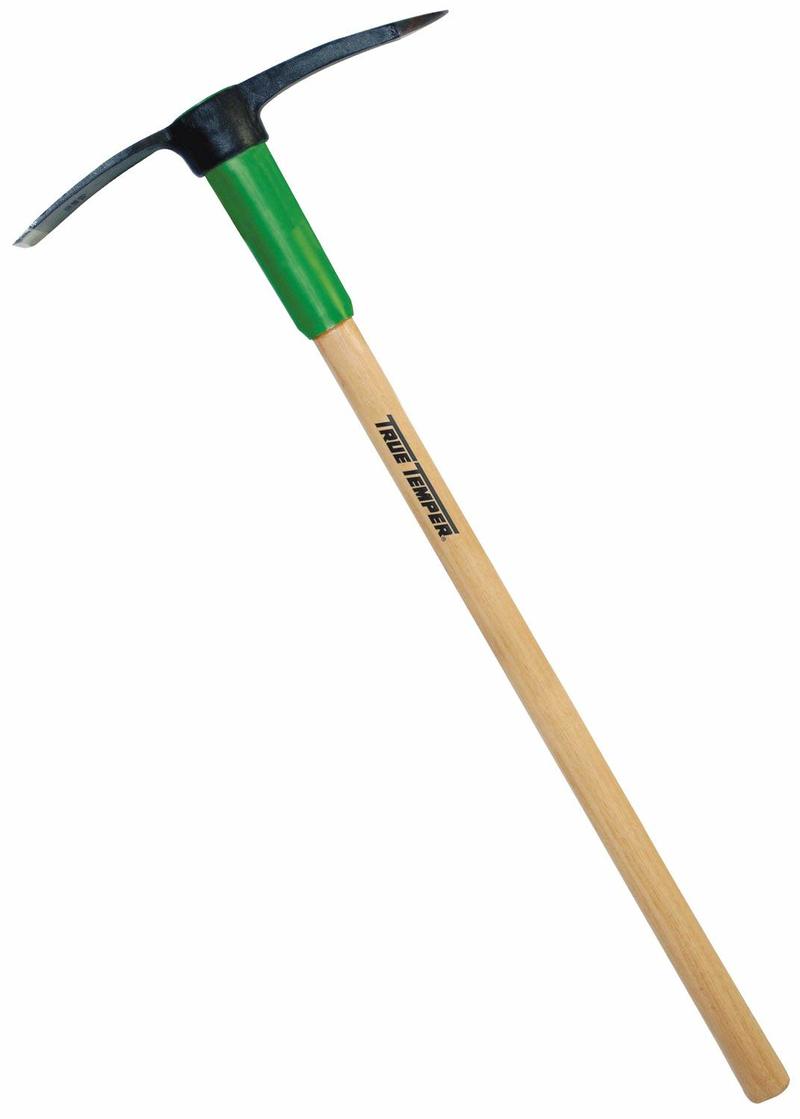 Garden Hose – Spend a little more to get an all-weather garden hose made with premium rubber, brass (or nickel plates brass) fittings, anti-kink and long. There's nothing worse than being 20' too short so get a hose that's 100 feet.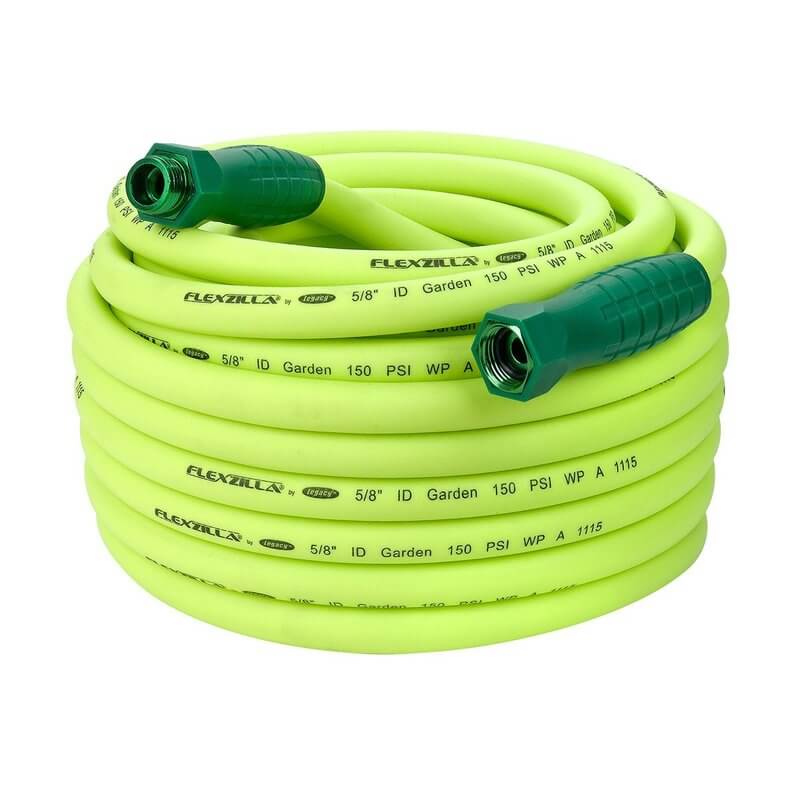 Twist Nose Nozzle – forget the fancy plastic hand triggers, levers and multiple spray garden nozzles out there. Buy one brass twist nozzle with two pieces and one moving part and you'll buy it for life.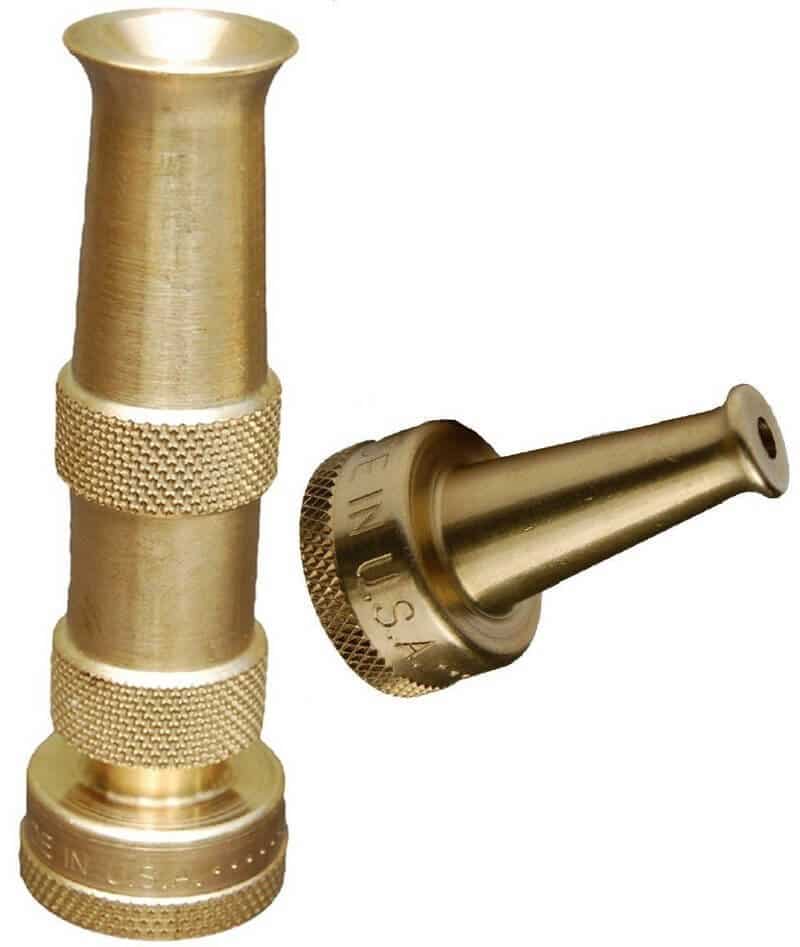 Brush Axe – Ideal for clearing brush, cutting trails, stripping logs, or felling small trees and saplings. We used ours when blazing a 650ft trail through the woods down to our building site. We've also used it to help keep our gravel roadway clear of small bushed that can creep up in the center of the road.

Garden Shears – Trim back bushes or trees and keep your gardens and crops happy and healthy.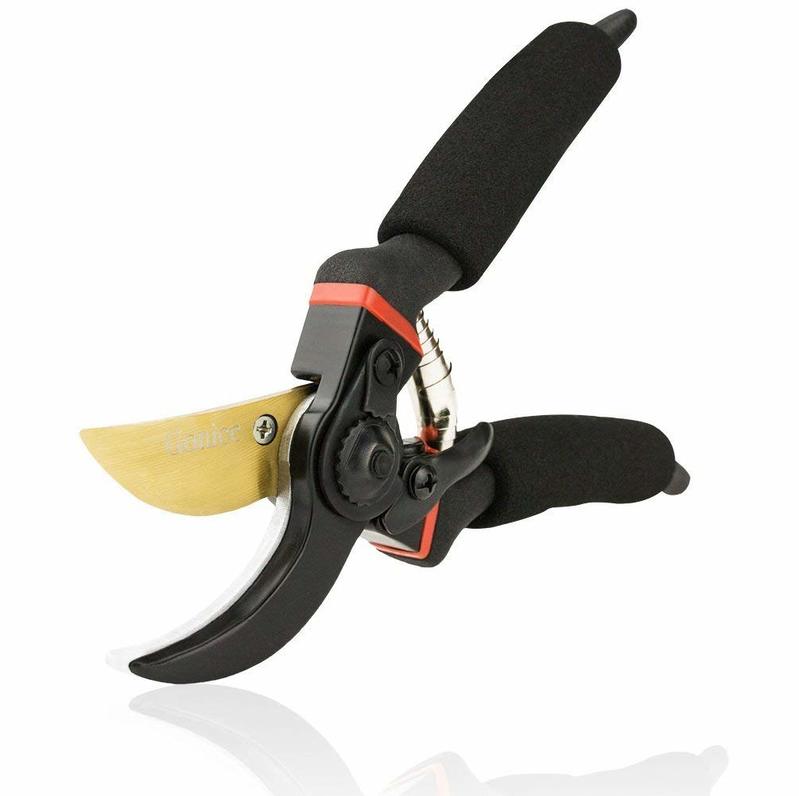 Push Mower – Depending on the size of your property you may opt for a power mower of riding mower. However, if you just have a small patch of grass like we do (we're in the middle of a forest) then a push mower not only does the job but there's no noise, no fuel, and its great exercise.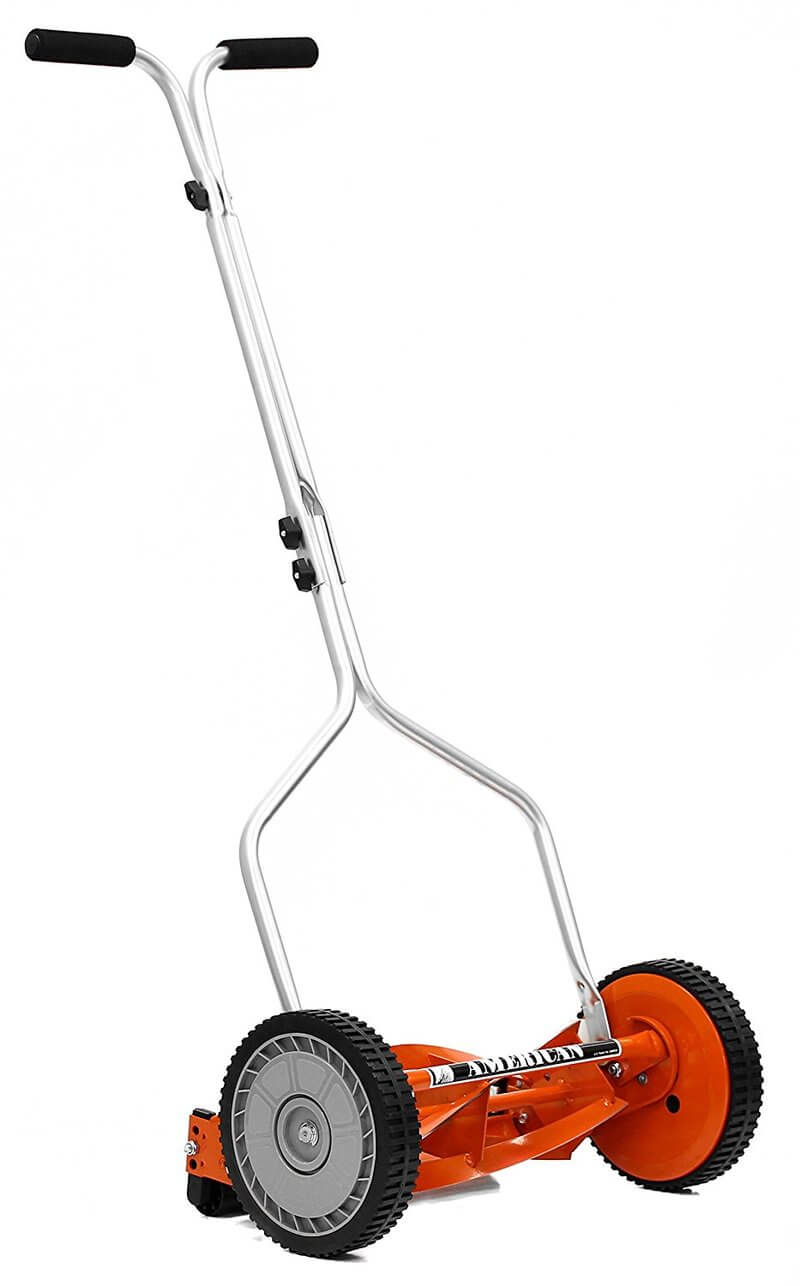 Chain Saw– A gas powered model is the way to go. Depending on your needs you may not require a heavy duty farm sized saw. We were able to clear our entire property, down the necessary trees and cut all our firewood with a 38cc 16 inch bar Husqvarna.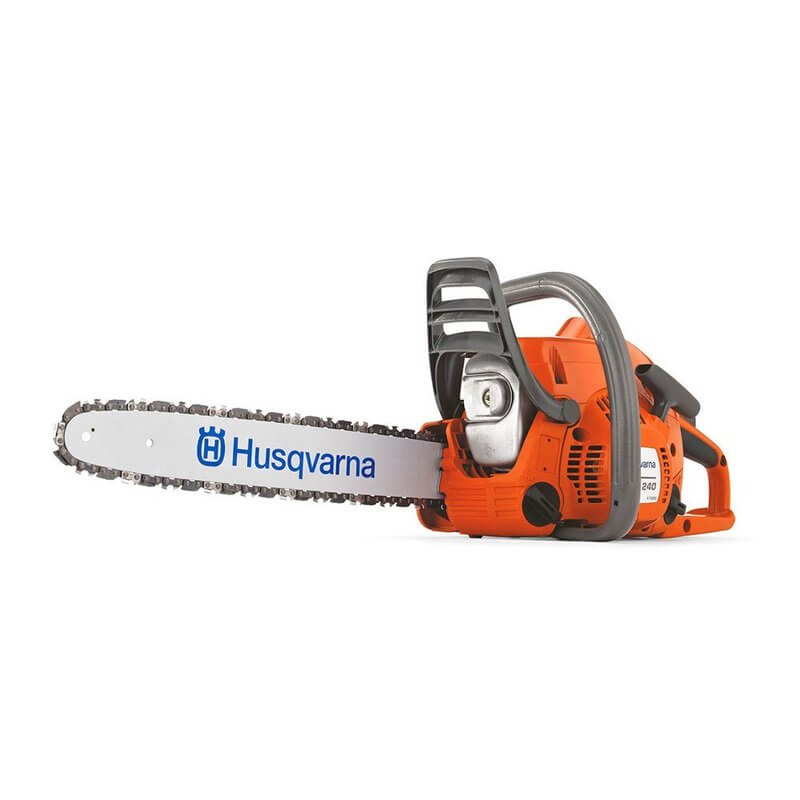 Section #6 - High End Tools
All Terrain Vehicle (ATV or UTV) – We have a 2011 Yamaha Grizzly 550 and it is an absolute beast. It hauls all our building supplies, materials, and tools to the build site while building our cabin. We also haul gravel, plow the road in winter, pull up stumps (with the winch) and haul fallen trees cut down for firewood. I'm surprised to see an ATV on Amazon but here it is!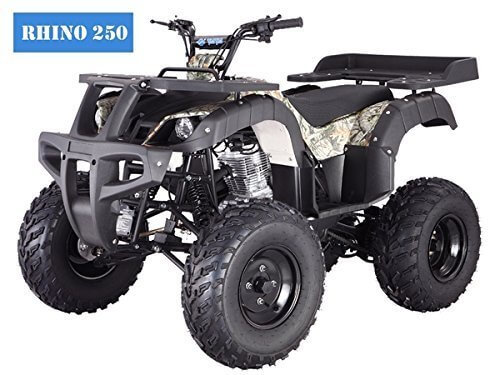 ATV Plow – this is the snow plow we bought for our ATV (Warn ProVantage). It's a total life, time and money saver. This allows us to access our off grid home all winter long without having to pay someone else to come and plow our roadway.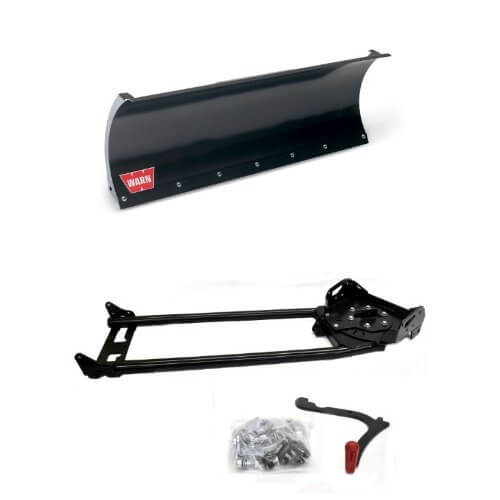 Utility Trailer – Without this little trailer we wouldn't have an off grid cabin, an ATV or be able to move any of the logs, the gravel, or the soil around our property. We built our own pressure treated box for the trailer because we wanted removable sides, front and back panels in order to accommodate the ATV.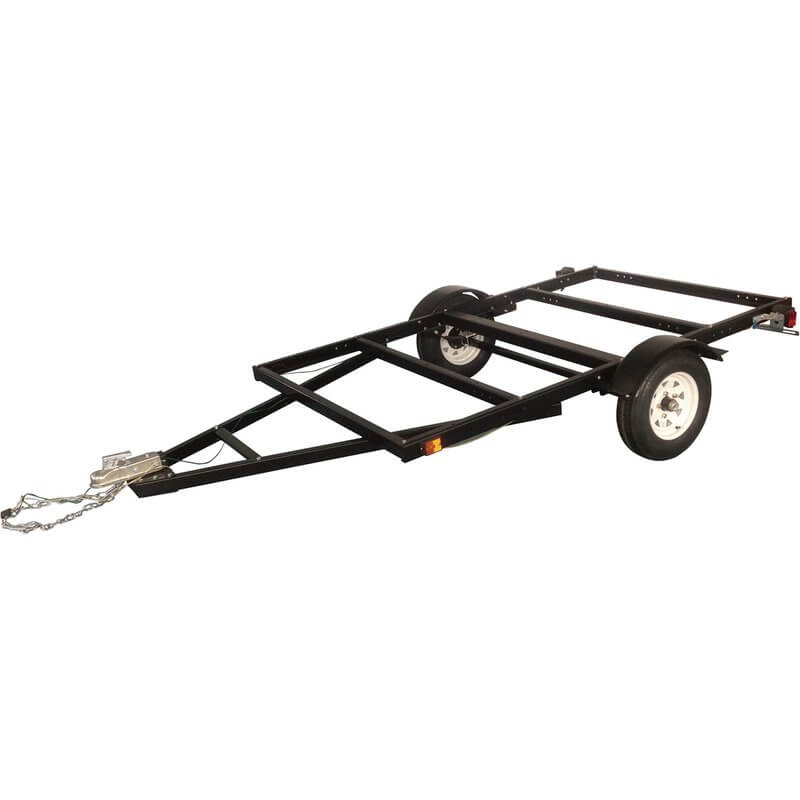 11ft x 11ft Lifetime Garage – We choose an 11 foot by 11 foot Lifetime Garage in order to drive our ATV straight in and out. We still have plenty of room for all our garden tools, generator, gas/propane tanks. We are actually very happy with this garage and have all good things to say (two years). The side windows open wide and the skylights allow plenty of extra light inside. Follow the directions and you've got a large permanent structure that's ready to go within a day or two. We built ours on a pressure treated base of 2x4s and plywood and it also serves as our workshop.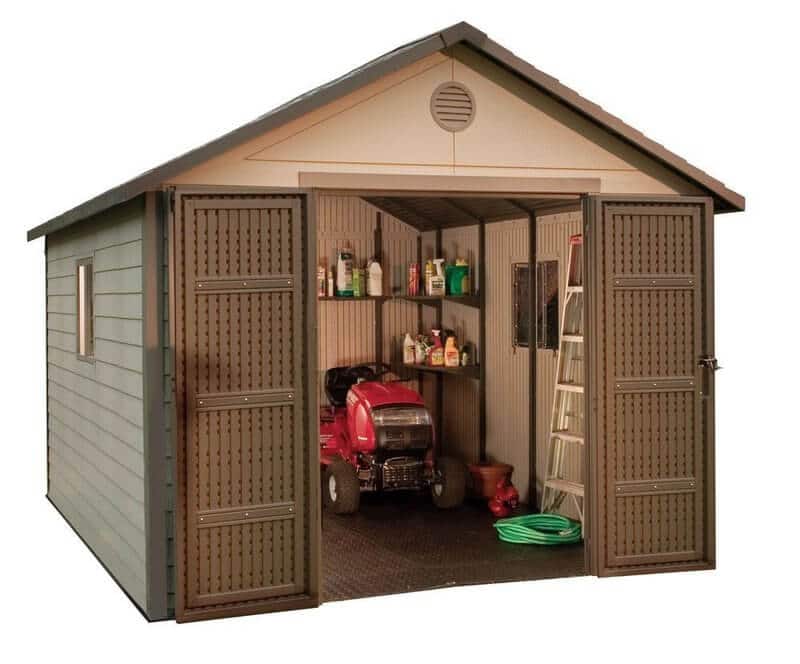 Storage Box – This served as a temporary storage solution for all our tools and equipment while we were building the cabin. We use it to store firewood today.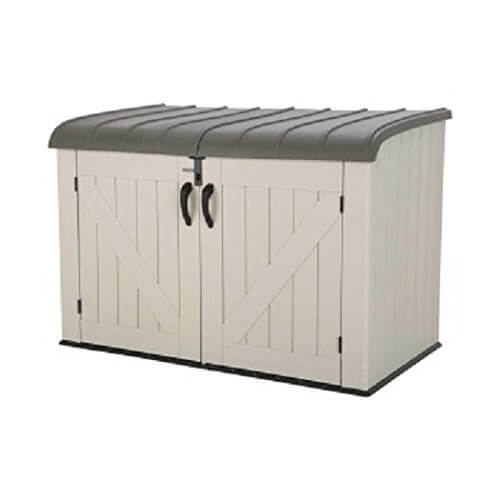 Deck Box – Just outside the door, on our front deck, we have this resin storage box to hold kindling and about 4-5 days' worth of firewood. It's so nice not to have to get all dressed up and walk out to the storage shed to get our wood now.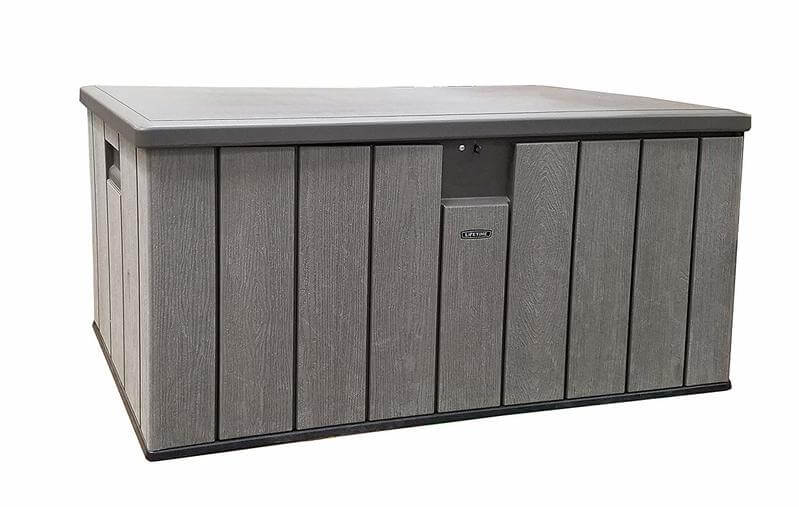 Lumber mill – We bought all our lumber pre cut from Home Depot and had it delivered. However, some folks (and we know a few) love to do it all themselves. Here is a DIY Lumber Mill that allows you to not only produce all your own lumber to build with but keep on milling lumber to sell.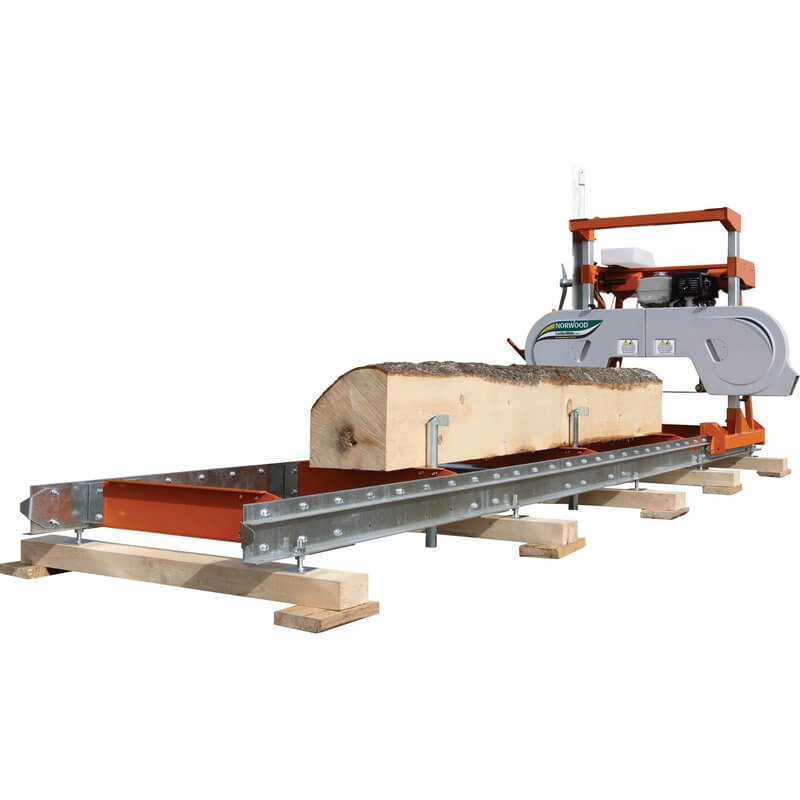 Solar System – Our solar came from an off grid solar kit provider like TheCabinDepot.ca We did a lot of research to find the best solar provider and the best solar system. Not only did they listen to my exact requirements but they fully (and properly) wired the inverter, charge controller, remote control, and surge protectors prior to shipping. It was a work of art! Here is our exact solar system The only thing we did when it arrived was put up the three solar panels, connect the wires with the quick connectors and wire up the batteries. It takes only one day to install.
Solar Panel – Canadian Solar CS6K-270P 270 Watts 60 Cell Poly-Crystalline Solar Panel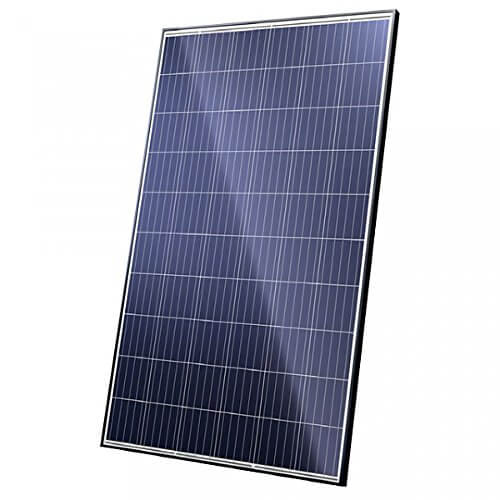 Inverter/Charger – Magnum MS4024PAE Pure Sine Inverter/Charger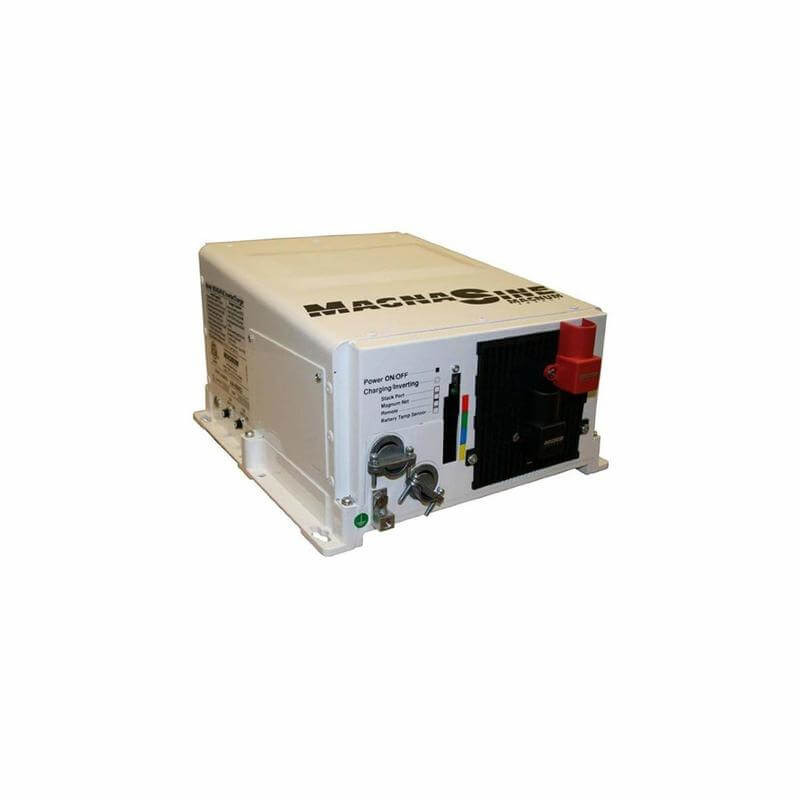 Remote Control – Magnum Energy ME-RC50 Remote Control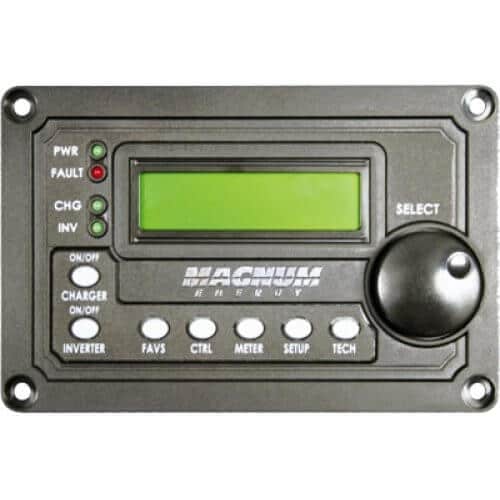 Mini Panel – Mini Magnum Panel 250-30D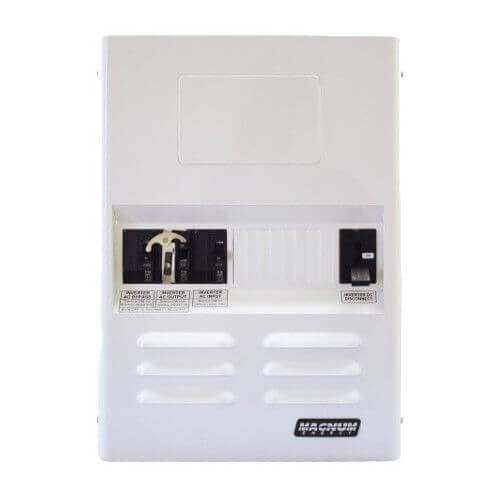 Mini Panel Hood – Magnum Energy MP-HOOD Panel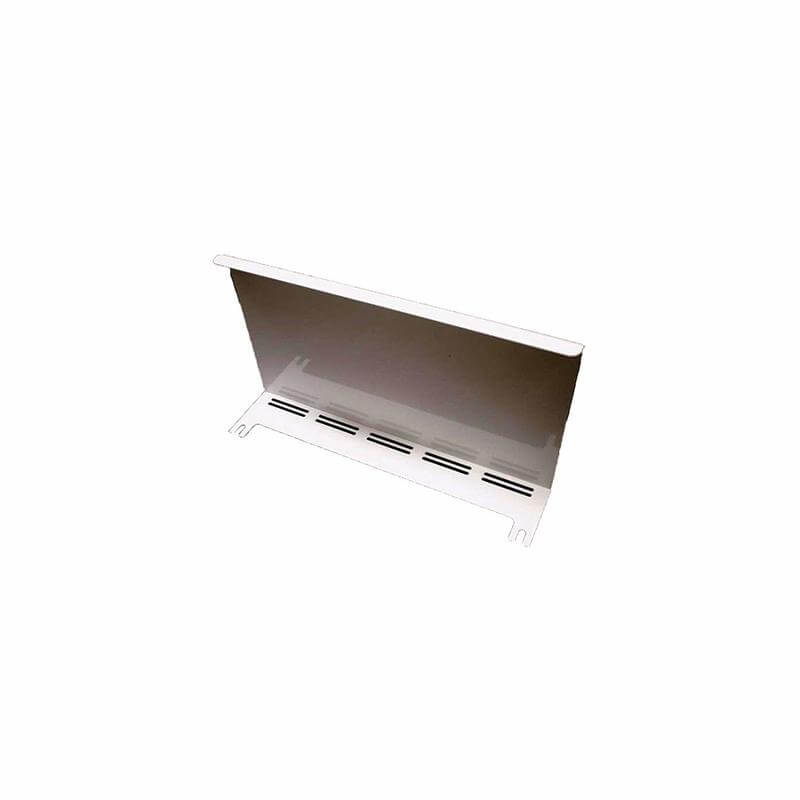 Backing Plate – Magnum Energy BP-MMP Single Back Plate for Mini Magnum Panel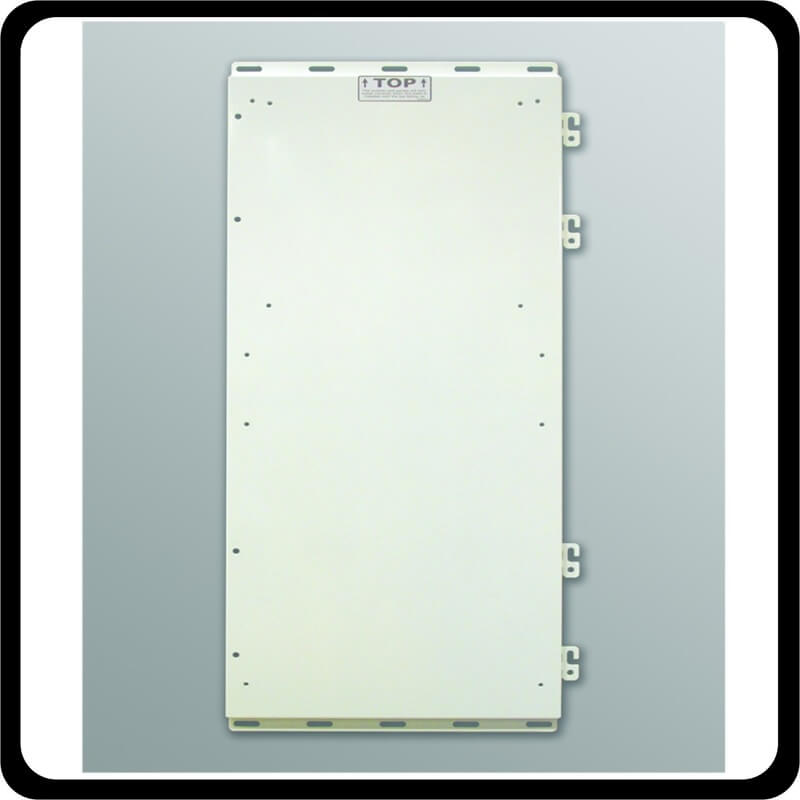 Charge Controller – Midnite Solar Classic 150 MPPT Charge Controller, 150V 96A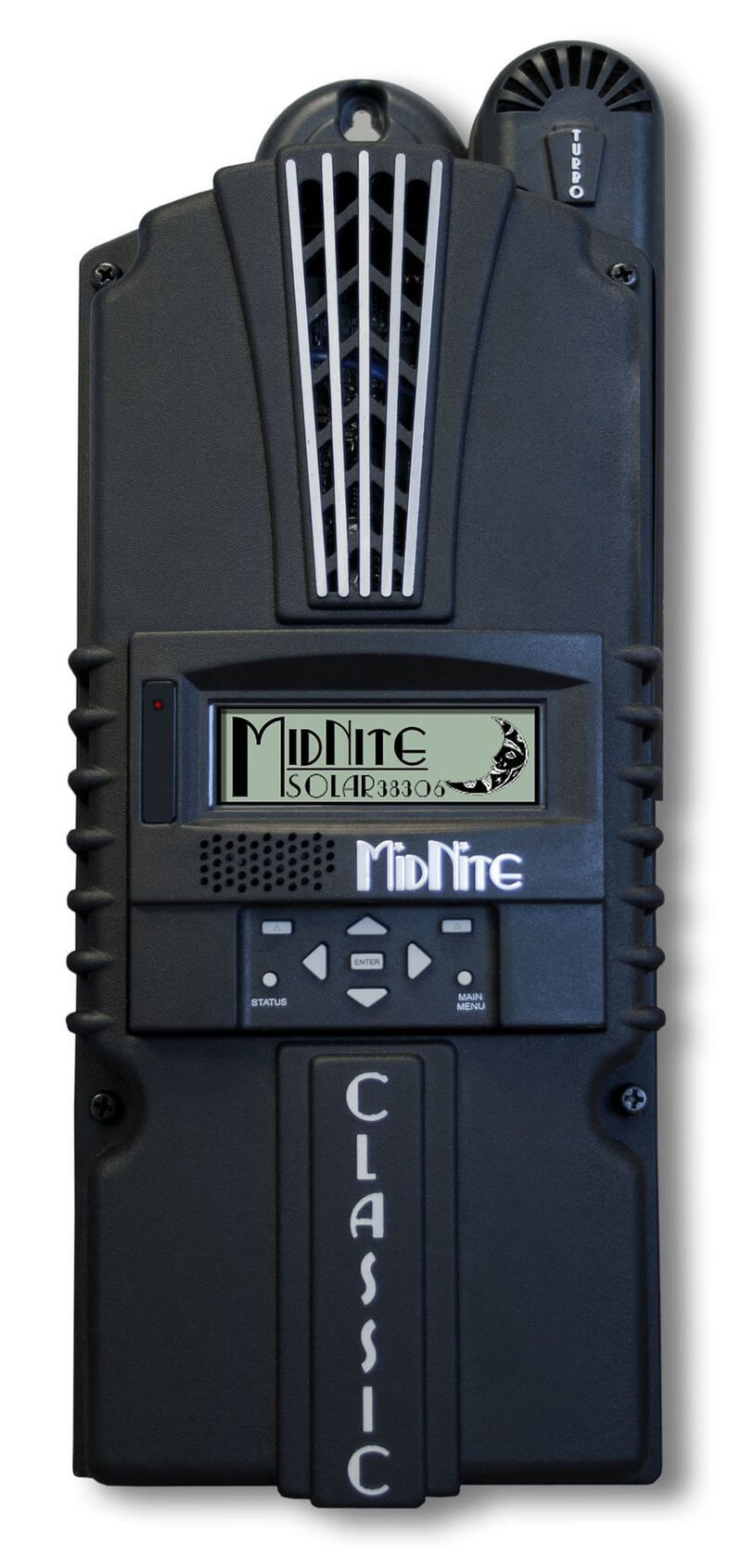 Batteries – Matrix Infinity – 6 Volt, 440 Amp-20 Hour AGM Battery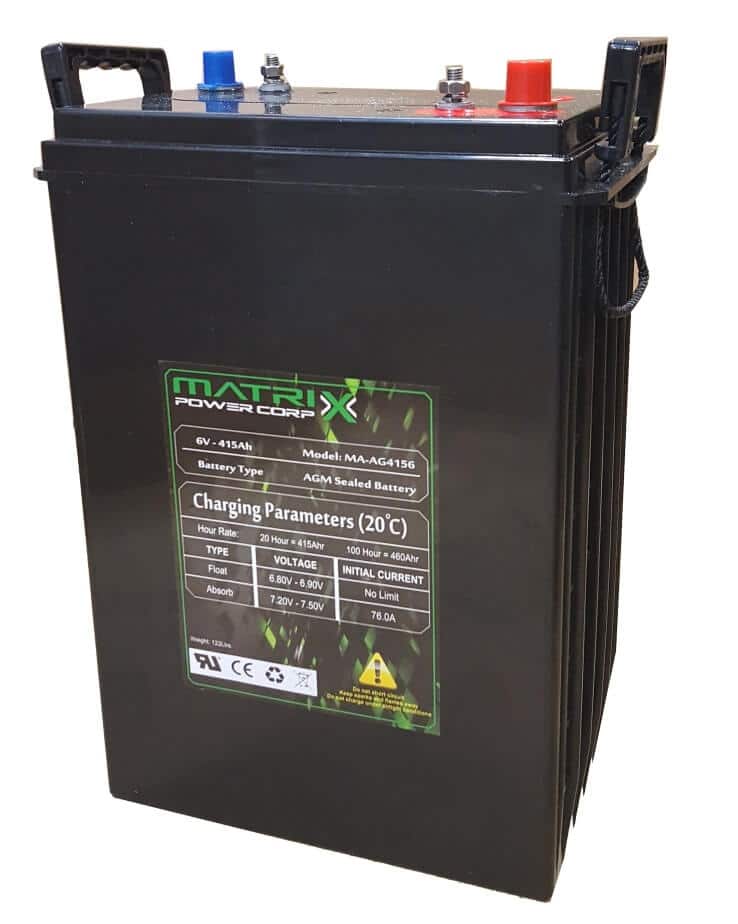 Wind Turbine – Some locations are better suited for wind, as opposed to solar, and there are several turbines available. Do your research and buy the turbine best suited for your power requirements.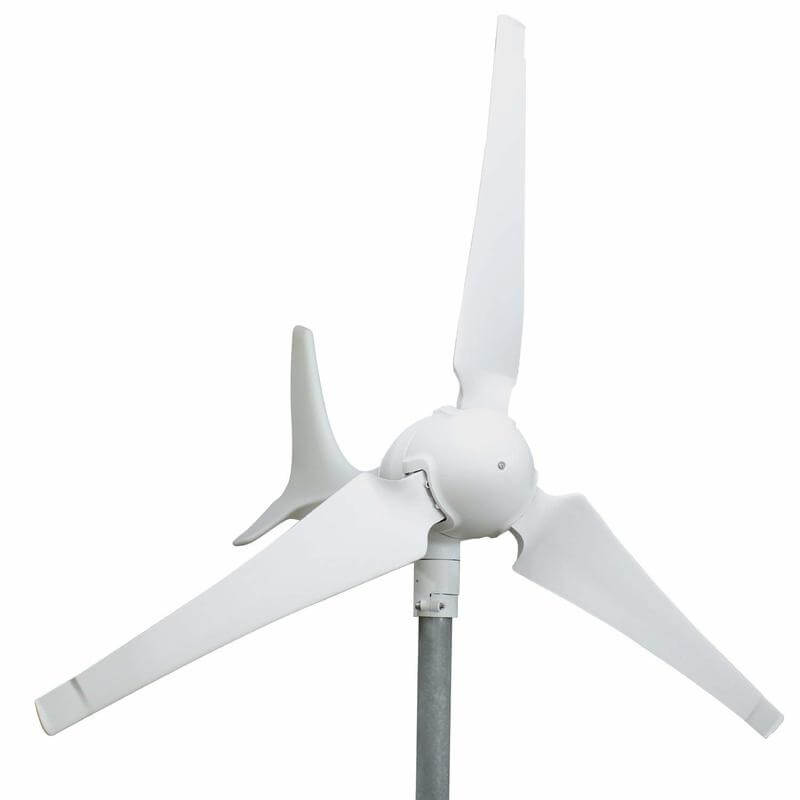 It's a great way to show support for us and also gets you off on the right foot when your looking for great off grid deals delivered to our door.

OK... Now It's Your Turn!
Let us know what other off grid tools you'd like to have on your homestead.
We'd like to thank everyone who's supported The Off Grid Cabin so far.
There's been many of you and that's helped us keep our little blog alive just by heading to Amazon and buying ANYTHING really.
If you'd like to learn more about how clicking our little Amazon links are helping us please have a gander at our Support Our Blog page.
LAST BUT NOT LEAST...
Go ahead and spread the news of our Ultimate Off Grid Tools List by sharing this page on your favourite social media platform!
Here's a special Pinterest Pin for all out pinners out there!