Here's How to Pick The Perfect Windows And Doors For Your Off grid Home
What's the #1 must know factor when choosing your off grid home's windows and doors?
When it comes to picking window and doors for your off grid home there are several important factors to consider.
But there's one in particular that outweighs the rest and should be your number one consideration.
What do you think is the most important factor for an off grid home window or door?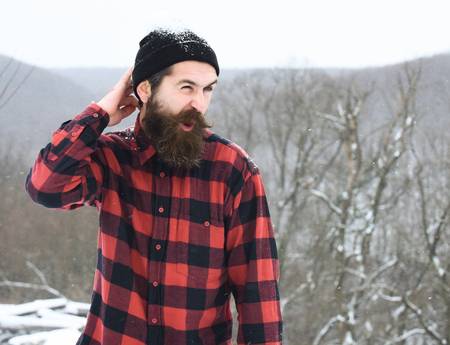 Design, cost, warranty, appearance, security, solar heat gain coefficient… sound insulation?
Whether it's an off grid cabin, a summer cottage, an all season tiny house, or a residential home we believe energy efficiency is the single biggest factor to consider.
You want your home's living environment to be cool in the summer and toasty warm in the winter and the windows play a major role in maintaining both.
Indoor heat can be a labor intensive commodity off grid and we know all about that. But did you know that up to 50% of your heating is lost to your windows!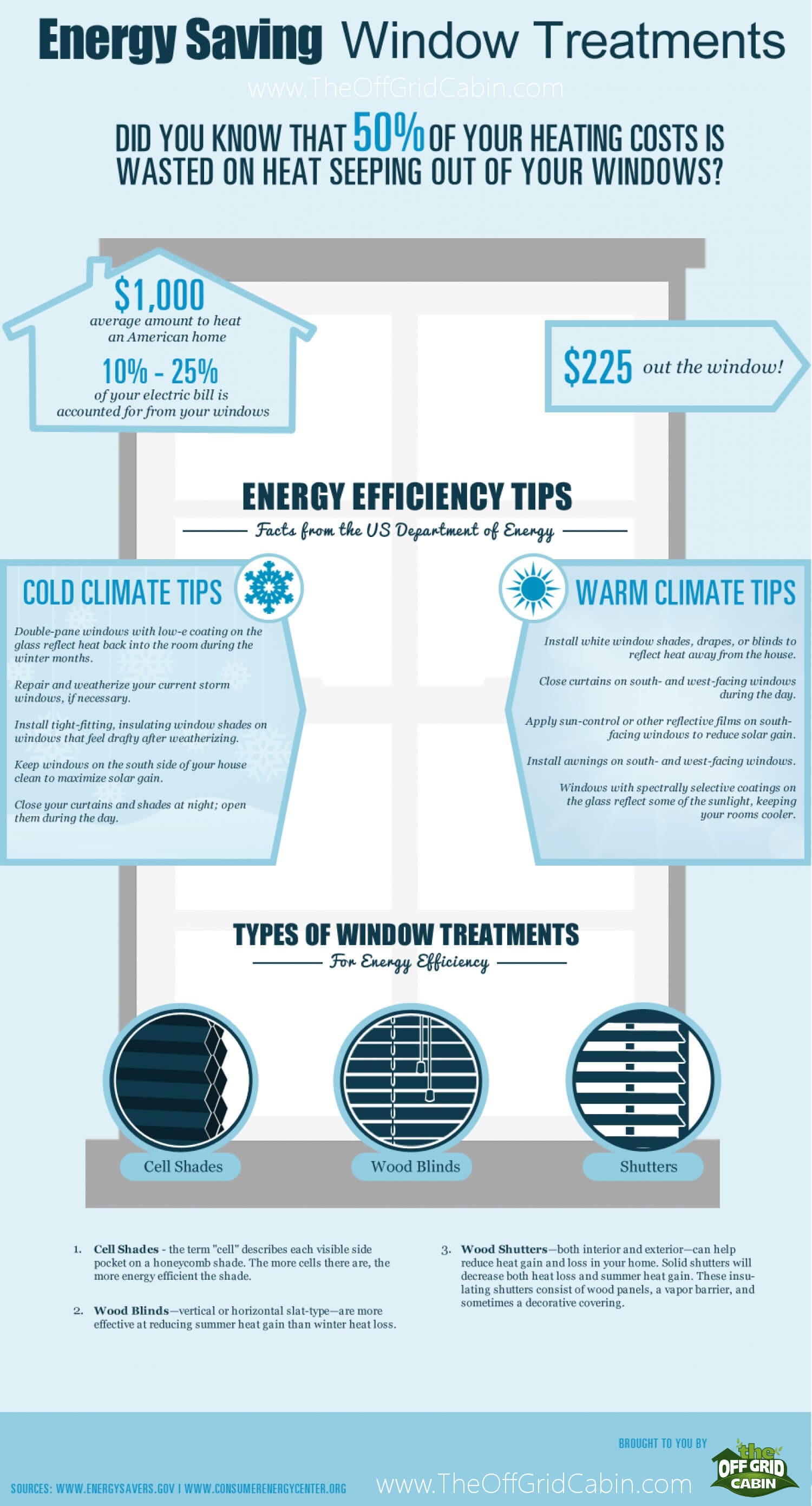 Here are all 11 essential considerations
When choosing your homes windows and doors consider all these factors and you'll make your selection a breeze!
Size
Security
Availably
Acoustics
Affordability
Energy Efficiency
Warranty & Durability
Purpose & Functionality
Architecture & Aesthetics
Solar Heat Gain Coefficient
Maintenance & Repair Costs
As you may know we're building our own off grid cabin on the Canadian East Coast where temperatures can range from +38 degrees Celsius in the middle of summer to -40 degrees Celsius in the dead of winter.
The Good News
Installing windows and doors is a straightforward and simple process given that you've constructed the openings correctly during the framing process. Once you've installed your first window, the rest will take far less time. Installing vinyl windows, say ten or less, can be done in less than a day and with very few tools.
We'll teach you everything you need to know right here.
Read on!
Window Types
Windows come in a vast range of types, sizes, shapes and costs. Traditionally, most windows were comprised of a wooden frame, single pane and were either single-hinged or sliding. As new improvements were made, pivot hinges and friction mechanisms became the norm. Single panes became double, triple and more. The wooden frame gave way to lighter, less bulky aluminum. Today vinyl windows are the most common here in North America.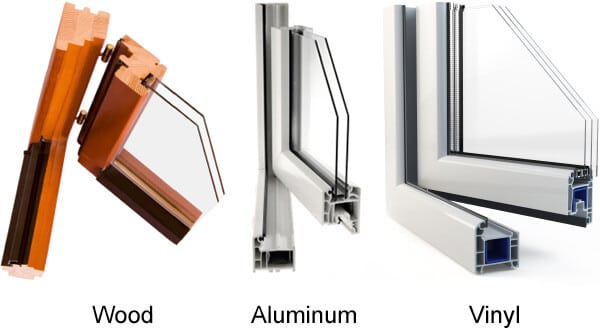 Styles range from a simple non-sliding window, to elaborate double hung picture windows with colonial inserts.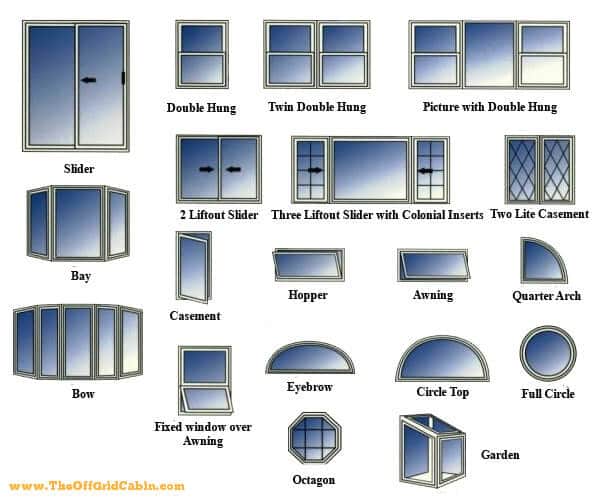 When living in off grid environments we found that vinyl is the best choice when compared to the other types of window materials because of its low cost and energy efficiency. Because it's made from polyvinyl chloride (PVC) it has a high R-value, which means it provides a significant amount of insulation. Price and energy efficiency are just a few advantages of vinyl windows.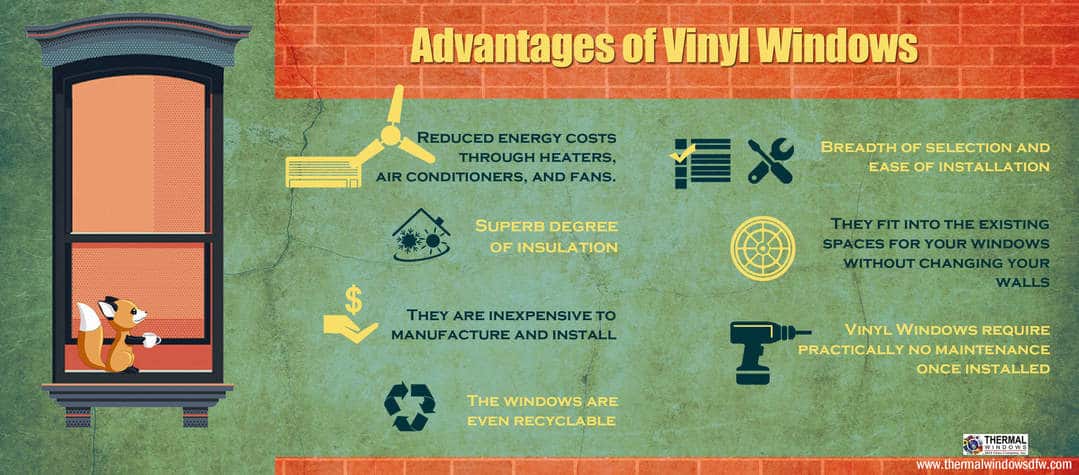 Door Types
Like windows, doors come in a plethora of styles, colors, materials and features.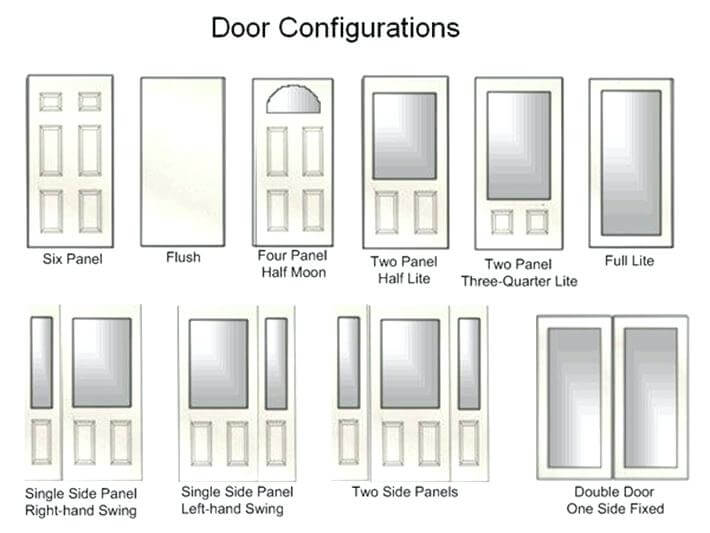 Some things to consider when choosing your door are…
How much weather will your door be exposed to?
What level of security do you need?
Do you want the door to provide additional light?
Do you want to paint or stain your door?
The majority of exterior doors today are constructed of steel, fiberglass, or wood.
Steel doors have an energy efficient core and are weather stripped by the manufacturer. They are resistant to swelling/warping and relatively maintenance free. Often a steel door comes predrilled for hardware and a pre-hung door makes installation a breeze.
Fiberglass doors offer the same energy saving qualities of a steel door, resistant to weather, but are more resistant to scratches and dents. They come pre-drilled and are available pre-hung. They can also have a wood like textured finish, which when painted looks like the real thing.
Wood doors offer the most traditional look. Wood doors can be painted oR stained to accentuate their natural wood grain. Wooden doors are often built using a frame and panel construction to increase their resistance to climate and seasonal changes
Most steel and fiberglass doors have an R-value of R-5 to R-6 (not including the effects of a window). A 1 1/2 inch thick steel door, with polyurethane foam core, offers more than five times the insulating value of a solid wood door of the same size (energy.gov).
Know Your Climate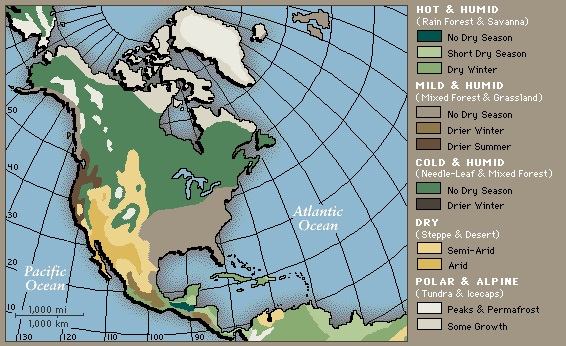 Choosing appropriate windows and doors for your climate zone, along with proper installation, will save you time, money and maintenance over the lifetime of your home. Considering most people heat their off grid home with wood and/or gas (natural gas of propane) it's essential that your windows and doors are installed properly to retain the heat in the winter and help keep it cool in the summer.
During the winter months at our cabin we use a small direct vent propane wall heater from Empire, model DV215 (15,000 Btu). We use an Emerson low voltage digital thermostat to keep the cabin at 10 degrees Celsius while we're away. While living at the cabin we have a Drolet Pyropak wood stove (40,000 Btu) for heat.
The windows we choose are relatively inexpensive, require little to no maintenance and their energy rating make them excellent at preventing heat loss.
Energy Ratings
When choosing the windows and exterior doors for your cabin or tiny home always choose energy efficient products. Look for the ENERGY STAR rating sticker on windows, doors, lights, electronics and appliances. An energy efficient window is up to 40% more efficient than a standard window.  https://www.energystar.gov/
What Makes A Window Efficient?
Energy efficient windows have several key features which greatly improves their efficiency.
Two, three or more panes with an air-or-gas-filled space provide greater energy-efficiency.
Special coatings (known as low emissivity coatings, or "low-e glass") and insulated frames and sashes mean your window will be more comfortable to sit beside and reduced condensation.
Available triple glazing for better exterior noise reduction and even more energy savings.
Warm edge spacers keep the panes spaced and prevent heat loss through the window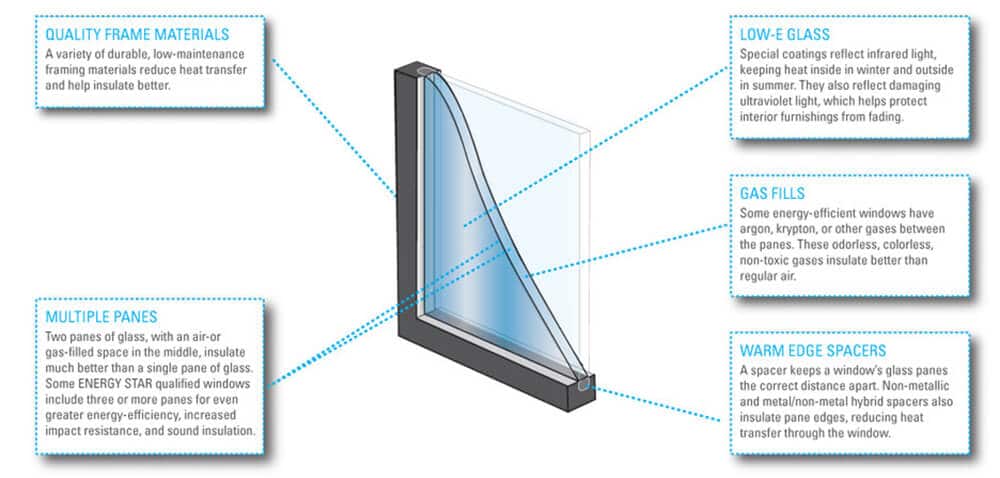 Here in Canada we have 3 different climate zones (according to Natural Resources Canada )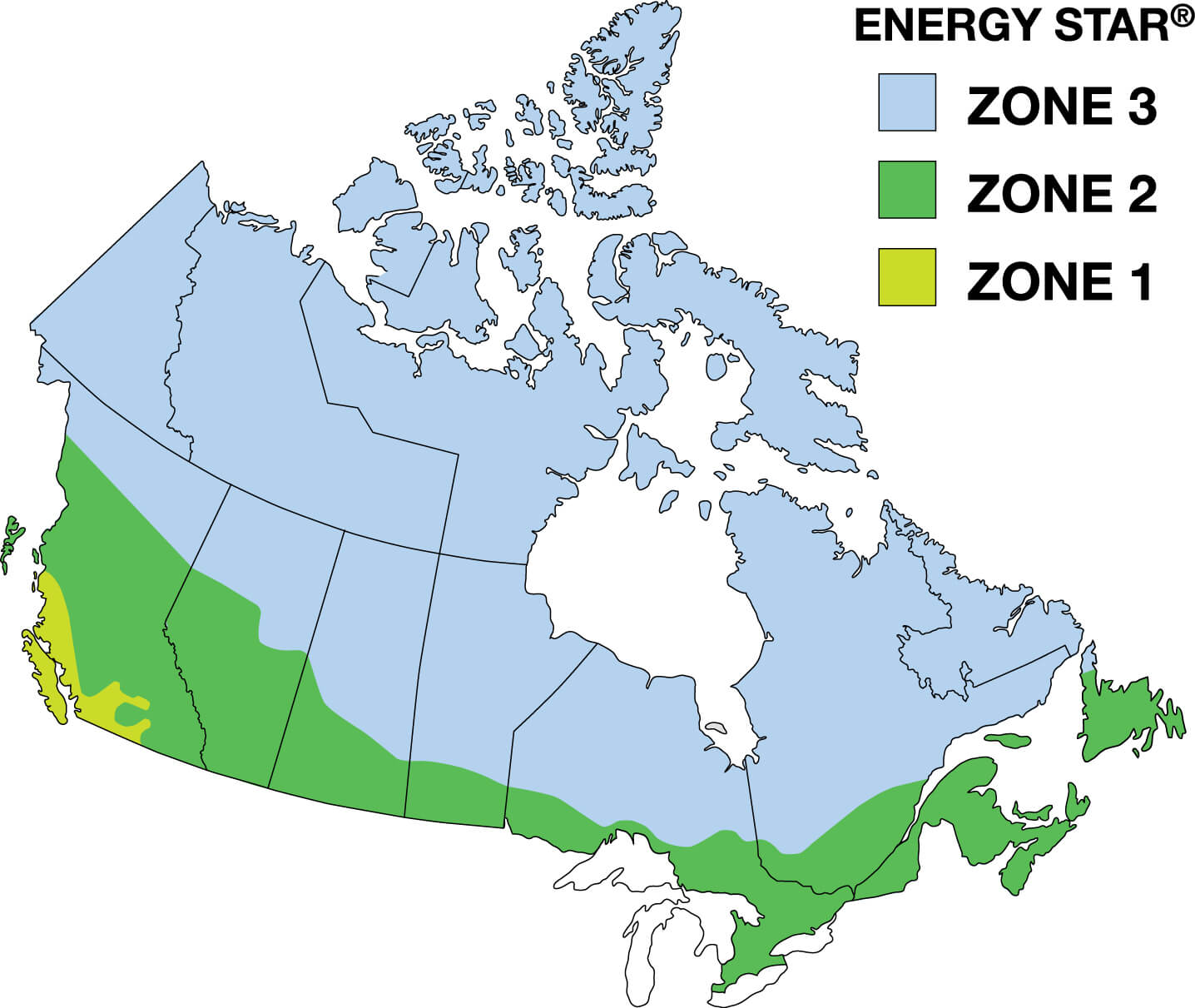 Zone 3: >= 6000 HDDs
Zone 2: >= 3500 to < 6000 HDDs
Zone 1: < 3500 HDDs
HDD = Heating Degree Day
Canadians can find your ENERGY STAR climate zone by entering your postal code here: http://oee.nrcan.gc.ca/energy-zones-climatiques/
Americans can find your ENERGY STAR climate zone by entering your State and County here: https://www.energystar.gov/index.cfm?fuseaction=windows_doors.search_climate 
When choosing your windows
Know your climate zone
Consider using higher insulation value doors and windows that are exposed to high north and east facing winds.
The Windows We Choose
As you may recall from our post Delivering 20K lbs Of Building Materials Off Grid we purchased all our building supplies, including the windows and doors, from Home Depot.
The windows we choose are made by JELD-WEN.
We choose to go with ENERGY STAR qualified low-E single-hung vinyl windows with fiberglass mesh screens.
What Was The Total Cost of Our Windows?
Our cabin has a total of nine windows.
Loft Bedroom: One 30X36 – $185.00
Kitchen: One 30X36 – $185.00
Bathroom: One 4X36 – $149.00
Master Bedroom: One 30X36 – $185.00
Living room: Two front 30X48 – $209.00 (total $418.00) Two side and One back window 36X48 –  $219.00 (total $657.00)
Total Cost = $1779 (before tax)
How To Install Windows
If a picture is worth a thousand words a video is worth a million. Here's our favorite "go-to-how-to" handyman Shannon from House-Improvements.com demonstrating a PVC window installation (to code) and using additional weather proofing materials to ensure a permanent leak-proof install.
What Was The total Cost Of Our Doors?
Our cabin has a total of three doors. One exterior front door and two interior sliding pocket doors.
The sliding pocket door is perfect for saving precious space in a small home while still maintaining privacy.
Exterior Front Door: One Masonite 36-inch x 4 9/16-inch 9-Lite Internal Low-E Right Hand Door – $299.00
Interior Sliding Pocket Door Frame: Two Veranda Adjustable Pocket Door Frames – $114.10
Interior Sliding Pocket Door: Two Masonite 36-inch x 80-inch x 1 3/8-inch 6 Panel Door Slab – $34.97
Total Cost = $448.07 (before tax)
How To Install Exterior Doors
Again, our favorite "go-to-how-to" handyman Shannon from House-Improvements.com demonstrating an exterior steel door installation (to code) in new construction.
Conclusion
There's a lot that goes into selecting the appropriate doors and windows for your off grid build.
From the design, cost, warranty, security, to solar heat gain coefficient, sound insulation and appearance… it ALL matters.
In our next post we'll share with you our exact build process for the windows and doors and of course photos of the entire process.
Be sure to check out our complete off grid starter guide as well as our solar power 101 guide if you haven't already.
Your Turn…
The Complete Vinyl Window Installation Guide
Do you feel ready to tackle the selection and installation of your homes windows and doors?
Let us know in the comment section at the bottom!
If you're not already following the build be sure to visit our How We Build The Cabin section so you can check out the build right from the start!
Oh, and yup you guessed it…. we have a special Pinterest pic for all our devoted Pinterest pinners out there.