Richard Proenneke: Man About Wilderness
Now here's a man that'll inspire anyone to learn more about living off the grid.
I wonder… could you do it?
Imagine spending thirty years alone in the mountains of Alaska living in a log cabin built completely by hand. Even his tools were fashioned by hand.

This is the remarkable tale of Richard Louis "Dick" Proenneke who's hand built cabin has become a significant example to our off grid community, and millions around the world, of just what one person can accomplish with the right training, the proper tools and a whole lot of determination.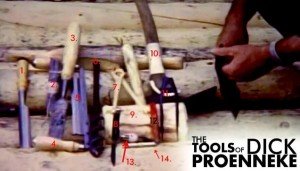 Gouge
String
Chisel
Draw Knife Handle
Draw Knife Blade
Auger
Wooden Compass / Divider
Pocket Knife
Wooden Mallet
Adze
Metal Compass / Divider
Carpenters Pencil
Plumb Bob
Line Level
QUESTION: What Tools would YOU bring with you today if you were to build a remote cabin in Alaska?
Let us know in the comments below!
His tiny log cabin has also become one of Alaska's most significant and profound displays of ingenuity and inspiration.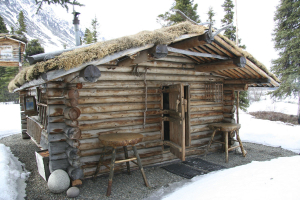 Richard Proenneke History
With hand made tools and an unrelenting desire to live free and un-caged, Dick set out to build himself a home along the shores of Twin Lakes, Alaska in 1968.
This incredible adventure was put into motion as a result of Dick wanting to devote the rest of his life living strong and healthy.
He struggled with rheumatic fever which took him out of service in the US NAVY and ever since he's been on a mission to be the best of the best.
We'd say he succeeded!
Below is the best-selling memoir from Richard Proenneke's journals and with firsthand knowledge of his subject and the setting, Sam Keith has woven a tribute to a man who carved his masterpiece out of the beyond. 
To live in a pristine land unchanged by man . . . to roam a wilderness through which few other humans has passed . . . to choose an idyllic site, cut trees by hand, and build a log cabin. . . to be self-sufficient craftsman, making what is needed from materials available…to be not at odds with the world, but content with one's own thoughts, dreams and company.   Thousands have had such dreams, but Richard Proenneke lived them.
This book is a moving account of the day-to-day explorations and activities Dick carried out alone….alone in the wilderness…and the constant chain of nature's events that kept him company.
Recommended must read books about Richard's journey…
One Man's Wilderness: An Alaskan Odyssey
 (Book)
This is one of the best off grid documentaries we've seen and it's become almost a classic must watch for many of our readers.
Alone In The Wilderness Part I
Get your own copy of the full Documentary on DVD here…
Alone in the Wilderness
 (DVD)
Alone In The Wilderness Part II
Complete Alone in the Wilderness package
Why we Decided to Follow in his Footsteps
When I first saw this short documentary a few years back, I thought to myself…
I would love to have a little piece of land near the water, with some mountains in the back drop, tucked away amidst the pines, miles away from anyone and everyone. I would build myself a quaint little cabin in the woods just like Richard.
This amazing documentary was a good part responsible for sparking up the idea of The Off Grid Cabin in the first place.
It all seemed so picturesque and "simple".
Fast forward a few years later and our family has indeed built our own little cabin in the woods. There was nothing "simple" about it. Hence the reason we decide to start this website and teach others about our journey.
Follow along if you choose :)
If you'd like to join the community of over 1 million off grid fans who are following the build of our cabin we'd love to have you along for the ride!
While our cabin will look nothing like what Dick built, and certainly isn't as remote, it still holds a special place in our family's heart. It's our own little slice of heaven!
To learn more about what we over had to overcome to finally put The Off Grid Cabin in motion check out our About US page here.
If you've enjoyed this video then be sure to share and comment below and share it!
We appreciate you dropping in :)
P.S. If you enjoyed this story then you may also enjoy these…
Family of 7 Living Entirely Off Grid in Northern Canada
10 Things We Wish We'd Know Before Going Off Grid