Alone In The Wilderness
This is the amazing story of Dick Proenneke living alone in the Alaska wilderness.
If you enjoy this documentary then

PLEASE SHARE

by using the social sharing buttons you see on the edge  :)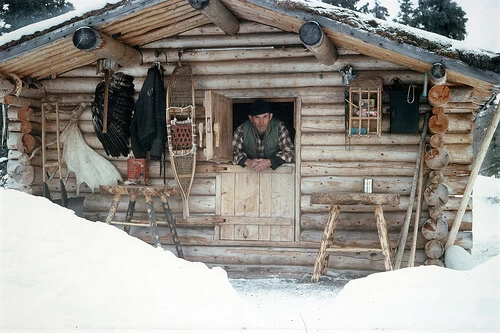 Dick filmed his adventures so he could show his relatives in the lower 48 states what life was like in Alaska, building his cabin, hunting for food and exploring the area.
Bob Swerer has taken the best footage from Dick's films and he has created 3 videos about Dick, "Alone in the Wilderness", "Alaska, Silence and Solitude" and "The Frozen North".
Watch Part I of the Documentary below. The second part is further down. 
Alone In the Wilderness Part I
Richard "Dick" Proenneke

Full Name:  Richard "Dick" Louis Proenneke
Born:  May 4, 1916 (1916-05-04) Primrose, Harrison Township, Lee County, Iowa
Occupation:  Heavy equipment operator, carpenter, mechanic
Awards:  1999 National Outdoor Book Award (NOBA)
Died:  April 20, 2003, Hemet, California, United States
Residence:  Twin Lakes, Alaska, United States
Alone in the Wilderness is just one story of Dick Proenneke. There a others which you'll discover below. 
He found a place, built a cabin, and stayed to become part of the country.
"To live in a pristine land unchanged by man… to roam a wilderness through which few other humans have passed… to choose an idyllic site, cut trees and build a log cabin… to be a self-sufficient craftsman, making what is needed from materials available… to be not at odds with the world, but content with one's own thoughts and company… Thousands have had such dreams, but Dick Proenneke lived them." – Sam Keith
This video "Alone in the Wilderness" is a simple account of the day-to-day explorations and activities he carried out alone, and the constant chain of nature's events that kept him company.
Richard's Family
Richard's father, William Christian Proenneke, served in WWI and afterwards became a well driller. His mother, Laura (nee Bonn) was a homemaker. They were married in late 1909, or early 1910. Richard was the third child of six children. Robert, Helen, Lorene, Richard (Dick), Florence, and Raymond (Jake).
Richard's Life
Following the attack on Pearl Harbor, Richard joined the US navy enlisting as a carpenter. After a two year posting at Pearl Harbor, he was transferred to San Francisco where he awaited a second posting onboard a new ship. Dick contracted rheumatic fever and spent six months recovering at the Norco Naval Hospital. He fell sick after hiking a mountain near San Francisco. As a result, he was medically discharged from the military in 1945. This was the beginning of Richard's journey to a life of healing and strengthening his body.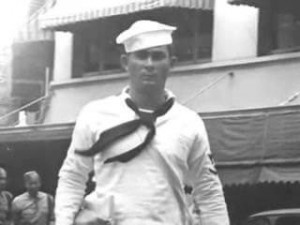 Soon after leaving the military Proenneke attended a diesel mechanic school. He easily adapted to his new trade and excelled. Richard became and skilled mechanic but longed for something else. He moved closer to his passion when he next moved to Oregon and began work on a sheep ranch. In 1950 he moved to Shuyak Island, Alaska.
There he worked as a heavy equipment operator and repairman for the Naval Air Station at Kodiak. While in Alaska, Richard also worked for the Fish and Wildlife Service at King Salmon on the Alaska Peninsula as a salmon fisherman/diesel mechanic. During this time he squirrelled his earnings and saved for his retirement.
The Cabin
On May 21, 1968, Richard reached his new place of retirement at Twin Lakes. Prior to his arrival, he arranged to use an existing cabin on the upper lake. Spike Carrithers, a retired Navy captain, owned the cabin. The cabin was close to the site where Dick would soon build his own cabin.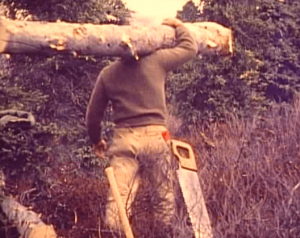 Because of Richards carpentry background, the cabin he built is noted for it's remarkable craftsmanship. Most of which can be seen in the documentary Alone In The Wilderness.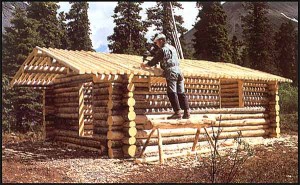 All the materials he used (rocks, trees, gravel)  to build the cabin, the furnishings and the fireplace/flue were obtained there at his build site. Metal containers were used for food storage—one-gallon cans made into a basin and buried below the frost line to keep fruits and perishables cold for prolonged periods in the cool earth and still accessible during the winter months. Leon Reid "Babe" Alsworth, bush pilot, missionary and friend to Richard would return periodically to bring food and orders that Proenneke placed through him to Sears.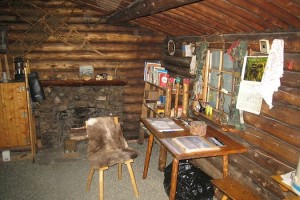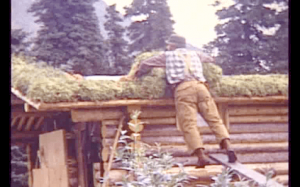 Proenneke spent sixteen months building his cabin before he returned "home" to visit family and secure more supplies. The following spring he returned to his cabin and remained there for the next thirty years. From time to time Richard would return to the lower 48 to visit friend and family. He created a film record of his solitary lifestyle and cabin which would later be re-cut and made into the documentary Alone in the Wilderness.
Alone In The Wilderness: Original Documentary DVD by Bob Swerer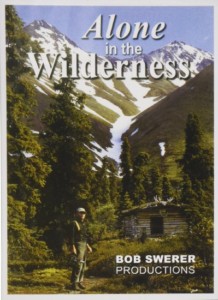 It has aired on PBS numerous times and with a score of 9/10 from the aggregation of nearly 2000 votes at the Internet Movie Database, the documentary is one of the highest rated of all time.
In 2011 a sequel was produced after it was discovered that Proenneke had shot enough footage for at least two more documentaries. Alone in the Wilderness II premiered on December 2, 2011. A premiere date for Part 3 has yet to be announced.
Alone In The Wilderness Part 2 (DVD)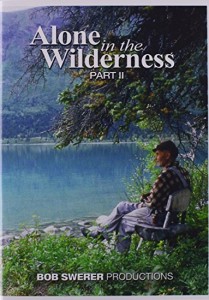 In 2007 Proenneke's cabin was included in the National Register of Historic Places.
Death and legacy
In 1999, Proenneke returned to civilization at age 82 and lived the remainder of his life with his brother Raymond "Jake" Proenneke in Hemet, California. He passed away of a stroke on April 20, 2003, at the age of 86. He left his cabin to the National Park Service, and it remains a popular visitor attraction in the remote Twin Lakes region of Lake Clark National Park.
Richard's journals become a book
Sam Keith became a close friend of Richard's over the course of many hunting and fishing trip. He suggested to Richard that the journals he kept might make for the basis for a good book. Proenneke agreed to let Sam make whatever changes he thought would help transition his journals into a book. In 1973, Keith published the book One Man's Wilderness: An Alaskan Odyssey, based on Proenneke's journals and photography.
After years in print it was re-issued in a new format in 1999, winning that year's National Outdoor Book Award (NOBA).
A hardcover "commemorative edition", celebrating the fortieth anniversary of the publication of One Man's Wilderness, was published by Alaska Northwest Books in 2013.
One Man's Wilderness: An Alaskan Odyssey by Sam Keith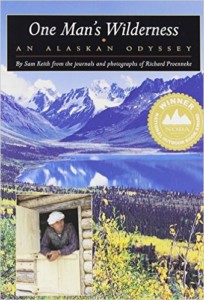 In 2003, some of the copyrighted text from the book and some of Proenneke's film were used with permission in Alone in the Wilderness, which began appearing on U.S. Public Television. The documentary centers around Proenneke building a cabin from the surrounding natural resources and includes film footage, narration of wildlife, weather, and the natural scenery that Richard recorded while he goes about his daily routine.
In 2005, the National Park Service and the Alaska Natural History Association published More Readings From One Man's Wilderness, another volume of Proenneke's journal entries. The book, edited by John Branson, a longtime Lake Clark National Park employee and friend of Proenneke, covers the years when the park was established. Dick had a very close relationship with the Park Service, assisting them in filming sensitive areas and notifying them if poachers were in the area.
As with More Readings From One Man's Wilderness, the volume is edited by John Branson.
More Readings From One Man's Wilderness: The Journals of Richard L. Proenneke, 1974-1980 by John Branson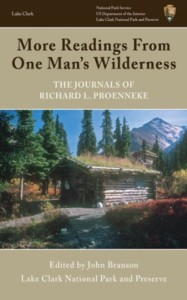 The Early Years: The Journals of Richard L. Proenneke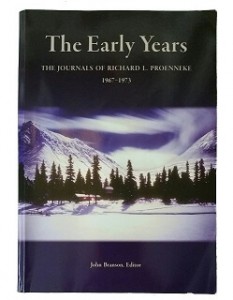 This collection of journals covers Proennekes' first years at Twin Lakes, including the construction of his cabin and his food cache. The journal entries overlap those in Sam Keith's edited collection of some of Proenneke's journals One Man's Wilderness: An Alaskan Odyssey. But unlike that book—in which Keith frequently modified Proenneke's writing style—The Early Years presents Proenneke's journals with minimal or no modification.
The  Complete Alone In The Wilderness Package
This package from Amazon consists of…
Alone In The Wilderness
Alone In The Wilderness II
The Frozen North
Alaska Silence & Solitude
One Man's Wilderness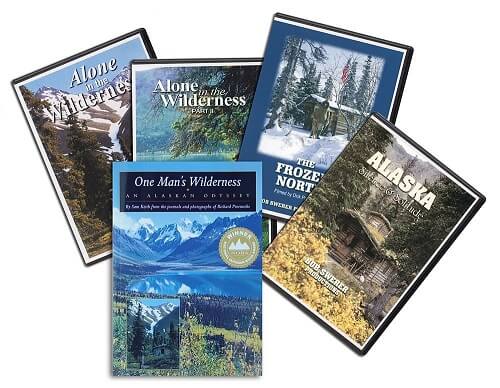 Alone In the Wilderness Part II
For all our Pinterest fans here's a Pin just for you!