[TUTORIAL] Off Grid Lumber Jack Cake
Want to make the most amazing lumber jack  cake ever?
What self respecting off-gridder doesn't just love the sweet aromas drifting around the cabin when a freshly baked cake is in the oven. Especially when that thick, moist cake is a Lumber Jack Cake!
We are fanatical about cooking, baking and preserving here at the Off Grid Cabin. In fact, we've picked some amazing must have "off grid" backyard homestead cook books from Amazon and even found some backyard homestead inspiration on YouTube. Here's one of our favorite backyard homestead books "The Backyard Homestead Book of Kitchen Know-How: Field-to-Table Cooking Skills".
We'll do a full review on this paperback gem down the road but wanted to give you the chance to pick one up for yourself :) 
We made our lumber jack cake out at The Off Grid Cabin last weekend all while while listening to the crackle of a wood stove, sipping a warm cup of Irish coffee and looking out into a forest of absolute freedom. Wow… that sounded pretty ethereal didn't it? Anyhow, it was truly an amazing time well spent with the family. 
Ever since I made this post about us making the lumber jack cake on our Facebook page we've have 130k+ fans ask us for the "How To" video. 
We actually followed the recipe and instructions we found on a YouTube video from "Cookies Cupcakes and Cardio". She's a fellow crazy Canuck like us and so we thought we'd show her some love by posting her amazing lumber jack cake video tutorial right here on our blog.
In fact… you can share the love too by posting this awesome photo onto your social media accounts and help spread the word!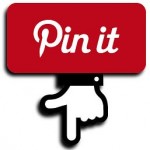 If you like her cake tutorial then do stop by her blog cookiescupcakesandcardio and let her know :)
[VIDEO] How To Make a Lumber Jack Cake 
Lumber Jack Cake Ingredients
In case you're wondering what a Flake Bar is… here's an interesting video about how it was first conceived 1920 by a Cadbury worker cleaning out the trays from other chocolates being made.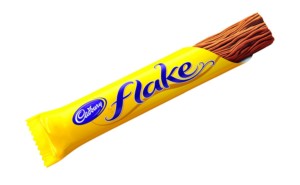 Lumber Jack Cake Baking Directions
Prepare cakes, and cut into four rings each. Mix the black and burgundy cakes up, the red and burgundy to equal four different cake layers.
Attach cake layers to a cake board and fill each layer with black buttercream.
Cover entire stacked cake in brown (chocolate) buttercream. Cover the top with tan buttercream.
Using a large fork, etch circular lines around the cake. Fill lines with chocolate buttercream and using a cake spatula flatten and blend the lines.
To create cracks in the wood, mark out a small divot, fill with chocolate buttercream and blend with a paint brush.
Trim Flake bars to the same height of the cake and place around the sides of the cake.
Slice and serve when desired. Cake is best consumed within 2-3 days, and kept in a sealed container in the fridge.
SugarGeekShow's Lumber Jack Cake
SugarGeekShow, another amazing baker first tackled the lumber jack cake and here's the photos of her results.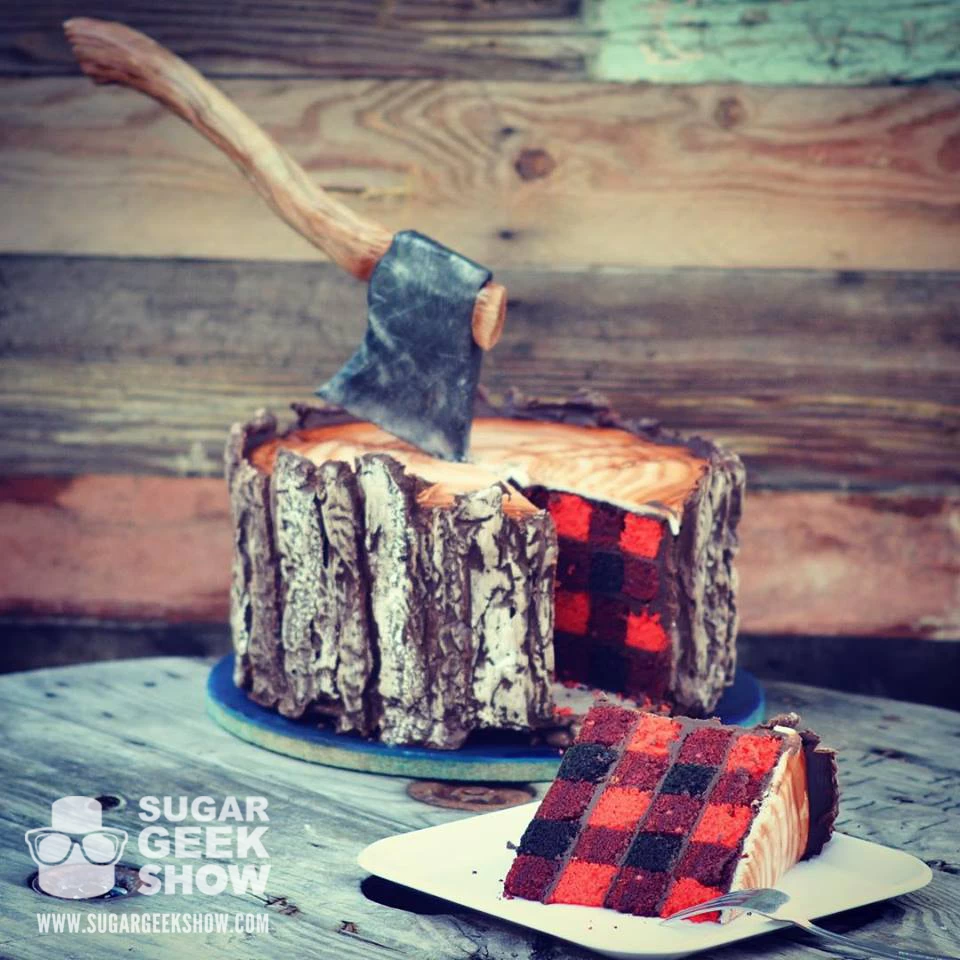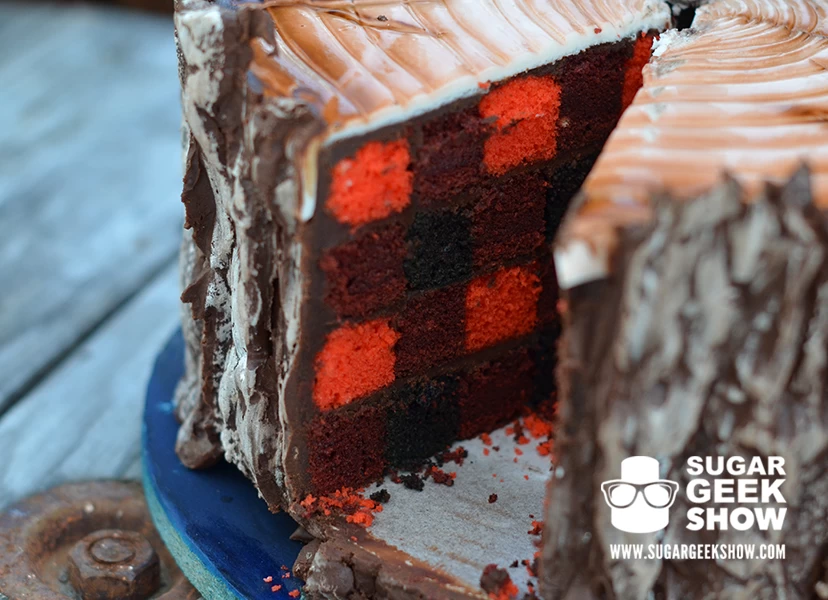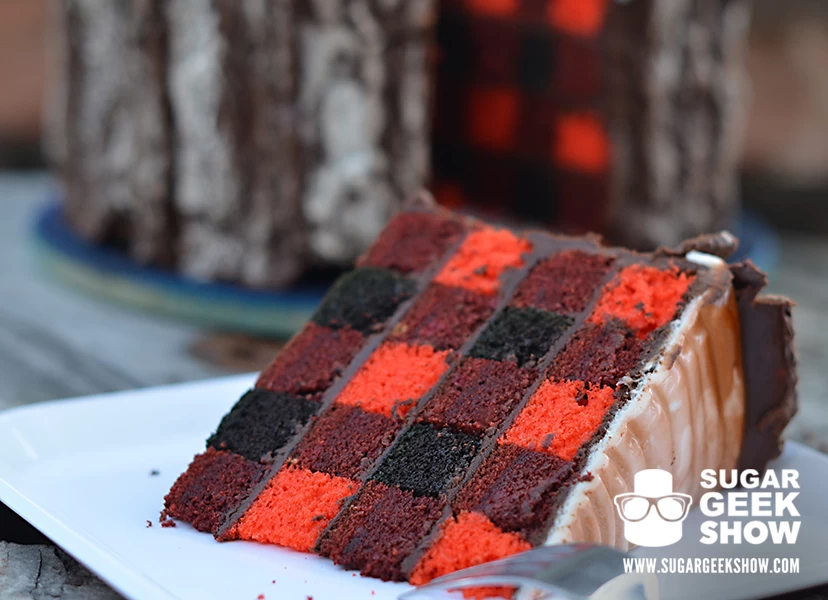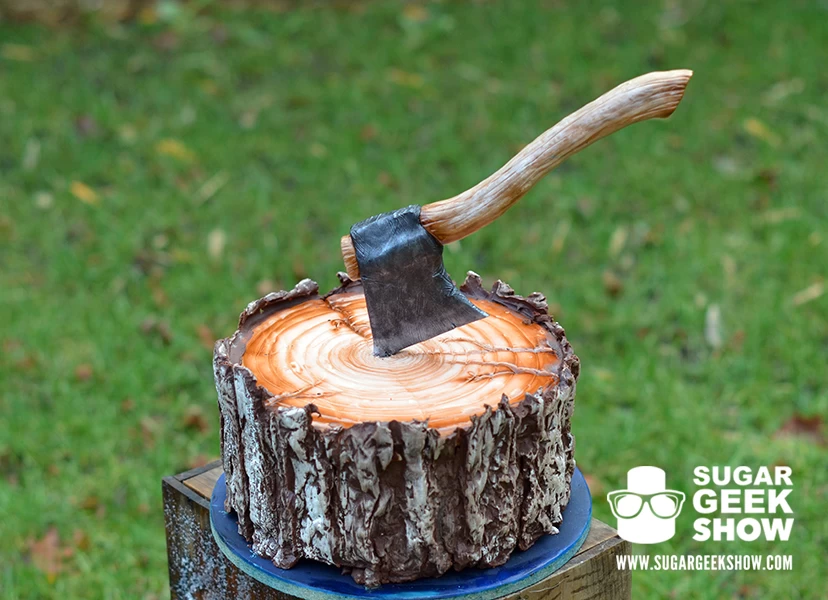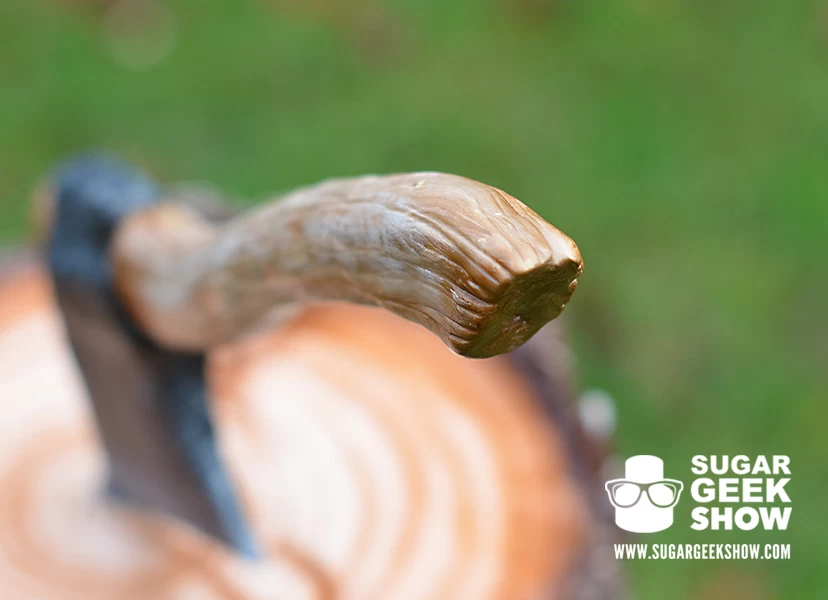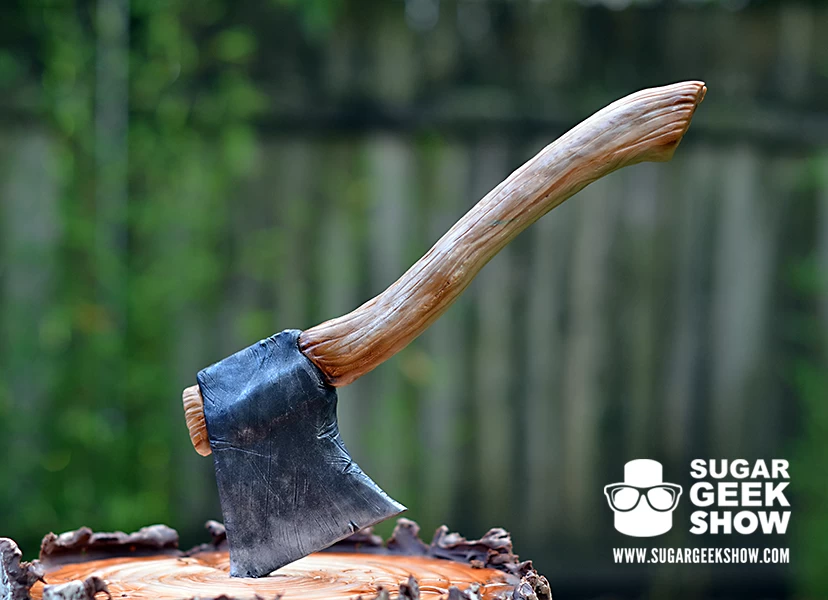 If you liked this post about the
Lumber Jack Cake

and thought was as deliciously fun as we did then please share it :)

We look forward to seeing you back real soon for another awesome off grid adventure.