3 Days to Frame The Cabin Walls
Here's Day #1 of Framing
It took two of us just three days to frame all the walls, doors, windows and even start to Tyvek the cabin.
In fact, we built our entire off grid cabin in just 15 days. Click the calendar below to see the exact build schedule.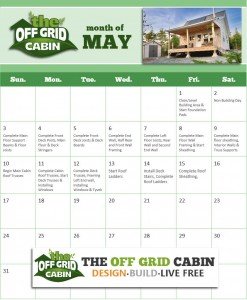 That's from the start of clearing/leveling the land on May 1st to making the cabin weather tight on May 15th.
We went with typical dimensional lumber and followed our local building code. All our walls were build 16″ o.c. and we really beefed up some walls using 2′ x  6's instead of 2′ x 4's which is explained below and in our future framing posts.
You'll also see our truss design is something something most builders have never seen before. It's a rare technique that I'm extremely happy my dad decided to incorporate and one I expect to see more frequently used in the cabin designs that our followers have been sharing with us. Stay tuned for that post!
Also, if you'd like I can send you a weekly update that includes a newest completed phase of the build.
Simply Subscribe Now! and you'll join a rapidly growing band of fellow off grid builders who have decided to watch and learn as this build unfolds!
In our last post we had just completed the floor joists, putting down the flooring and building the front deck. The day before we had just built the foundation pads and supporting beams.
Framing 101
In a quick framing 101 it helps to know the names of the wall components.
Headers run horizontally across the top of door and window rough openings. These support the weight of floor joists, ceiling joists, and rafters. Each header has a king stud nailed to either end with a cripple nailed under each end. If the header is longer than 5 feet then the cripple must be doubled up. Standard height of door and window headers is 6′ 10 7/8″. Of course this can vary depending on your design.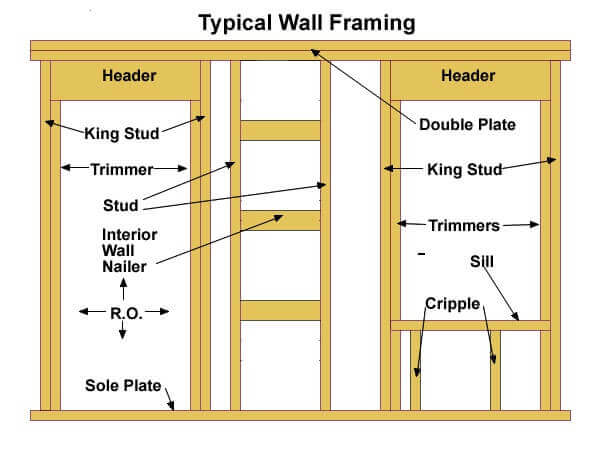 Framing Corners
Remember when framing corners to allow for a nailing surface on both side of the corner for your drywall. Here are a few different methods for framing in that nailing surface.
Framing Intersecting Interior Walls
Like the corner, when you frame an intersecting wall remember to allow for a nailing surface on both side of your corner.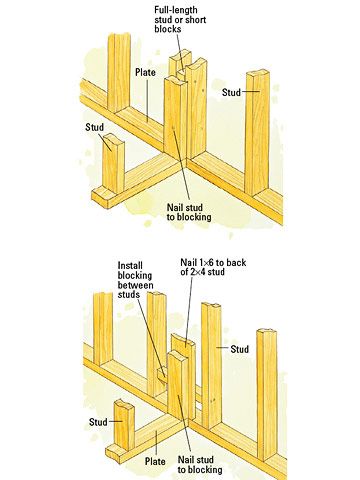 Wall Layout
You can see the complete floor plan design in this post but below is a quick reminder if you haven't seen it.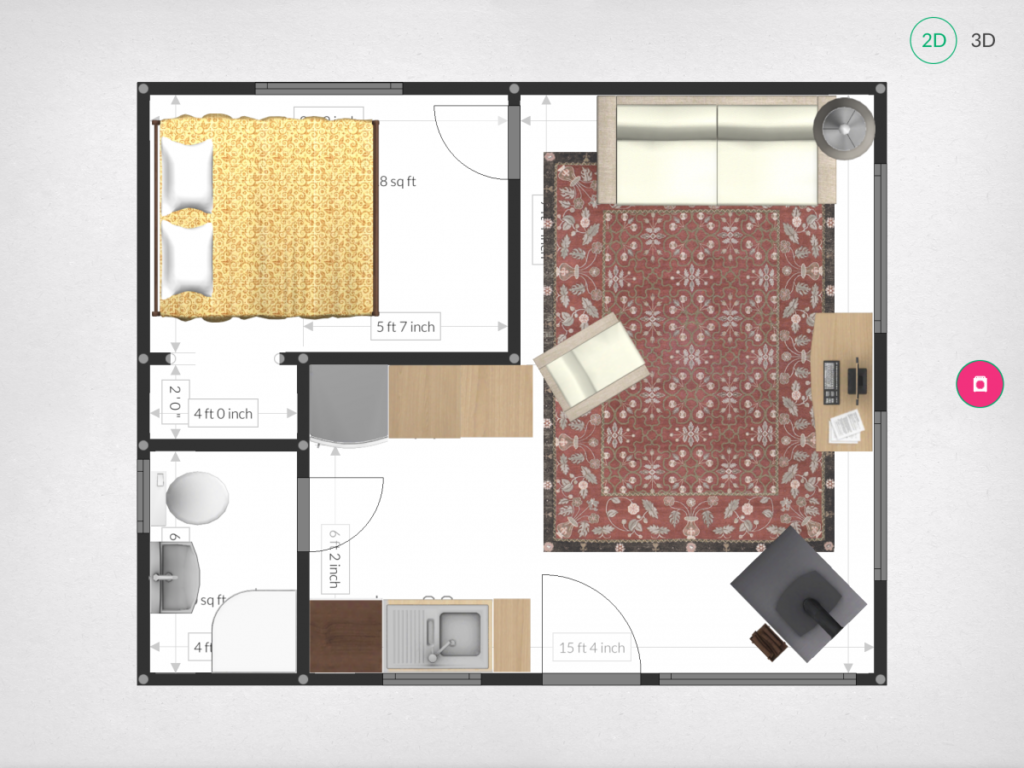 TIP: We used a free app on the iPad called Roomle to draw up a 2D and a 3D rendering of the cabin.
Our first end wall is 16' long and has one window for the bathroom. This exterior end wall is build with 2'X4′ 16″o.c.
However, the opposing end wall will be constructed with 16″ o.c. 2′ x 6″ instead of the standard 16″ o.c. 2′ x 4's as the living room will have a cathedral ceiling. This outside end wall will need to support the full weight of two floors as well as the roof and it's winter load.
TIP: The ONLY way we were able to frame  this cabin in 3 days and build it completely in 15 days came down to…
We had a clear plan from the start.
This easily shaved of an entire week off the build which would have been spent hammering and recuperating from sore forearms.
If I could recommend one tool to make your life a lot easier this would be it hands down!
Wall bracing is required while we frame to not only keep the wall up and steady with just two people but it allows us to finely plumb and square the wall before nailing it down.
Wall bracing is required to not only keep the wall up while framing the second wall but it allows you to finely plumb and square the wall before nailing it down.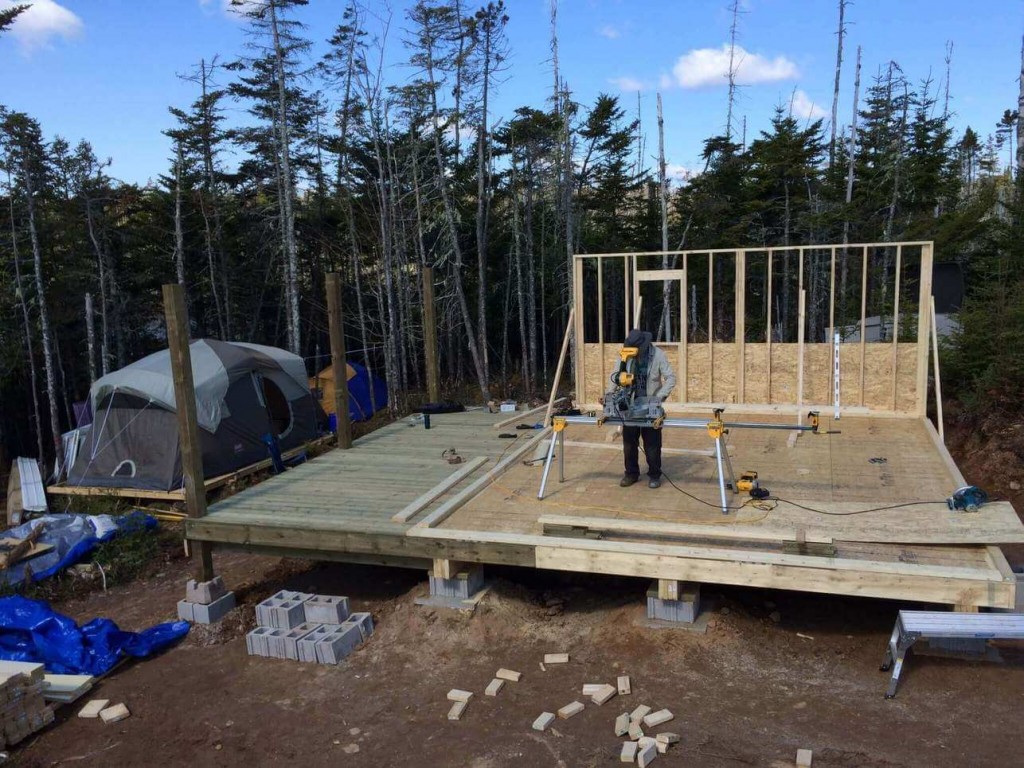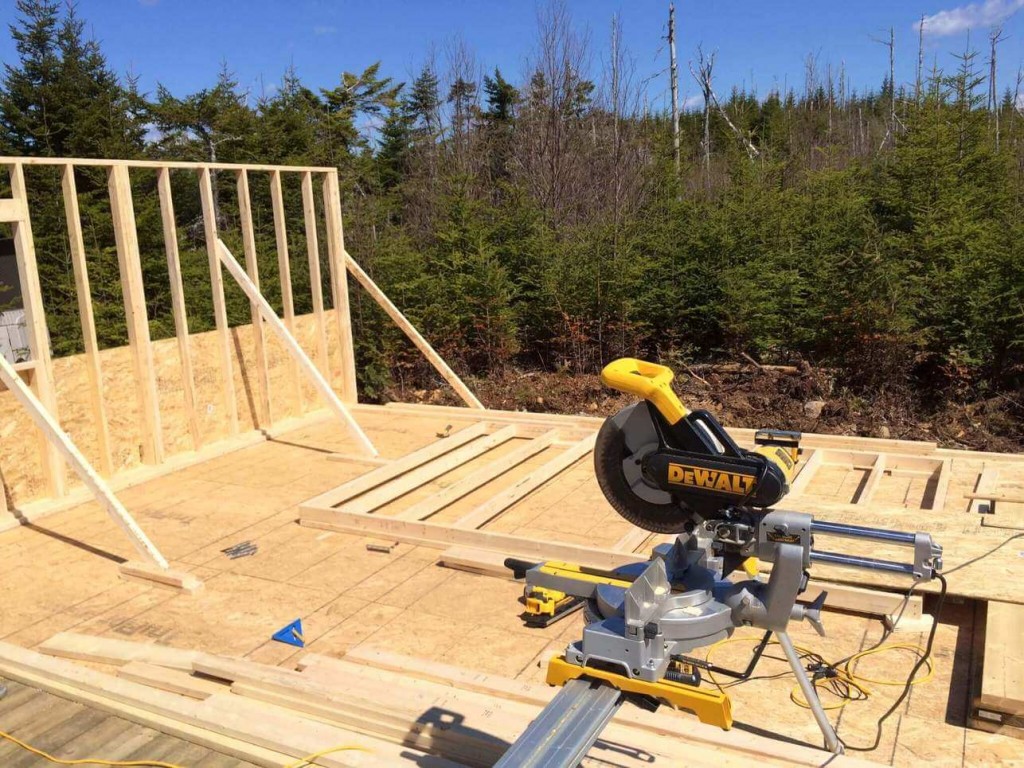 Another must have in order to build this cabin in such short order was this DeWalt double bevel sliding compound miter saw.
It was fast to cut through even the largest of our lumber, was quiet, ran off our Champion 3250 Watt generator and ensured every cut was perfectly square.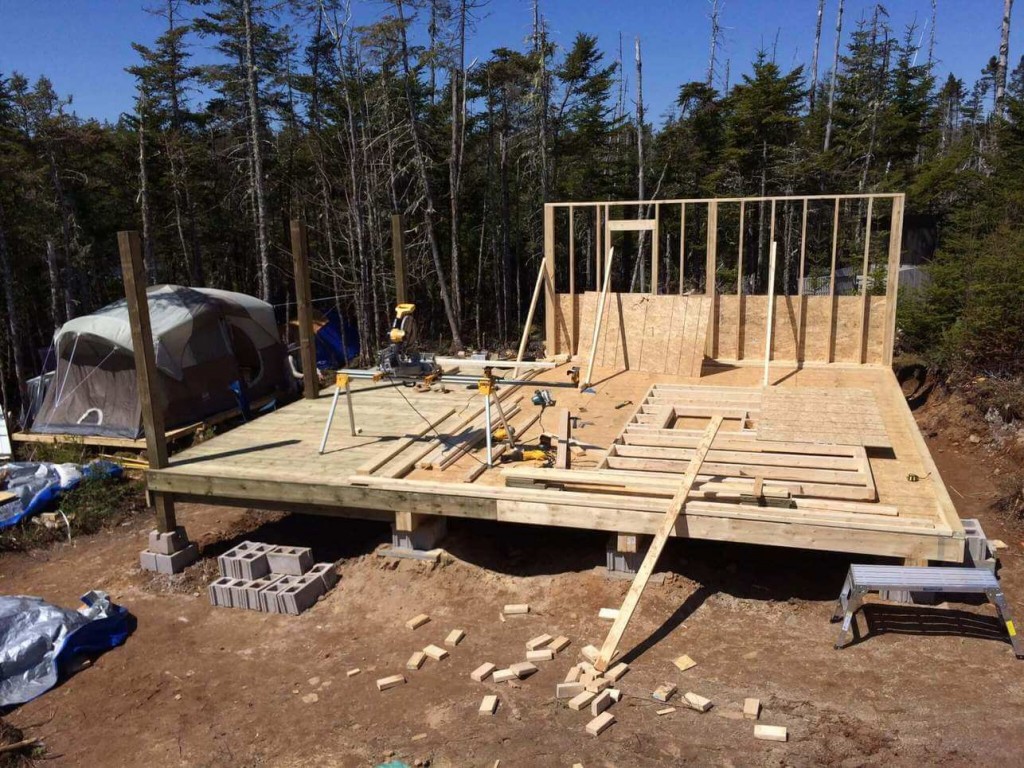 TIP: Always ensure that the wall are both square and plum using a large framing square in the corners as well as a long (preferably 4′) level.
The back wall will be 20' long in total but we built in two sections for ease of lifting.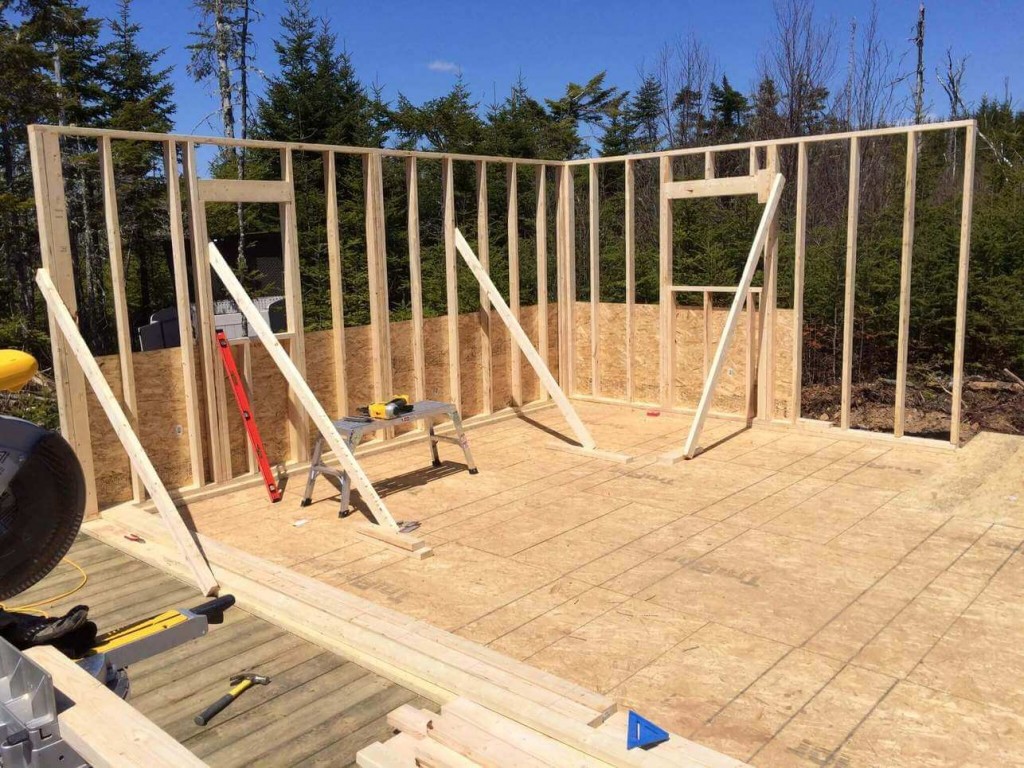 We built the front wall (20') in two 10′ sections as well for ease of lifting.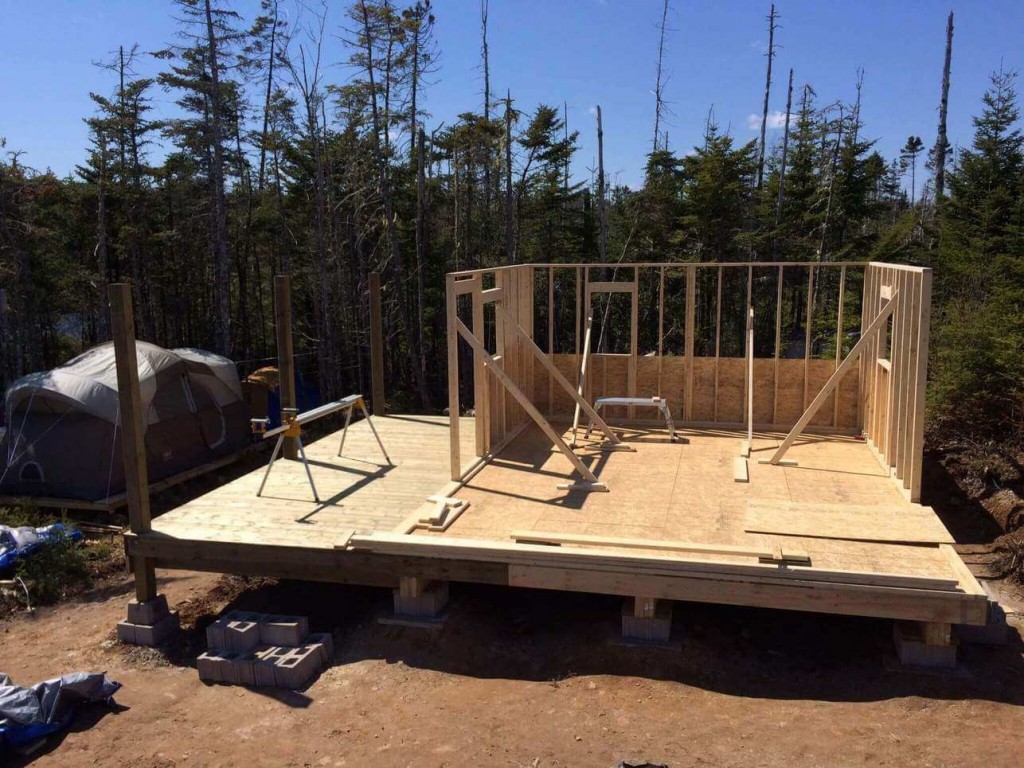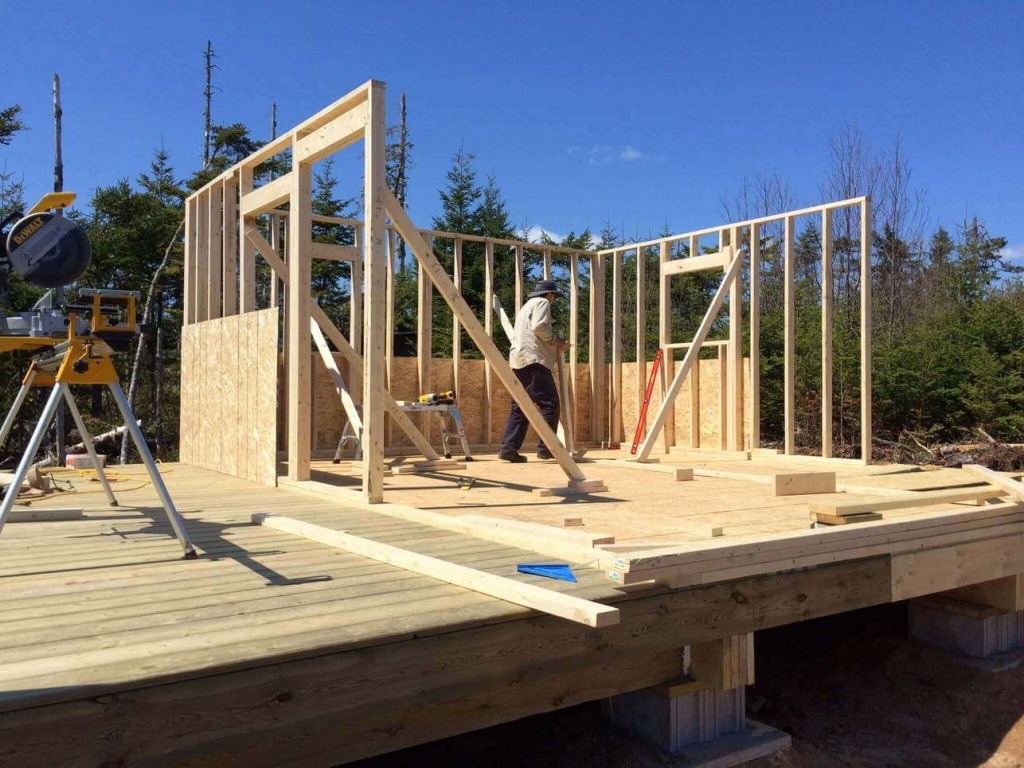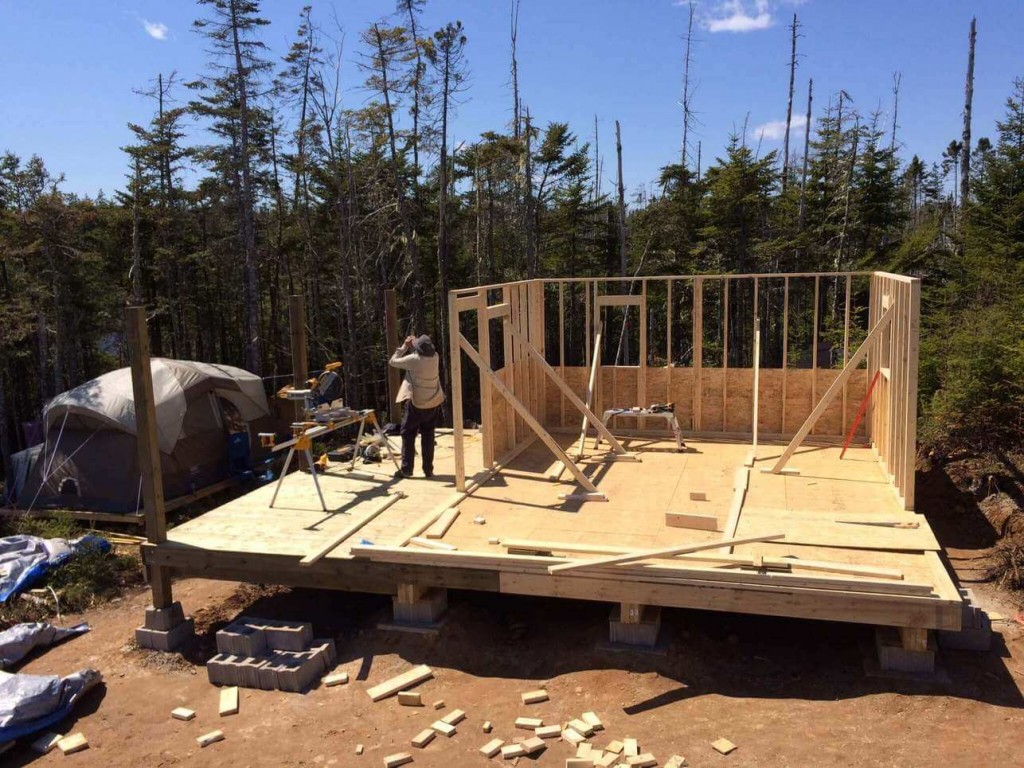 The front wall framing will have an opening for a kitchen window, the front door, and two living room windows. We went with two living room windows for a few reasons. On, it was MUCH cheaper to buy two windows than one large one. Both windows still allow the same amount of light in and provide just as good a view than one large one. Second, we wanted to be able to open the front windows (especially near the wood stove) and Home Depot didn't have a window large enough that slides open.
We'll give you all the window and door sizes, as well as a full cost write up in a future post once we have them all installed.
With the end wall and two half walls up that was it for day one of framing and day six over all.
Tomorrow…
Tomorrow we'll finish up the back wall, put up some more plywood sheathing to continue closing in the cabin and also get a head start on the upper floor joists. Remember the living room (the walls that aren't framed yet) will have a cathedral ceiling above so there sill be no floor joist above them. It's a busy day for sure!
We hope you've enjoyed the build so far and look forward to having you back again real soon for days 2 and 3 of framing the off grid cabin.
To get caught up on the entire build you can head here to our building section and join us right on day #1.
OK Your turn…
If you've enjoyed this post do us a solid and share it with the buttons you see on the side. Your the reason it gets out there 🙂
We also always make a Pinterest photo for those avid pinners out there!