What is the Best Method For Building A Small Cabin Foundation?
HINT:

 It's

NOT

like this!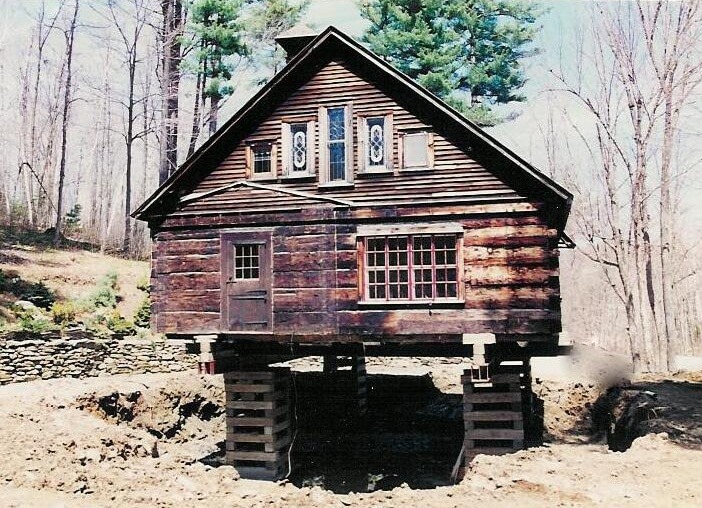 On a scale of 1 – 10: How critical do you think the cabin foundation is?
Let's just come right out and be clear that the foundation is easily THE MOST important phase of your off grid build.
Today we'll cover exactly how we designed and built our foundation as well as the reasons we went with this particular design.
If you're new to The Off Grid Cabin then welcome aboard the adventure.
Be sure to follow along for all our tips and tricks to building the BEST off grid home.
We're sharing every step of this one of a kind build with you as well as a host of other off grid goodies!
Enjoy the adventure and hey… if you found it fun, informative, or entertaining be sure to help us out by sharing this post with your social media peeps or this Pinterest Pin!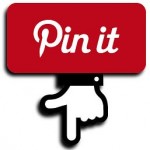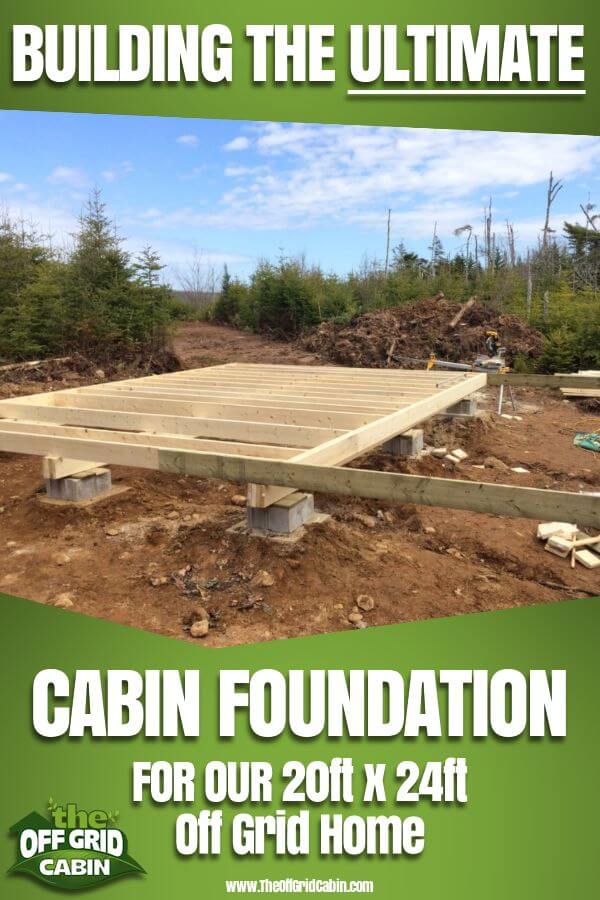 Different Types Of Cabin Foundations
There are several different foundation designs that are suitable for off grid building. 
However, a lot depends on the ground conditions, soil type, moisture content and depth of foundation. 
They range from simple footing and pier designs like ours all the way to fully poured concrete basements or crawl spaces.
Remember to consider the following when choosing the type of foundation you'll be constructing…
Ground type (gravel, soil, rocky, slab, tree roots)
Ease of clearing the land
Overall footprint
Settling
Slope
Time
Cost
Here is a look at several different foundation designs from the simple to complex.
1. Cement Pad with Cinder Block Footing and Beam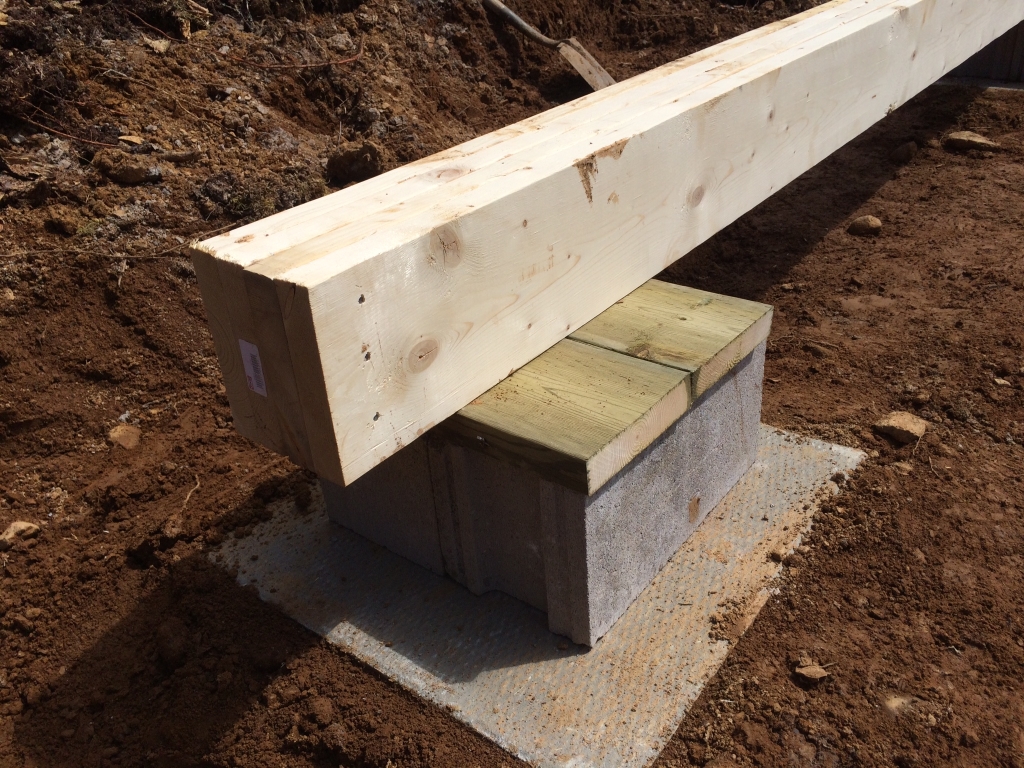 2. Poured Concrete Footing with Pier and Beam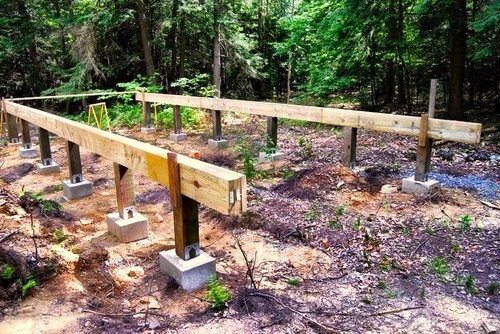 3. Cement Sonotube with Pier and Beam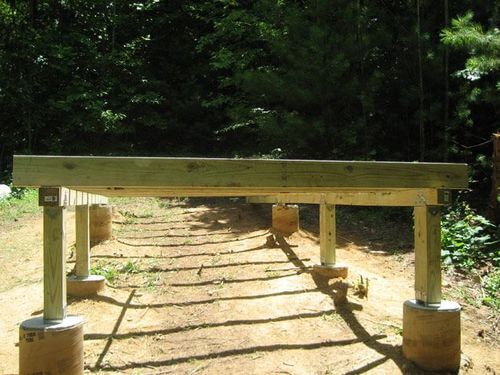 4. Poured Concrete Raft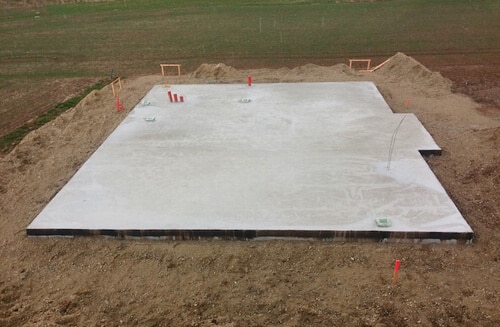 5. Poured Strip Above Ground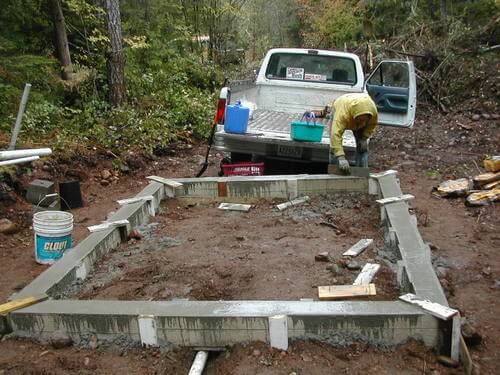 6. Poured Strip Below Ground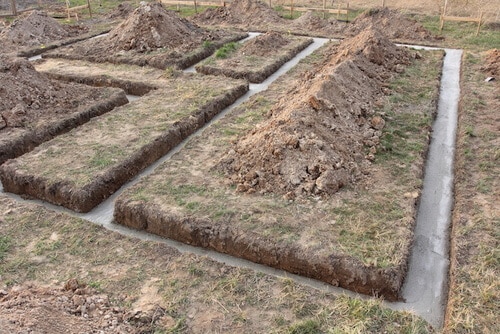 7. Poured Basement and/or Crawl Space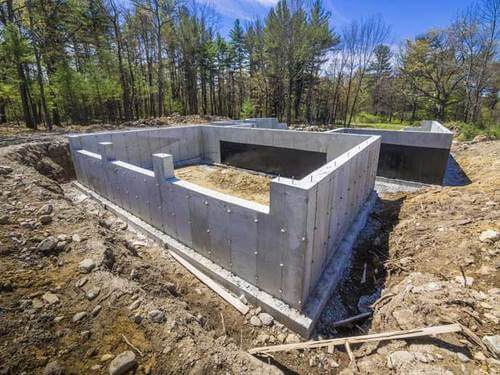 There are pros and cons to each of the foundation designs.
However, it came down to four factors that determined our choice. 
Overall cost of the build ($20K)
Limited time to build the cabin (we had 15 days total)
Ease of build for just two people
Limited access to the remote build site (we had an excavator for one day)
Why We Choose This Specific Foundation Design
Our foundation design is both incredibly economical and effective at providing a solid building platform. It's also specifically adapted to our particular soil type based on geographic location. 
TIP: It isn't always easy to build in an off grid location or with a limited crew so always factor in your location and accessibility when choosing your foundation type.  
The design considerations for our cabin foundation were…
Inexpensive design

Can be built in a singe day with just two people

Requires no heavy equipment

No digging post holes

No pouring cement

Only requires a level and some basic hand-tools

Provides the ability to level the cabin easily during the build and in the future

Affords an excellent thermal break for colder climates like ours
Our off grid cabin was built with with just myself and my father within a two week period.
Inside those two weeks we managed to complete to following…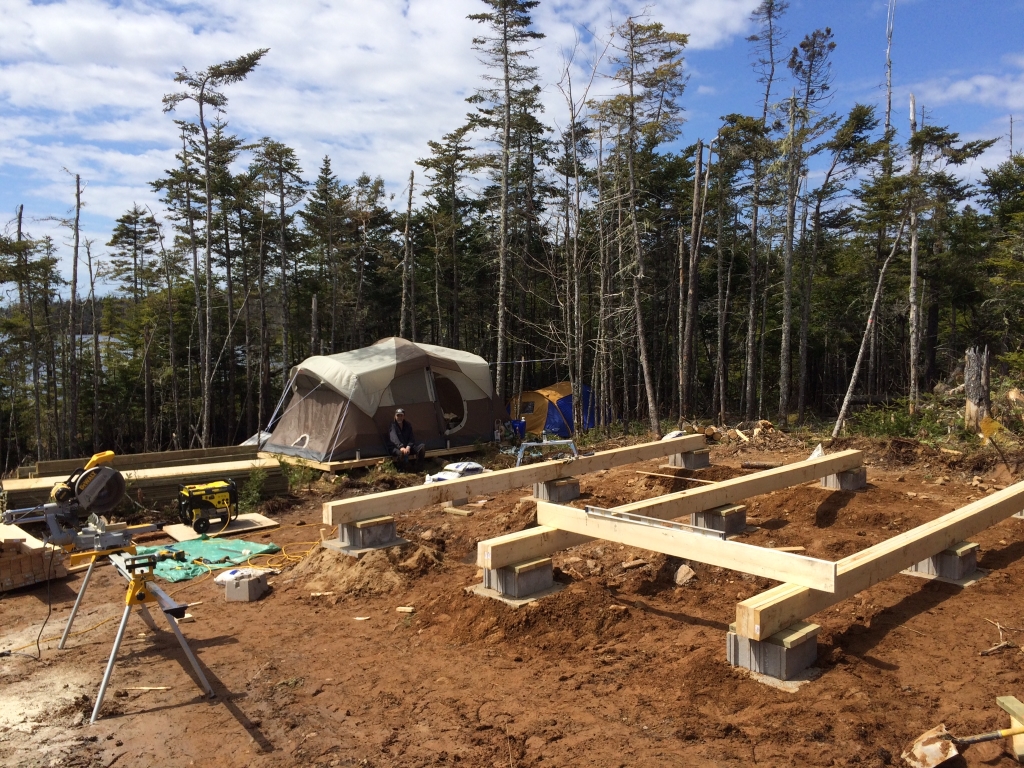 The entire solar install was done in only 2 days. We have a complete beginners guide to off grid solar systems.
Heavy machinery is expensive to bring in and the soil type may not always conducive to you building a fully dug out basement.
A poured foundation, or even a cement pad, can cost thousands and take weeks to build.
Again, a cement truck may not even be able to access your build site. They certainly couldn't on ours. 
Our foundation was simple to design and quick to build.
TIP: Our floor design might seem unique but it is a proven building technique for cold environment s like ours. 
We will sandwich 1″ think rigid formula extruded polystyrene insulation between 3/4″ OSB.
This provides an excellent thermal break from the cold harsh winters of Nova Scotia and creates a strong and rigid building platform.
When built properly, your cabins foundation should easily last the life of the cabin and most importantly provide a plumb, level and solid building foundation. 
Previously we began to lay out the footings to prepare for what lay ahead today.
Be sure to check out our #1 Secret For The Perfect Foundation post which covers how we cleared the land and prepped the build site for the foundation.
Today we'll finish installing the footings, build the main support beams, and begin framing e the floor joist.
This will give us a good idea of the cabin dimensions and allow us to imagine the walls, placement of the utilities, and consider any yhanges that we may need to make. 
Planning Out The Footing Design
We leveled out the 12 locations, on undisturbed soil, where we'll be placing the above ground footings.
We did this using 2 bags of Quikrete All-Purpose-Sand for each of the locations where we'll be placing the 8 24″ X 24″ patio slab paver pads and 3 precast 4-way concrete post footings for the 3 deck posts.
Leveling the ground with All-Purpose-Sand (AKA Crusher Dust)
Getting the ground perfectly level is critical in ensuring the remainder of the structure is level, won't shift, and allows for every beam, board and joist to line up perfectly.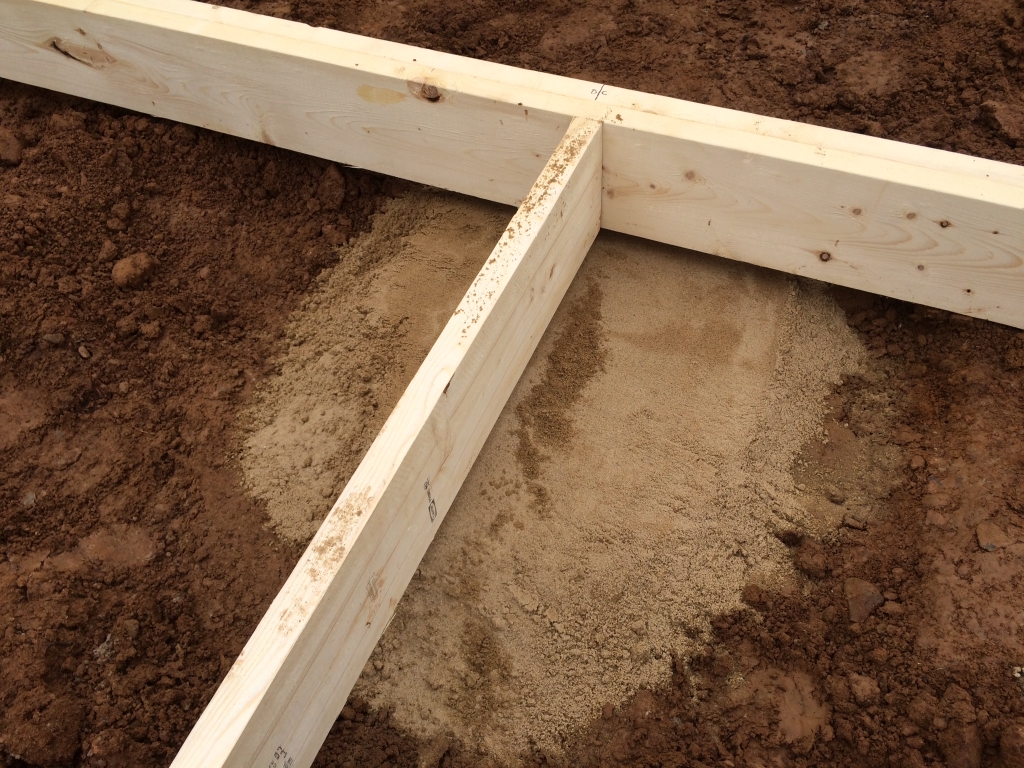 Below my wife is leveling out the ground.
It's great when the whole family comes out to lend a hand.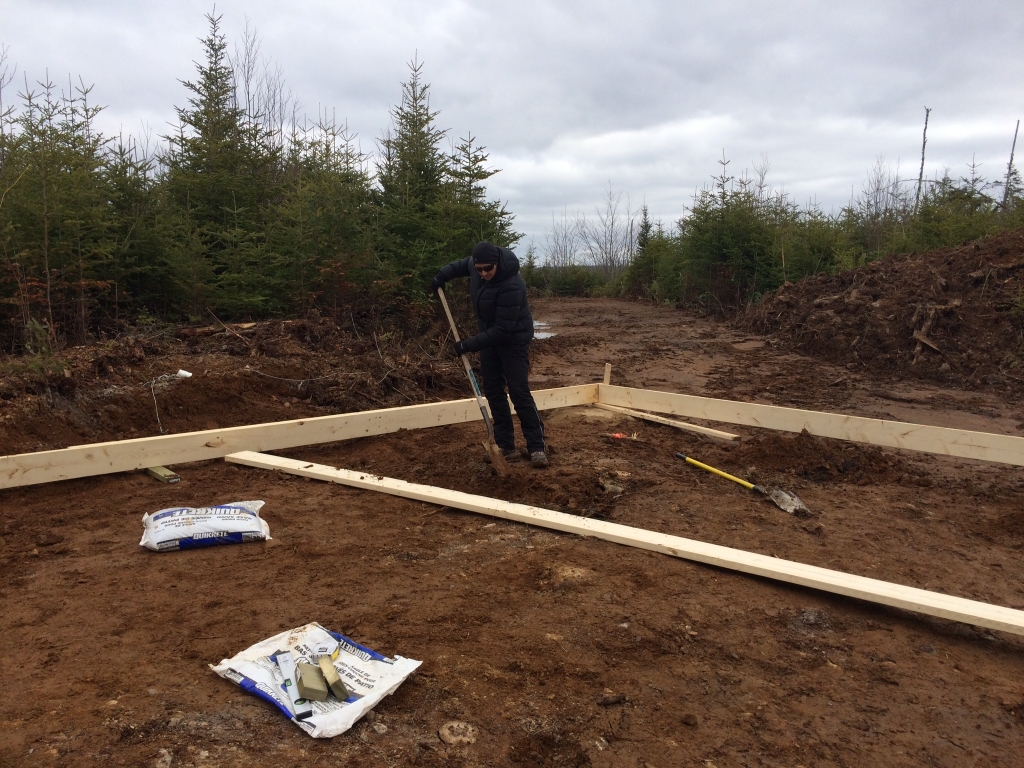 Laying out some lumber scabs to ensure the pads are all the same height.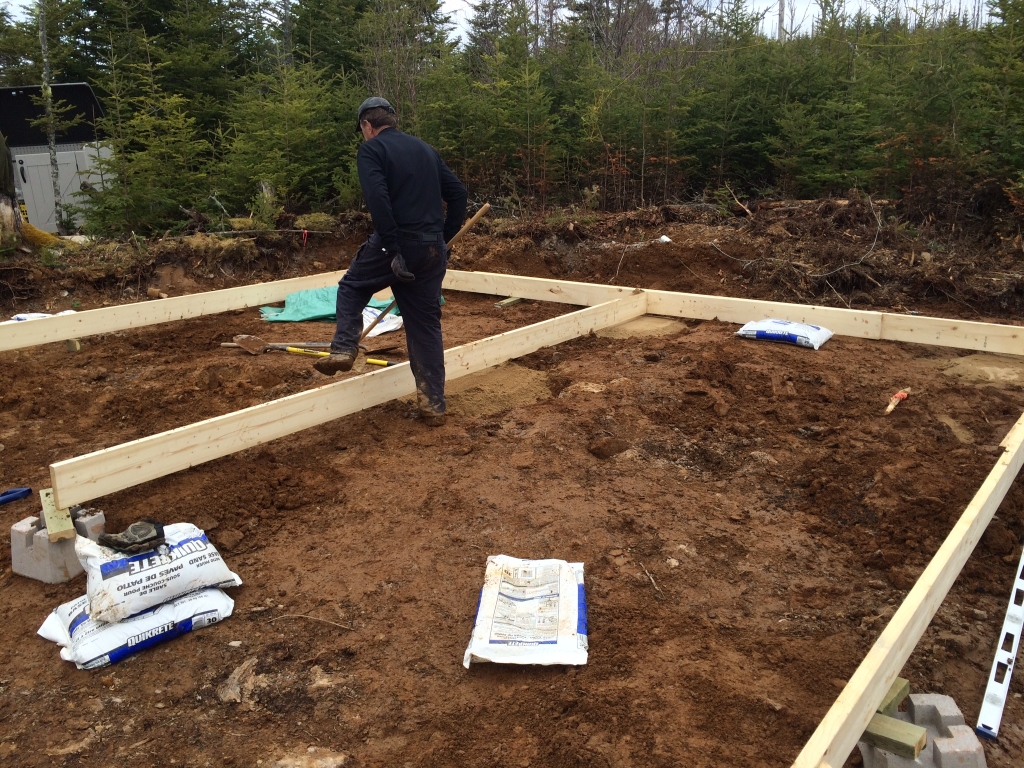 Below we initially used 4 cinder blocks on each pad (2 on top of 2) but we found that was a little too high to our liking.
TIP: You can fill the cinder block with expanding foam to help keep water/snow from filling them up and freezing in the winter.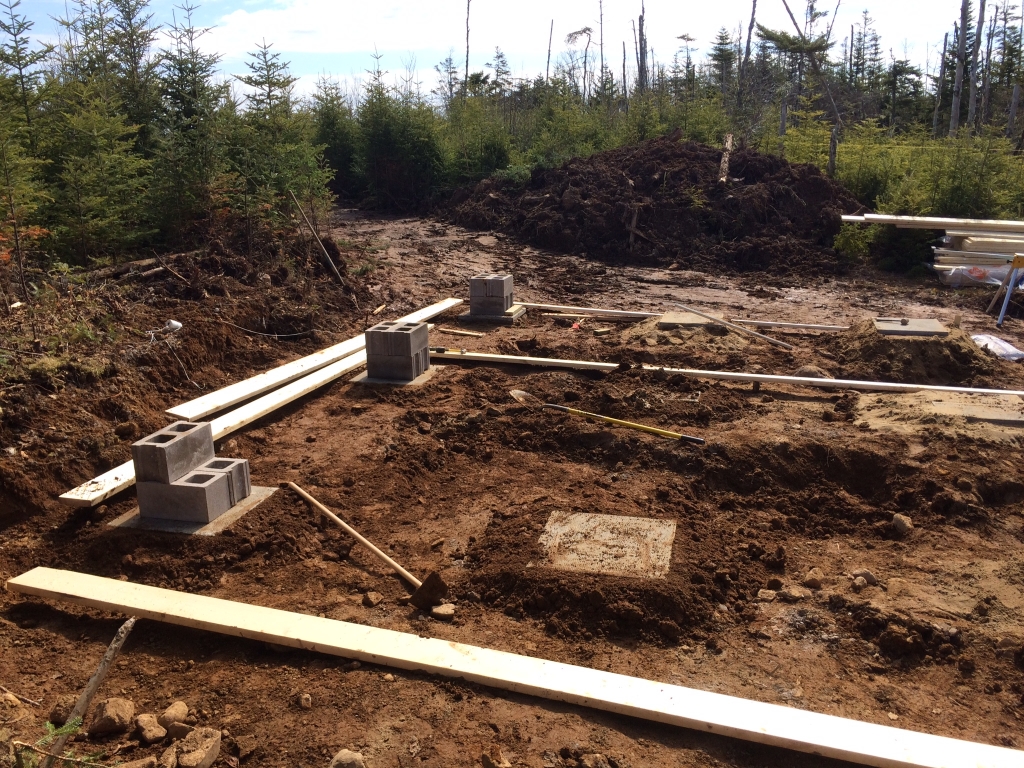 Here's a panoramic view of our build site.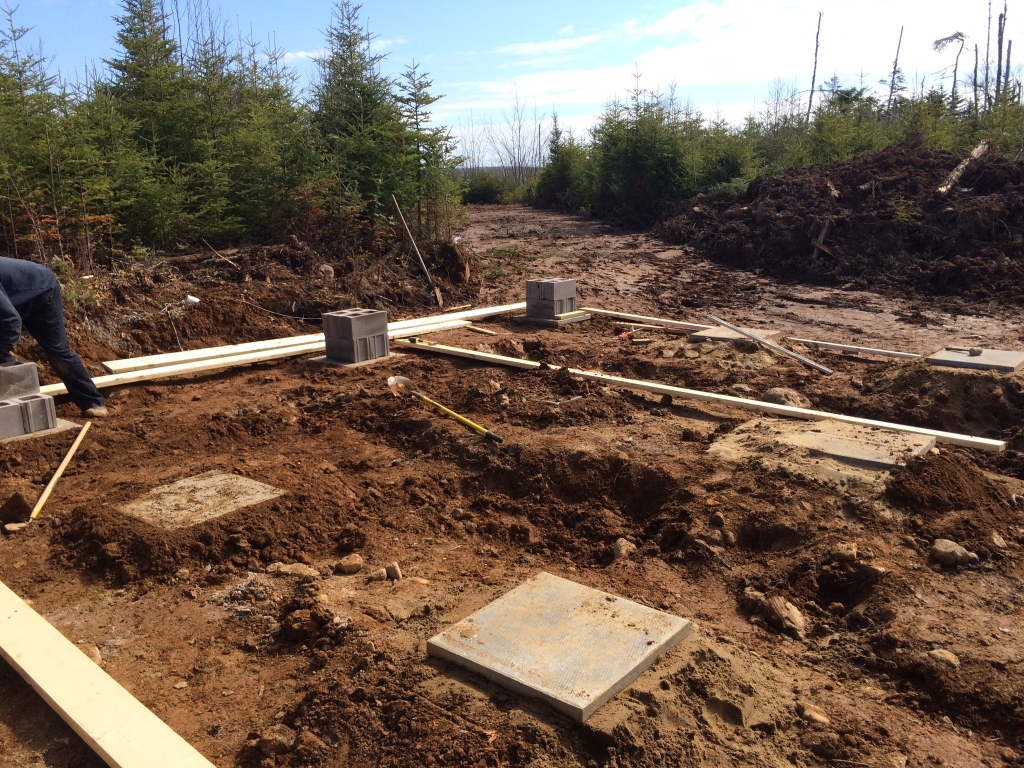 These are the Shaw Brick 24″ x 24″ patio slab pavers we used.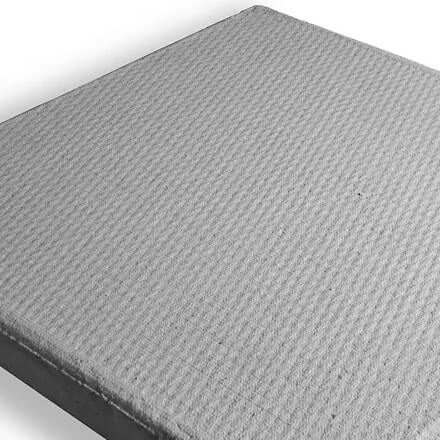 We used 16ft long 2×8's to make up the three main beams that will support the floor joist.
To fashion the 20′ beams we over staggered and overlapped the 2×8's making sure to use construction adhesive and nails the full length of the beam.
TIP: We used DAP Subfloor Construction Adhesive whenever we needed to build our beams or put down subfloor. One can of this expanding foam is equal to 8 tubes of regular construction adhesive!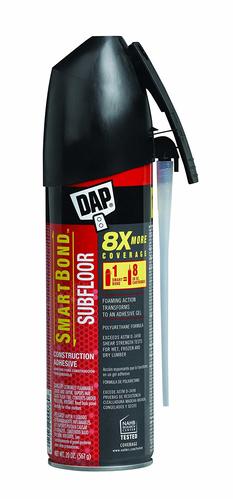 These are the 9 footings that will support the three main support beams.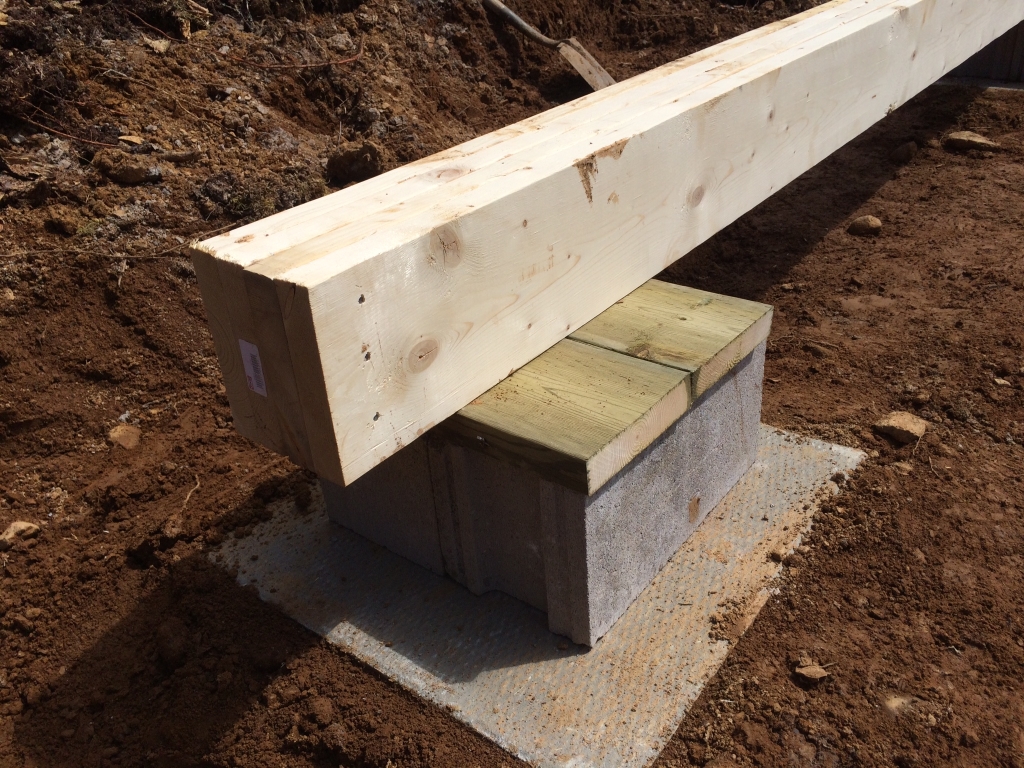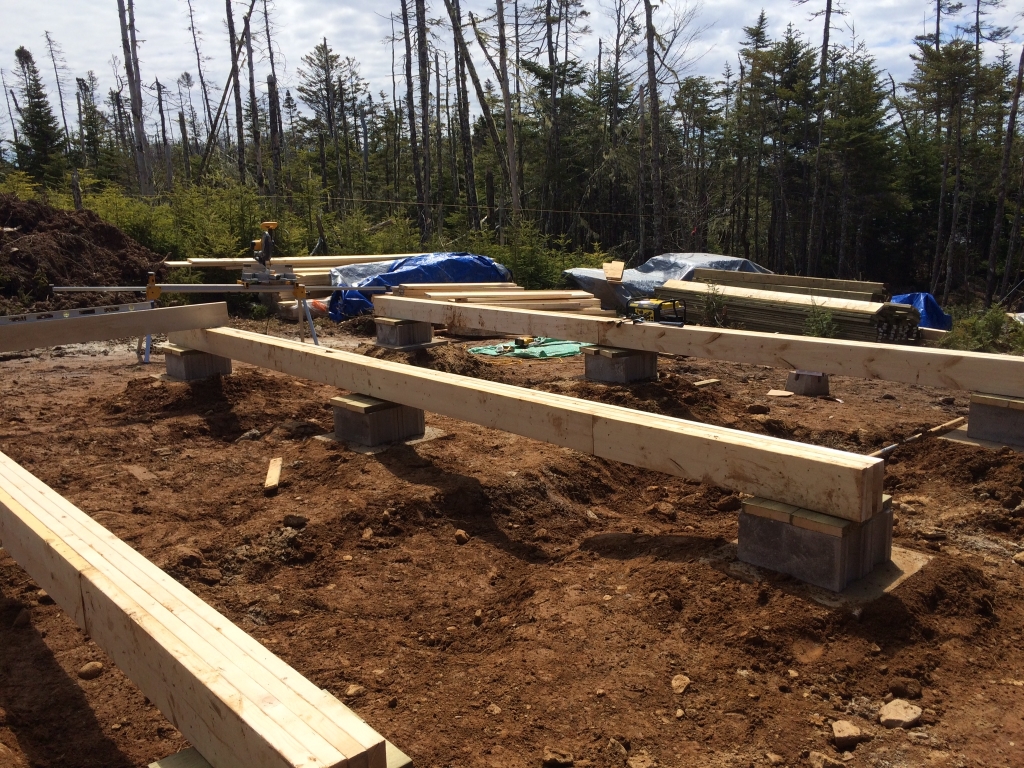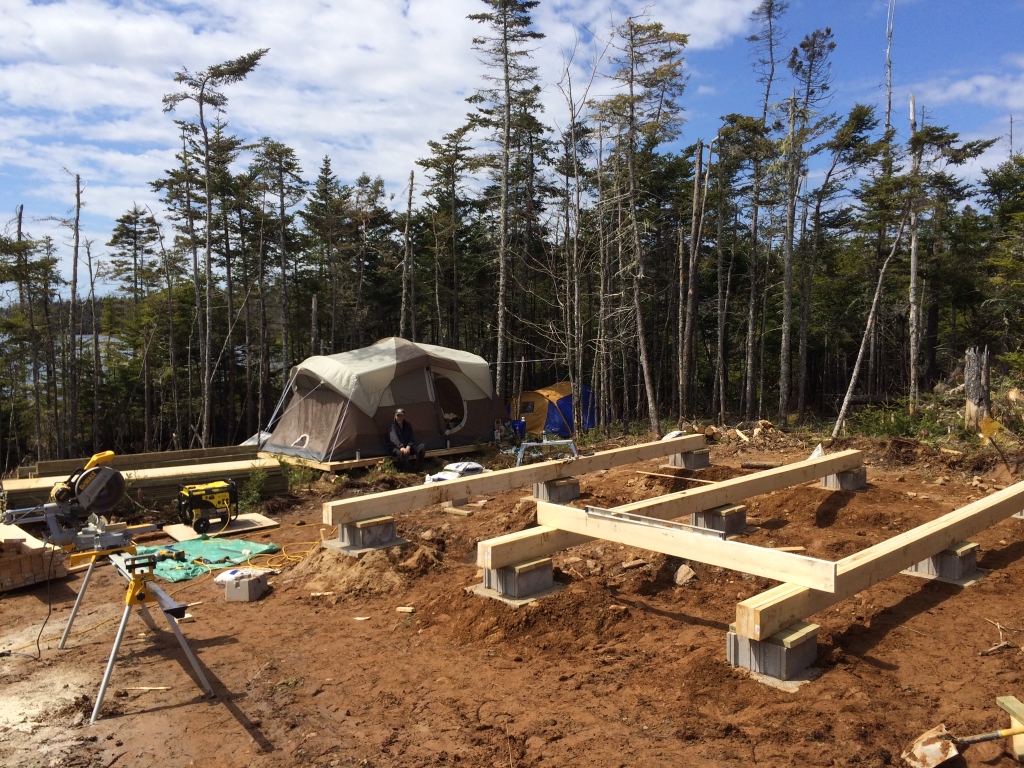 TIP: Never allow lumber that is not pressure treated (pt) to come into contact with concrete or cement blocks/pads. The moisture from the concrete can be drawn up into the wood, and after a period of time the wood will rot. You can maintain separation using pt spacers like we did or use an appropriate gasket made from plastic or foam.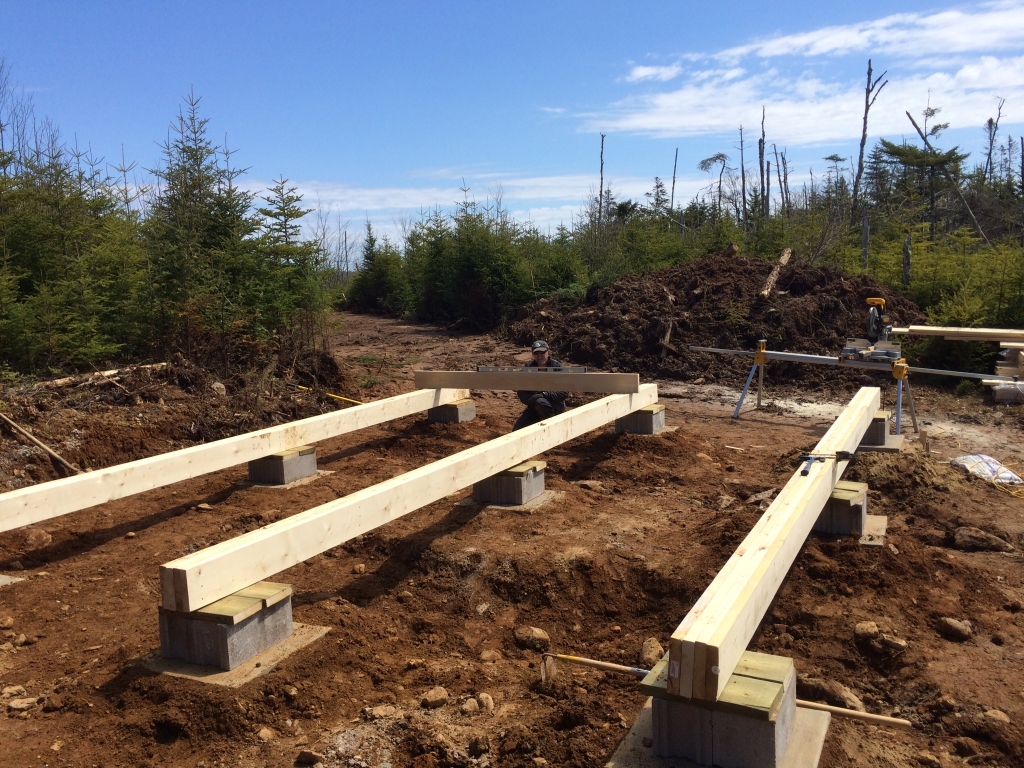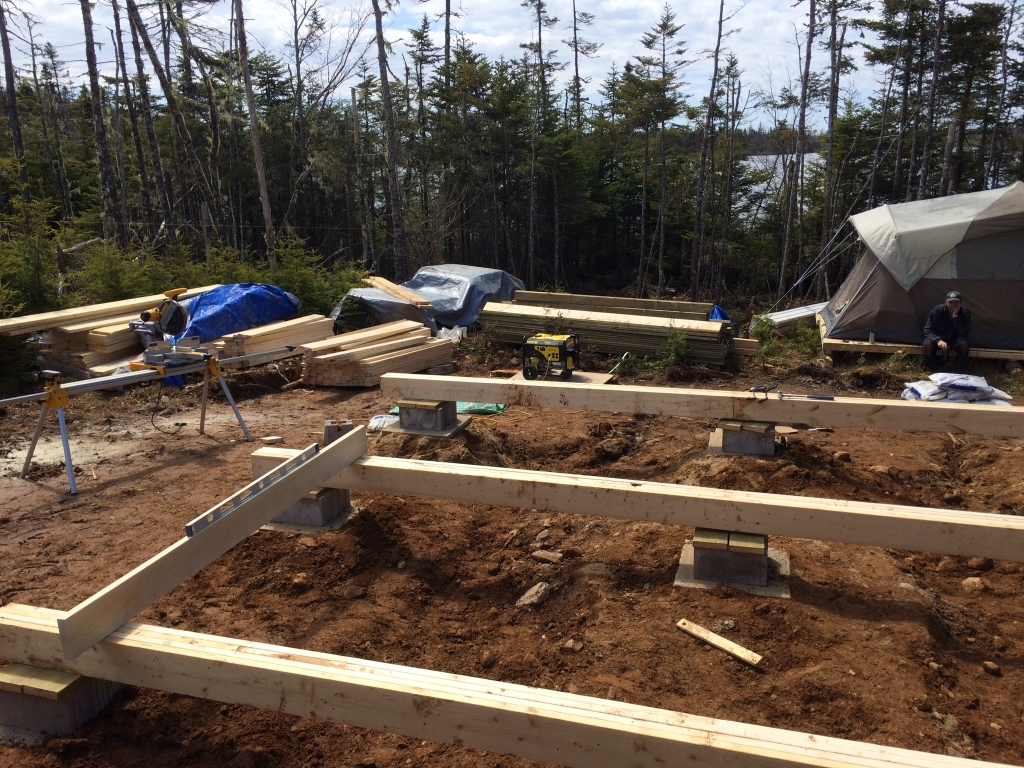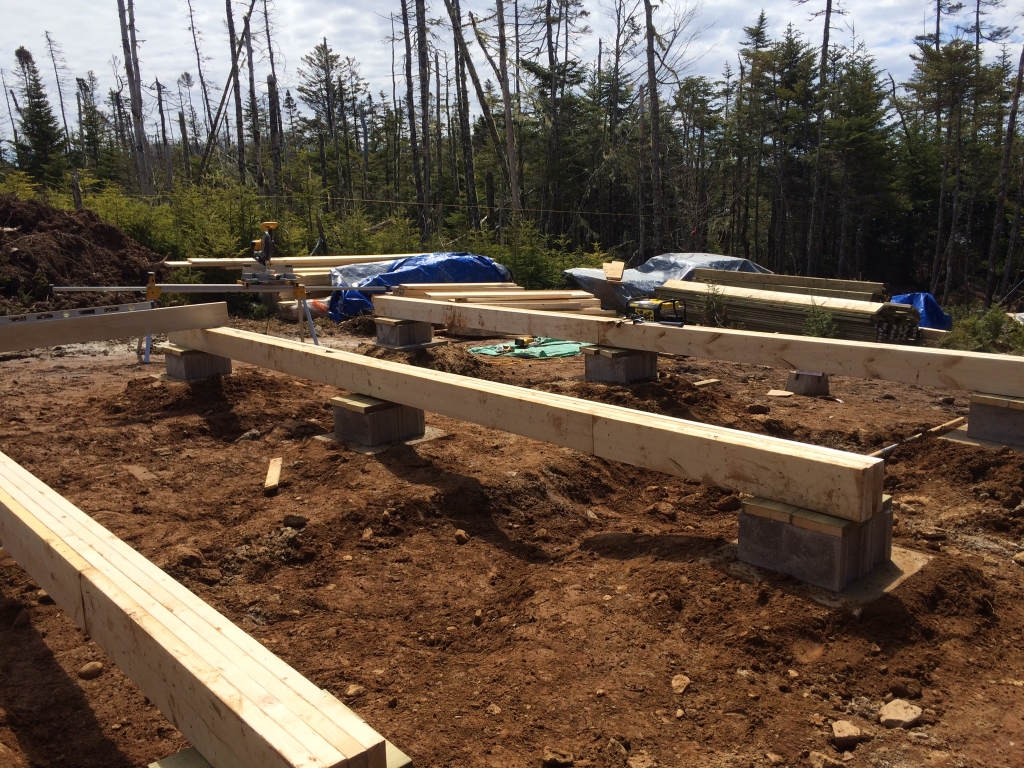 Each of the three main support beams are free floating on their respective cement block without anchoring them down.
This allows for the footing to shift (with the change in seasonal temps) "if" that happens at all.
If the beam was anchored to the footing and one footing was to shift, it could cause a shearing force through the cabin and possibly crack a window, put the cabin out of plumb or split the finished drywall.
By allowing the beam to ride on-top of the cement footing the entire building can slightly shift on the foundation which helps prevent any unwanted forces on the cabin.
Now to be 100% clear when I say "shift" or "slide" I'm talking millimeters here.
Please do not misread that and think your home will be sliding around like skates on ice!
A Superior Tool for Speed and Efficiency
Without a doubt THE BEST single purchase we had before tackling this build was this Dewalt Cordless Framing Nailer.
You'll hear me go on and on about this one tool throughout the build but I honestly cannot give it enough praise.
You may wonder why we would spend the money on something like this when we could have just swung a good old hammer around?
It was a massive time saver!
This one tool easily shaving days off the overall build, allowed us to nail in places where we just could not swing a hammer and best of all it's cordless (no air hose).
I highly recommend getting one for your build and you can always sell it afterwards if you'll not need it again.
That was my initial plan but I've found I'm always building something at the cabin and this has made those projects so much easier and faster.
The Three Front Deck Footings
We used 3 Shaw Brick 6″ x 6″ Deck Blocks from Home Depot to support the 3 – 6″ x 6″ PT Posts for the front deck.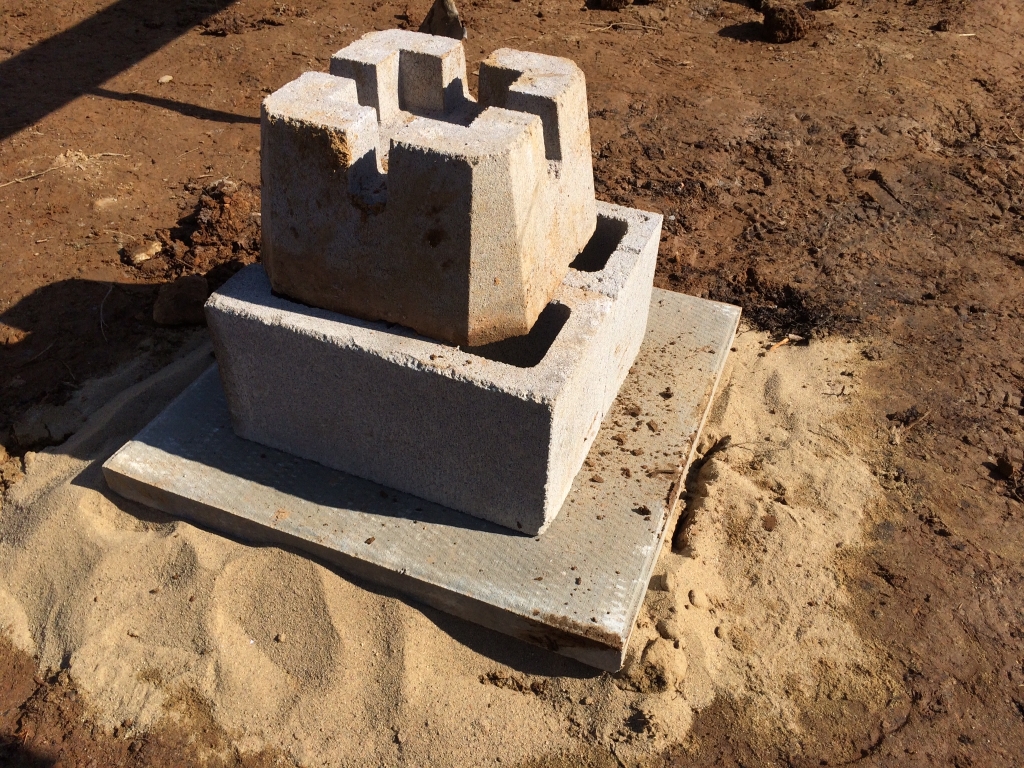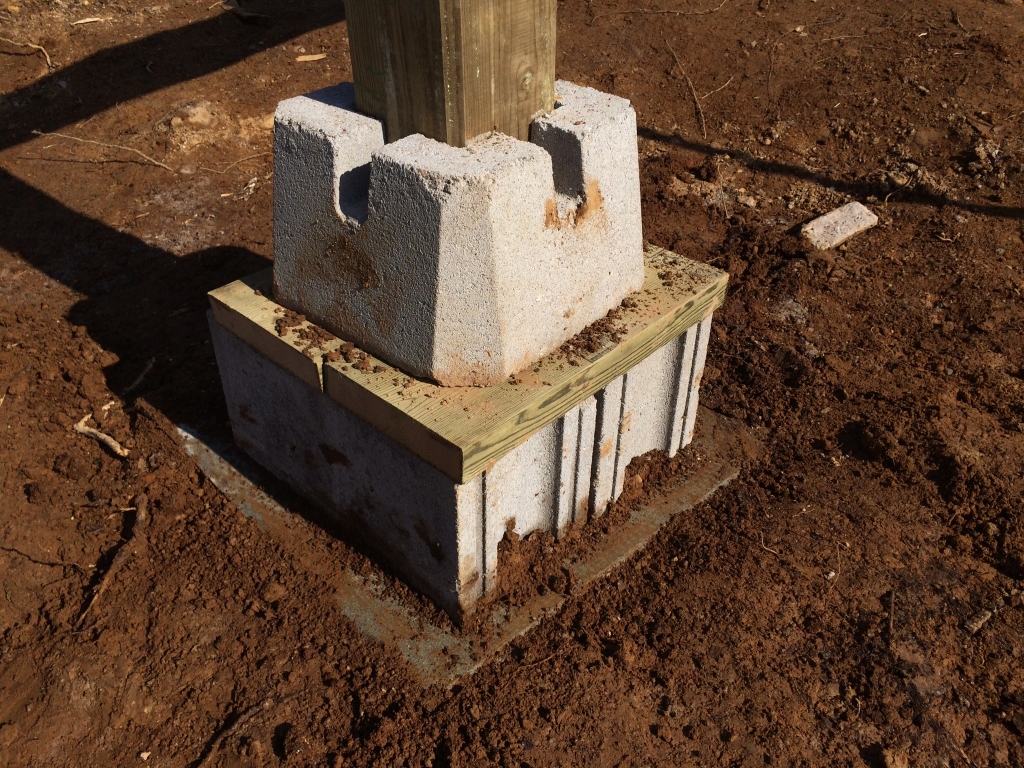 We used 2×8's placed at 16″ on center for the floor joist and plan on topping the floor joists with 3/4″ OSB.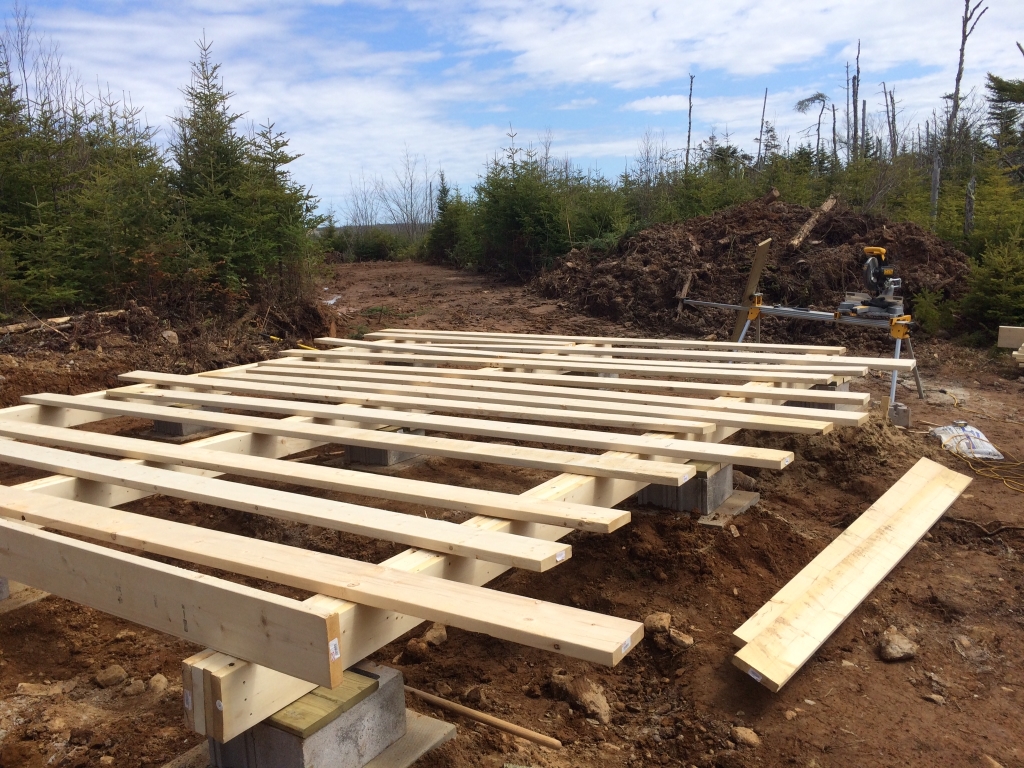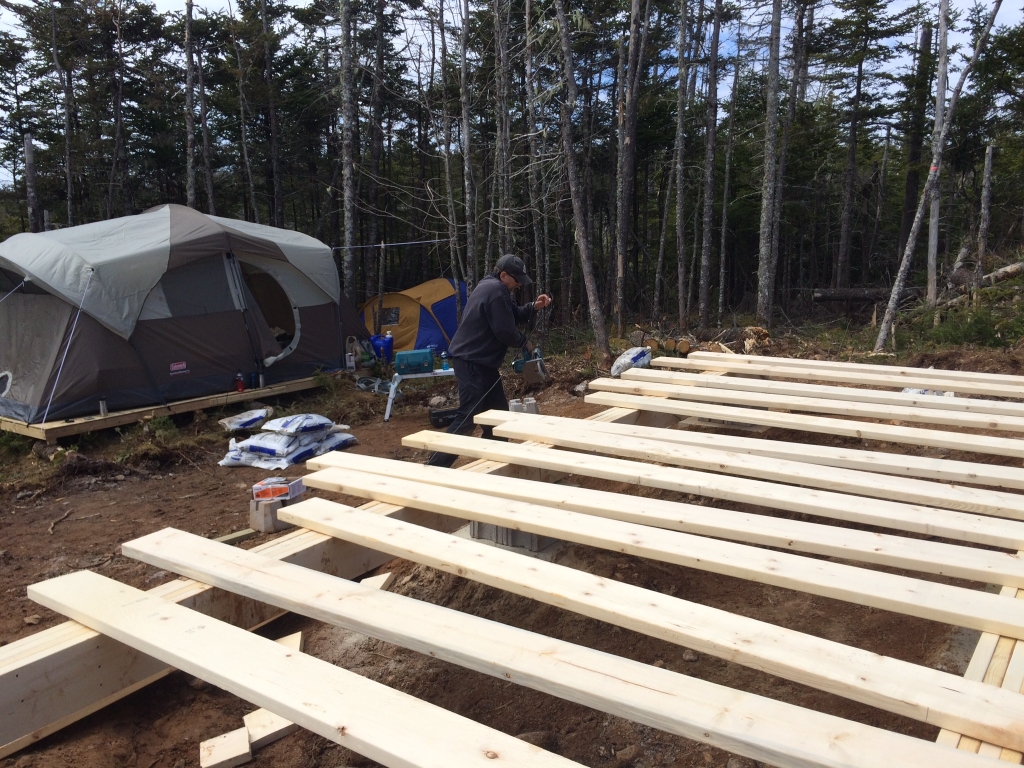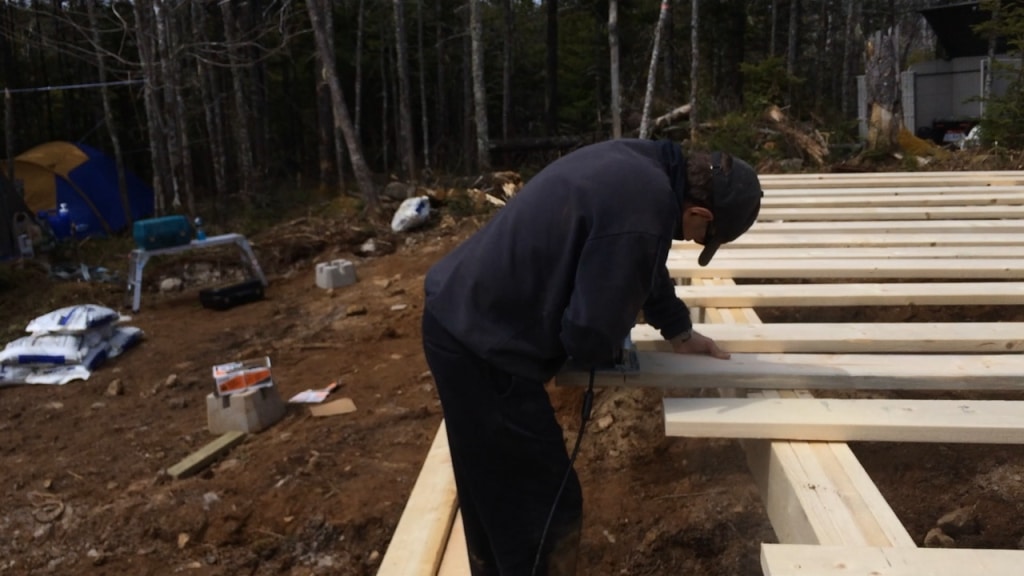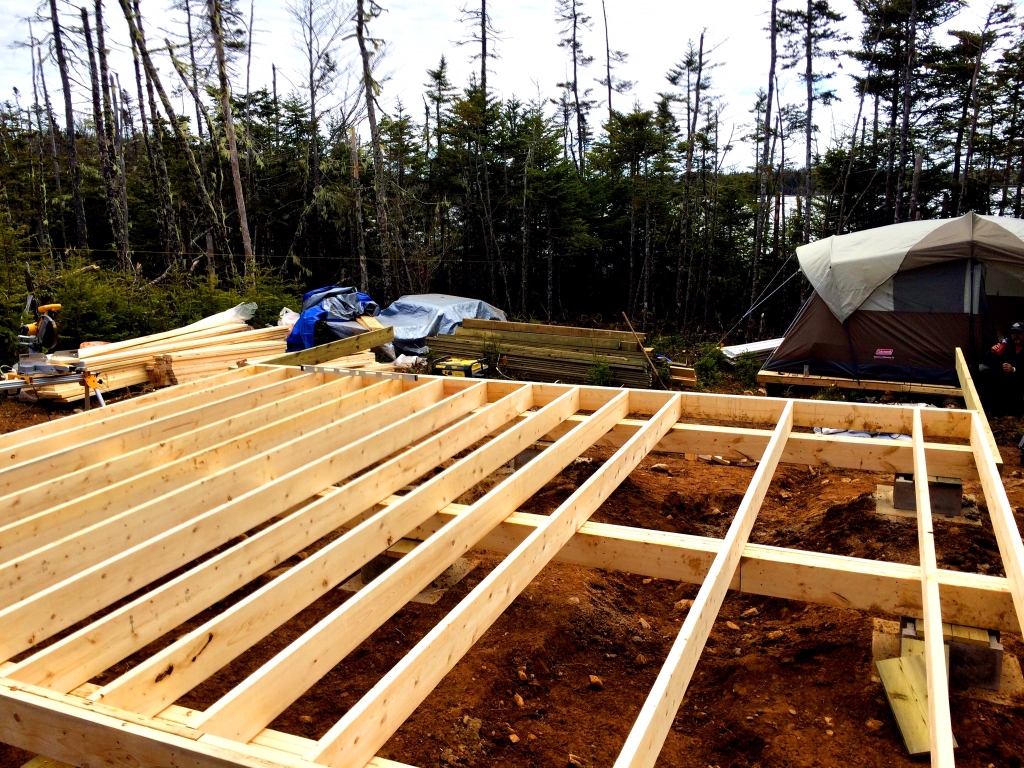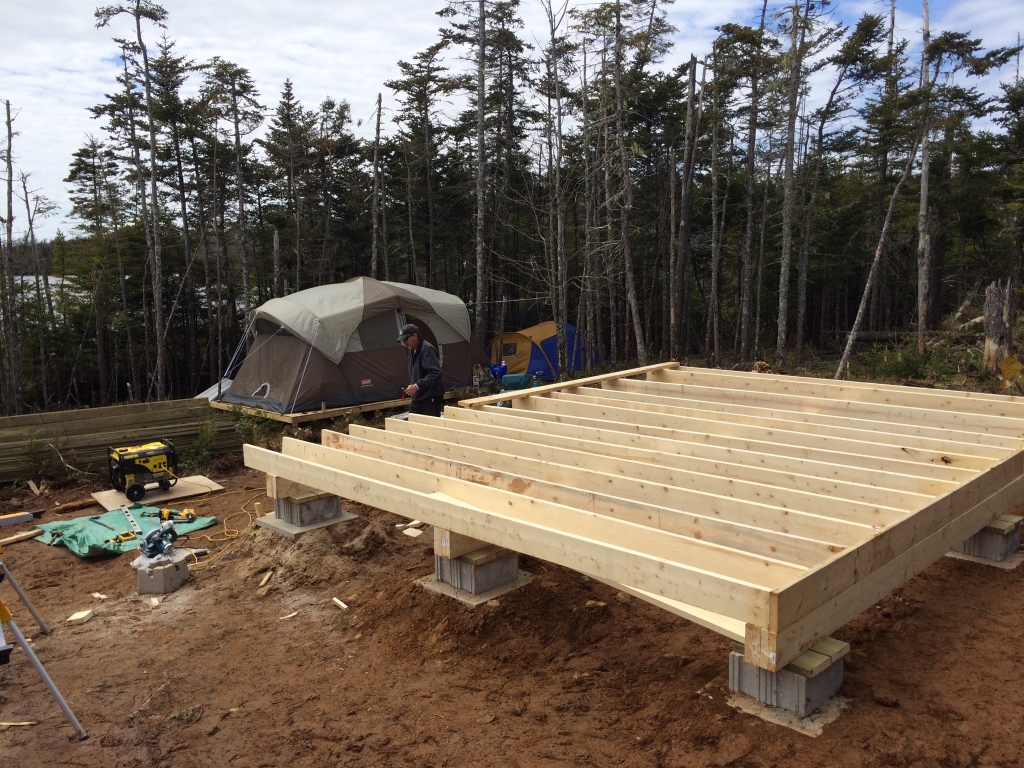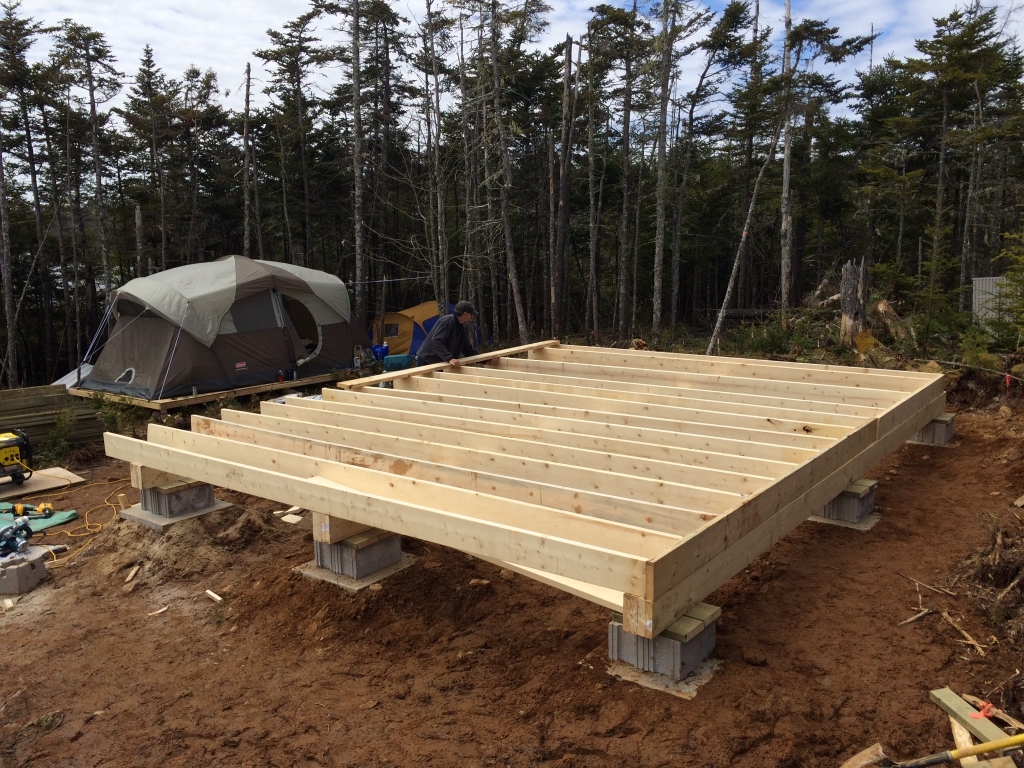 The completed floor joist.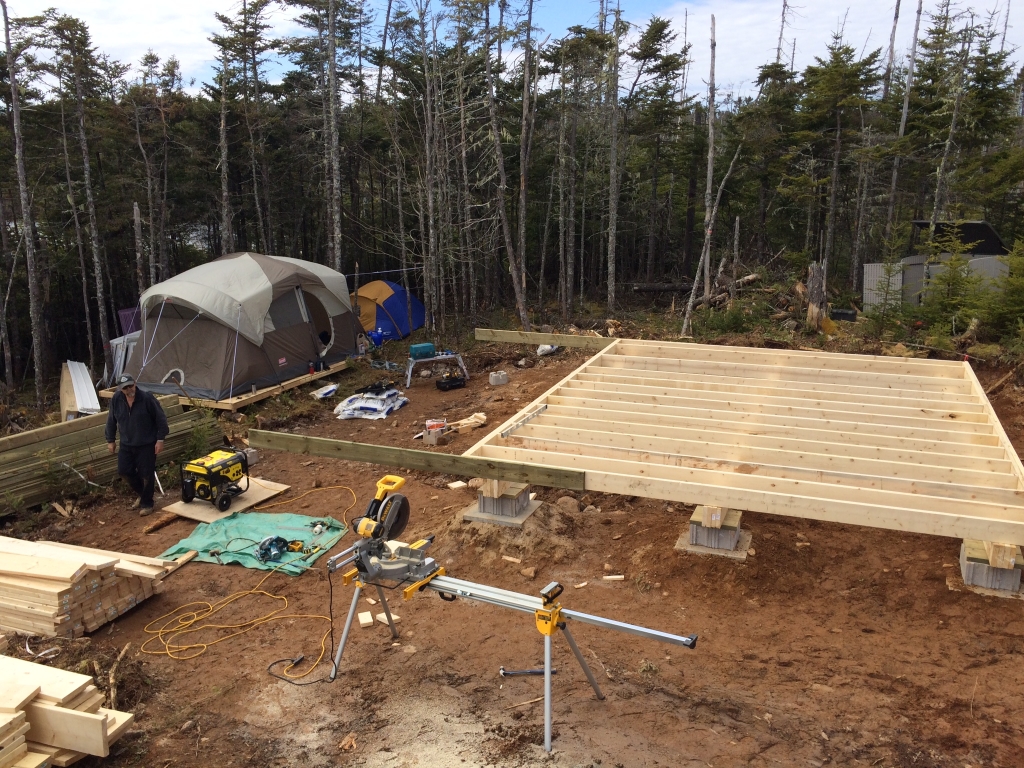 NOTE: We will be laying down 3/4″ OSB subfloor and then a layer of 1″ thick rigid pink foam (FOAMULAR C-200 Extruded Polystyrene Rigid Insulation – 24-inch x 96-inch x 1/2-inch butt edge) from Home Depot to act as a thermal break between the inside and outside of the cabin floor.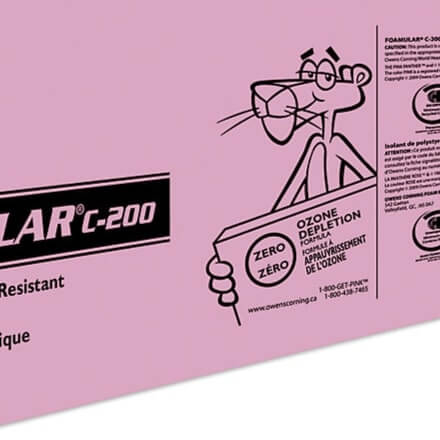 The pink foam will have another layer of 3/4″ OSB subfloor on top and then a 6mm poly (Everbilt 10 ft. x 100 ft. CGSB Approved Wall & Ceiling Vapour Barrier)
Lastly we'll be putting in a water resistant laminate flooring that has a pre-attached foam backer for additional insulation and noise reducing properties.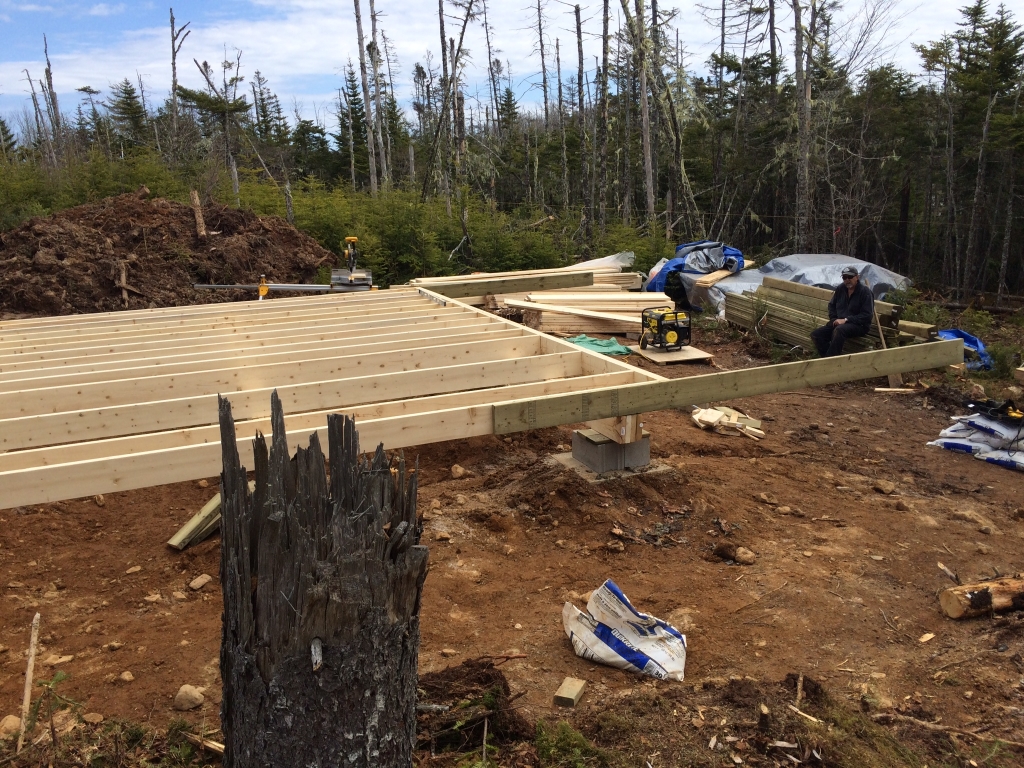 The pressure treated beams gives us a sneak peek at the rough size of the front deck.
The front deck dimensions are 20′ x 8′
We'll be using three 6″ x 6″ posts to support the front edge of the covered deck's steel roof.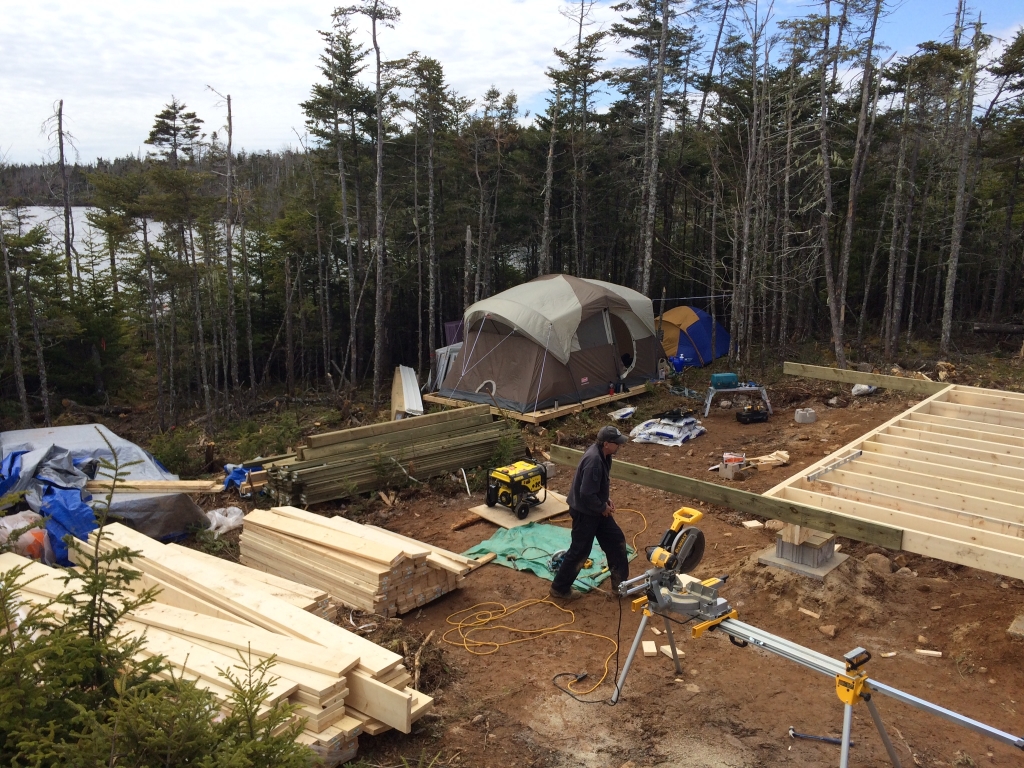 Completing The Foundation
Today we finished up the footings, the three main support beams, and began to frame the floor joist.
We now have a good idea of the interior floor space the main living areas, kitchen, bathroom and master bedroom dimensions.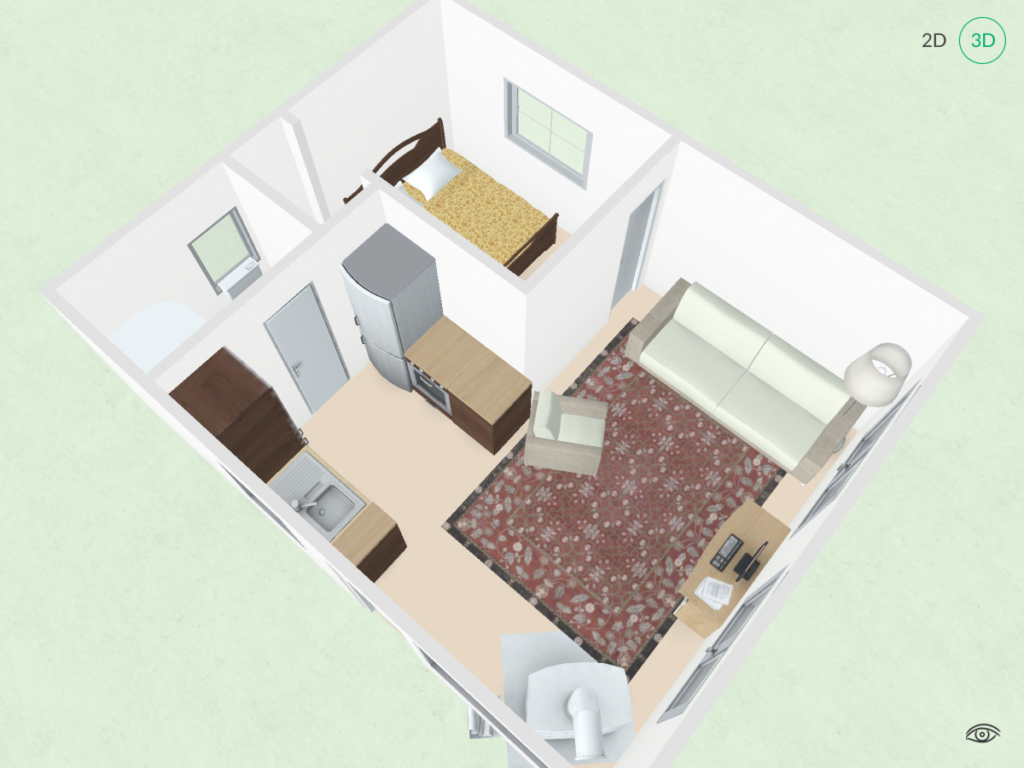 In our opinion, this is by far the best method for building a small cabin foundation with our soil type, climate and proximity to the lake.
Every off grid build has unique foundation requirements.
Remember to consider the following when choosing the type of foundation you'll be constructing…
Ground type (gravel, soil, rocky, slab, tree roots)
Ease of clearing the land
Overall footprint
Settling
Slope
Time
Cost
Next time we'll finish up the floor joist, put in those three 6″ x 6″ pressure treated front deck posts, and make sure the entire foundation is level, plumb and square before we put down the sub-floor.
If you haven't yet SUBSCRIBE and follow the entire journey!
Are you ready to tackle your own off grid foundation now that we've shared ours? 
Let us know in the comments below if you have any questions.
And for our Pinterest follower out there here's a pinnable pin of our foundation!